Field observations
SUMMER 2020 UPDATES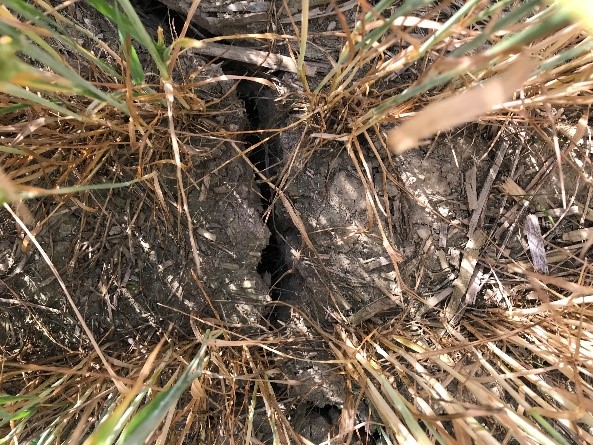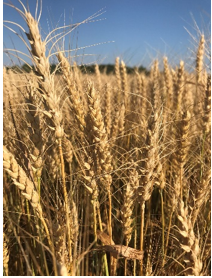 July 3, 2020
Warm temperatures are moving the winter wheat crop closer to the finish line; the crop has turned a golden colour in southwestern Ontario. Harvest will begin next week in the southern part of the province where moisture has been limited and the crop has died down.
Spotty rains have kept most of the corn and soybean crops moving along well in development. More rain will be needed in the upcoming weeks as the corn crop reaches pollination in the next 15 days.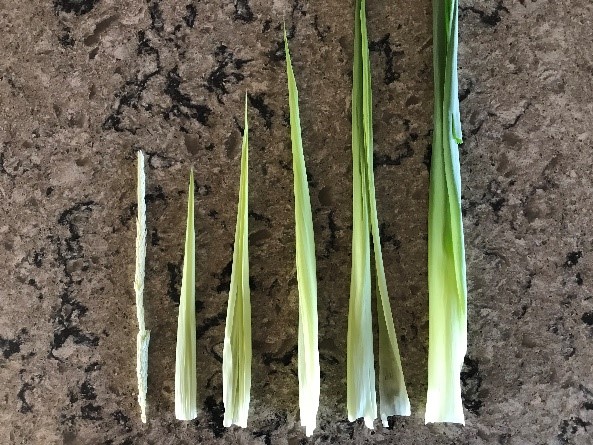 Corn
Corn at the V11 stage is chest high and has five more leaves to emerge from the whorl before the tassel emerges. During this current heatwave we will see a new leaf emerge every three to four days. We will expect to see corn tasseling the week of July 13. Due to the variability of stress on the fields this year, we will see more fields with uneven tassel and silk emergence within a field.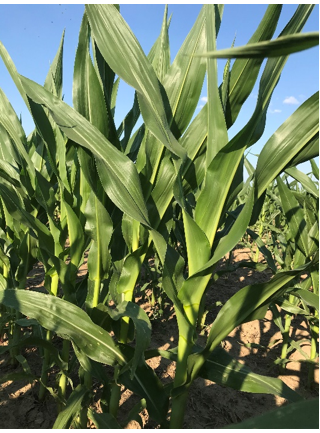 The timing of foliar fungicides at pollination for control of DON will be more of a challenge in these fields. By now, the number of kernel rows on the cob has been determined (V8 -V10) and the number of kernels per row is determined at this time (V10 – V12). When evaluating ear size this fall, reflect back to the growing conditions the crop was under during ear set, as environment by genetic interactions do occur
Soybeans
Albert Tenuta, field crop plant pathologist with the Ontario Ministry of Agriculture, Food and Rural Affairs, has found female soybean cyst nematodes (SCN) already developing on soybean roots. SCN are already active and will continue to feed on the soybean roots and rob the plant of nutrients.  The effects of SCN will be much more pronounced as the plant will be under multiple stresses as we are dealing with heat and drought stress on the crop. 
Insects to keep an eye on this summer will be soybean aphids and spider mites. The hope is that there are enough beneficial lady bugs that they will be ready to feed on the aphids. If you see a population surge on aphids, don't spray unless you reach the threshold of over 250 insects per plant and they continue to climb above that. Spraying for aphids also removes the beneficial insects that will help to control the aphids for the rest of the year. Keep lady bugs around for as long as you can as they are doing the pest control work for you. As wheat is being harvested and dry weather persists, spider mites will be the next insect that will need to be scouted for and sprayed if the threshold of four mites per leaf is met.
The field perimeter, or areas where they move into the field, is all that needs to be sprayed.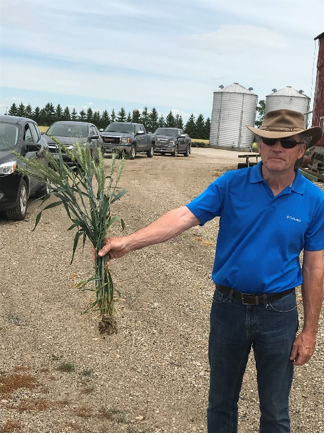 Cereals
Peter Johnson, agronomist with Real Agriculture, was looking for a wheat plant with lots of wheat heads. Pete found this plant while on the Ontario Cereal Crop Committee (OCCC) tour last week in Inwood. A single seed produced 25 wheat heads. Not bad when a plant has lots of room to grow in open space. Johnson's next quest is to figure out how to do that with 1.4 million seeds per acre.
The OCCC wheat tour last week observed social distancing rules while inspecting the winter wheat trials from Woodslee to Centralia with stops in Tupperville and Inwood. Wheat trials look good this year and we expect to have some good data from Zone 1. Wheat tours will continue next week as the crop matures across the province.
Areas that received timely rains over the past two weeks will have a tremendous wheat crop this year. Unfortunately, there are a lot of areas that missed a rain or two and do have small wheat kernels and some aborted kernels. Top ends will not be seen by all, but the quality of grain looks to be good with very few fusarium infected heads.
As harvest will be starting up in the province, we hope all farmers will have a safe and timely harvest. Please remember to protect yourselves and those you work with by practicing social distancing when delivering grain. Contact your delivery point and ask what requirements are expected this harvest season. This may affect how you bring samples in for moisture checks or how receipts are received as most locations are not allowing people in the buildings. Plan ahead, be patient, and be safe.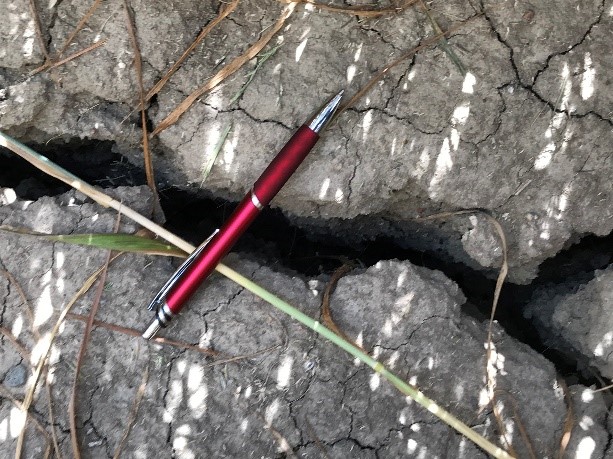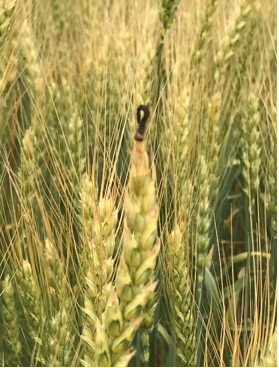 June 26, 2020
THE CRACKS ARE starting to show in the 2020 winter wheat crop. Literally, the cracks in the soil are expanding greater this week as the crop is removing a tremendous amount of water from the soil as its water use is greatest now that it is trying to fill the wheat heads.

Warm and dry weather has continued across the province this week, with some isolated showers gracing a few locations. Thunderstorms have brought flash rains to some locations. Large areas of the province have missed several critical showers resulting in extended stress on the crops.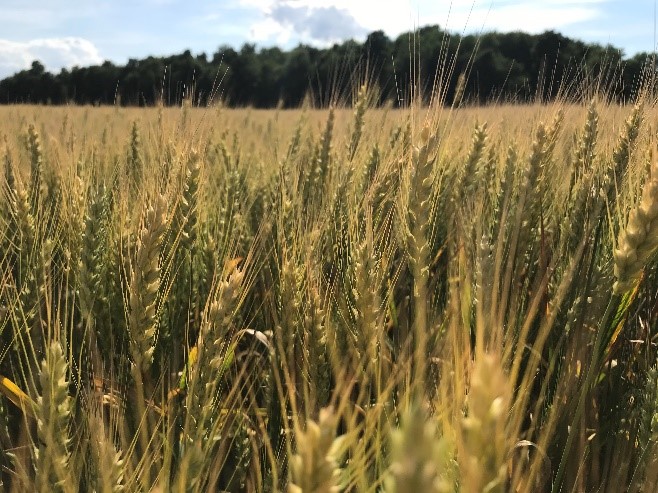 CEREALS
Dry weather has taken the top end out of the bulk of the cereal crop. Many winter wheat fields are starting to turn yellow in southern Ontario. The flag leaves are drying out as the wheat plants start to cannibalize themselves as they try to finish grain development. Fields receiving a timely rain have been able to continue to produce sugars and accumulate starch in the kernels as flag leaves are still green. Rapid senescence (death) will occur in these drier areas as harvest timing approaches rapidly.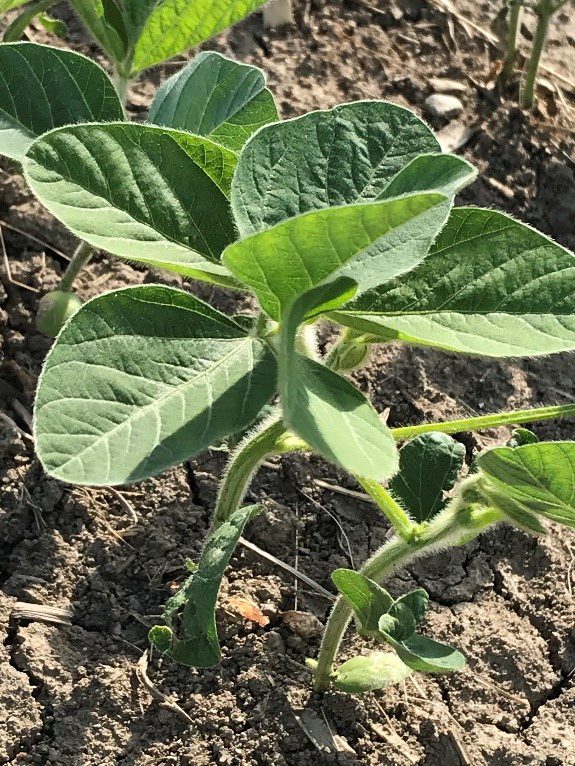 SOYBEANS
Replanting of some crusted fields continued this week as light rains did not arrive to help soften the crust. Timely rains will help plant stand establish on the later planted fields as some seed remains in dry soil. Earlier planted fields are in the 3rd – 4th trifoliate, while the majority of the crop acres are in the 2nd trifoliate stage of growth.

Post emerge herbicide applications are being applied on fields that are experiencing weed escapes.
CORN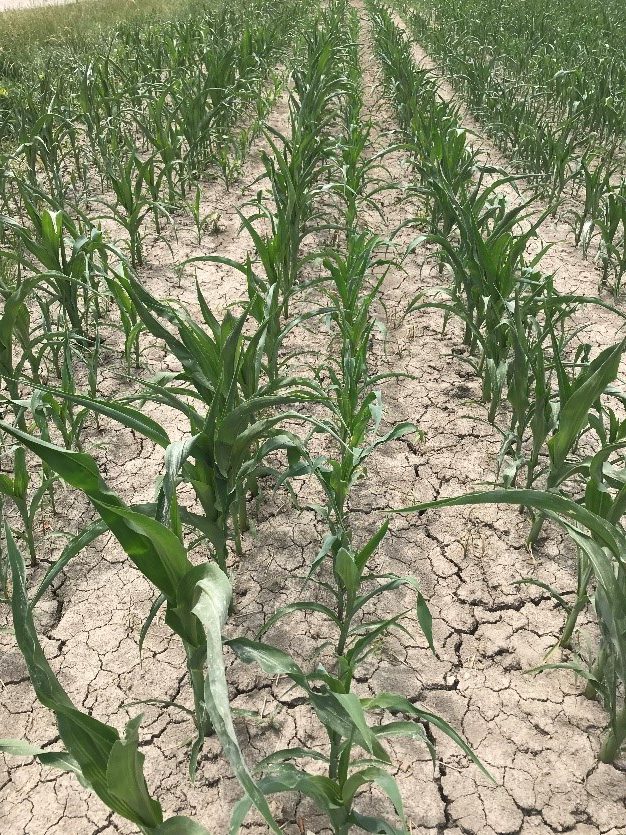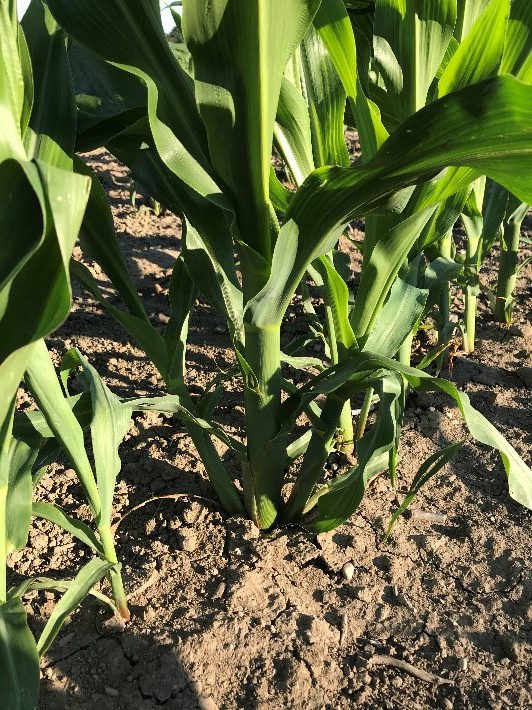 Corn has been growing quickly over the past week. Ideal heat and sunshine drives plant growth at this V8 leaf stage. Under ideal conditions it has been noticed that the early emerging plants of the field are producing multiple tillers. This is all driven by the environment and some plants will show more activity as they have ideal root development and plant growth .They were the first to emerge and have had the advantage of more sun, moisture, and nutrients and with this advantage are putting the extra growth into tillers. Fields with lower populations, but same or higher nutrients, will see more tillers if moisture conditions will allow. Even in dry fields this is evident as many fields struggled to emerge and emergence was so variable. Tillers do not take away yield, rather it's an indication that the plant growth is ideal for that particular plant.
Corn fields that had been crusted over in May and were touched up with a second planting are seeing some stress conditions with the higher population. The two crops will compete all year. Ideally one of the crops needs to be removed.