The next generation of grain farmers
YOUNG LEADERS SHARE THEIR PASSION AND OUTLOOKS ON THEIR FUTURE IN AGRICULTURE
educating future leaders is a tradition that is nearly 140 years old at the Ontario Agricultural College (OAC) and it's one that the University of Guelph is very proud of.
Among OAC students, commonly known as Aggies, grain farming is strongly represented by those with a particular passion for plant agriculture. These students, including Kevin Robson, Jessica Gal and Andrew Reid, represent the next generation of grain farmers.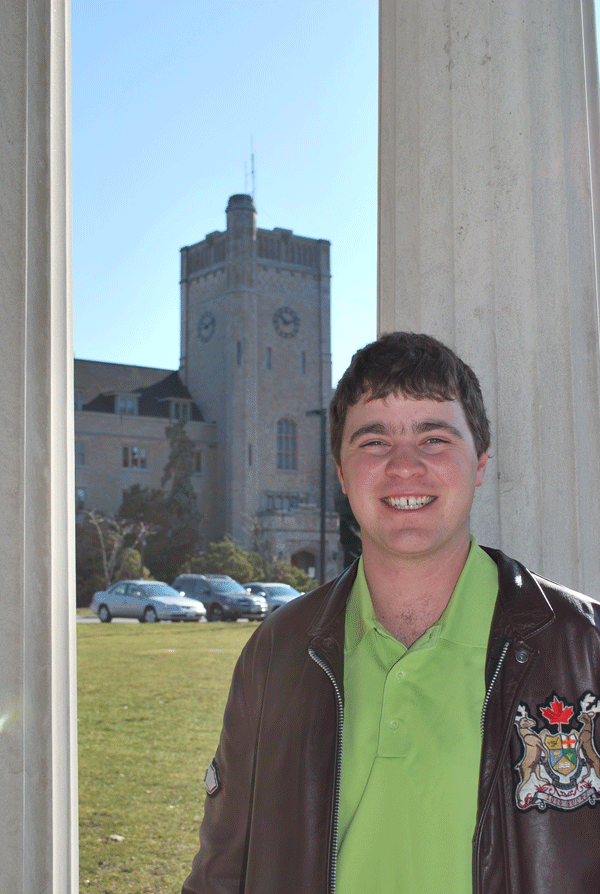 kevin robson, class of 2012
Growing up on a family grain farm sparked Kevin's interest in agriculture. The Robson family grows corn, soybeans and winter wheat and operates a seed cleaning business near Ilderton on land that has been in their family for 190 years.
As a young child, Kevin was always keen to be in the field learning alongside his grandfather, father and uncles. Now, he can often be found outside on campus wearing his Class of 2012 leather jacket and a friendly smile.
Kevin decided to come to Guelph to pursue a Bachelor of Science in Agriculture (B.Sc. Agr.) degree to learn more about crop production and is currently entering his third year of study.
"I love the OAC because the students and faculty make up a giant family," says Kevin. "The OAC programs offer chances to meet other students with similar interests and learn a lot about agriculture."
Kevin's love for the college shines through the many activities he takes part in. Most notably, he is a student representative on the OAC B.Sc. Agr. Program Committee and helps to coordinate the annual Tractor Tug for Tots event, a tractor tug-of-war charity fundraiser.
Kevin's latest interest is crop protection technology. This interest landed him a summer job opportunity last year as a Research Assistant with BASF, where he conducted summer herbicide and fungicide trials near London.
Despite his love for the OAC in Guelph, Kevin's southwestern Ontario roots remain very important to him. He is known for heading home after Friday classes to farm and plans to one day run his family's business.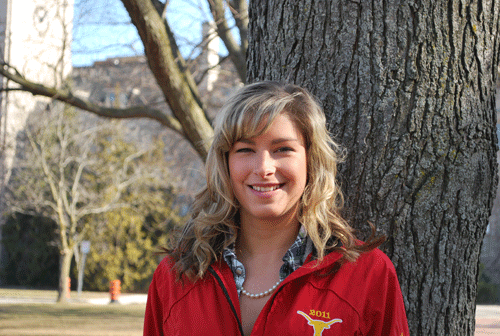 jessica gal, class of 2011
Proud is how Jessica, a Crop, Horticulture and Turfgrass Sciences student, feels about growing up on an Ontario grain farm and attending the OAC to study agriculture. Proud to be carrying on Gal family traditions, that is.
Jessica hails from Innerkip where she was raised on a corn, soybean and wheat farm. Her father is a past OAC graduate so when it was time to choose a post secondary education route, coming to Guelph was a natural choice for Jessica.
 "I have always wanted to receive a formal education in agriculture," says Jessica. "I think it is important to continuously learn new things to stay ahead in any business."
While in Guelph, Jessica works as a student manager of the OAC Job Shadow program where she enjoys helping other students find unique work opportunities in agriculture. She herself has worked as an Agronomy Assistant with Cargill Limited and is currently working as a Research Assistant with Syngenta Crop Protection Canada for the summer.
The combination of growing up in a farming family and her experiences at the OAC has enrooted a deep passion for farming in Jessica. She has a clear vision of what she thinks tomorrow's agriculture industry will be like and she sees strong leadership as the key to future success. 
"In the future, it is going to be important for farmers to adapt to changes, accept technological advancements and have an open mind about opportunities," predicts Jessica.
Like Kevin, Jessica hopes to bring her education home after graduation. She hopes to partner with her father to become a fourth generation farmer in her family.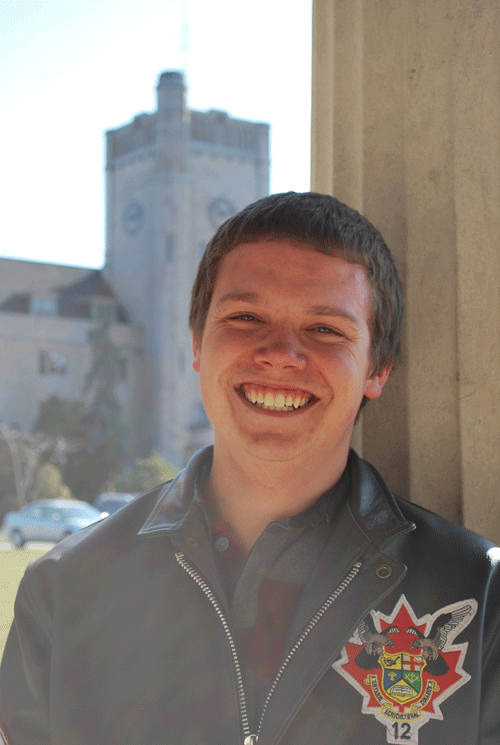 andrew reid, class of 2010
Given his outgoing personality, being an OAC student is all about networking for Andrew. He is keen to spend time and learn from classmates, faculty members and alumni with the goal of making strong connections that could be useful in his future.
As he just completed his fourth year of B.Sc. Agr. studies, Andrew enjoys learning about research taking place in the Department of Plant Agriculture.
"I love to learn and I am really interested in crop research," says Andrew, who followed in his father and brother's footsteps by attending the OAC.
Andrew's family runs a mixed crop, cow-calf and hog operation in Bruce County. Similar to Kevin and Jessica, it was his upbringing that sparked Andrew's interest in agriculture and he says working with researchers at Syngenta Crop Protection Canada as a summer student also contributed to his love for plant agriculture.
Andrew graduated this spring and plans to work in Australia this upcoming fall as a participant in the AgriVenture program, which provides young people with international work placements. When he returns home, he hopes to pursue a Master's degree in plant agriculture and lead his own research team in the future.
During the last year of his undergraduate degree, Andrew was actively involved on campus in OAC sporting events and proudly represented the Class of 2010 as a member of the class executive. He was also known for his optimistic view on agriculture and was often found discussing the future of farming with his classmates.
"Ontario growers have the advantage of a unique climate and location," explains Andrew. "If we're willing to try new things, we can benefit from many niche market opportunities."
There is no doubt that Kevin, Jessica and Andrew exemplify a top quality, emerging crop of grain farmers. So don't be surprised if you see their smiles at county meetings, on newspaper covers or across the grain counter before long – they're the faces of the future.
ABOUT THE AUTHOR
Another leader in the making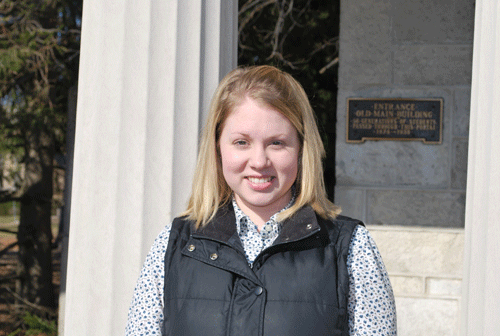 Rebecca Hannam was well positioned to pen the adjacent story as she is part of the next generation of grain farmers herself. Although she may end up farming with a pen as opposed to a plough, she certainly has a bright future ahead of her in the agricultural industry.
She is headed into her third year of a Bachelors of Commerce degree in Agricultural Business at the University of Guelph. In addition to her studies at the University, she also works as a writer for the Students Promoting Awareness of Research Knowledge (SPARK) during the school year. You can find stories by Rebecca on the Research Roundup page as well as in University of Guelph publications.
Growing up in a farming family has given Rebecca a profound respect for the work that farmers do and she is excited to begin a career in the field.
"Right now I'm very interested in exploring opportunities in marketing and communications in the farm sector," says Rebecca of her career aspirations.
In addition to interning with Farm Credit Canada for the summer, Rebecca will also be spending time at the Calgary Stampede as a member of the Agricultural Media Committee. Her job at the stampede will be to write articles about the events during the Stampede. •