Unlocking soy protein potential
UNDERSTANDING THE CHARACTERISTICS OF SOY PROTEIN CAN HELP OPEN MARKETS
soybean varieties developed  for specific food and health applications represent a key future growth opportunity for the Canadian soybean industry. Different types of soybean protein can be ideally suited to specific food applications, which can lead to new food products and processes, says a University of Guelph scientist who is involved in research in this field. 
"Canada is already well-known globally as an exporter of food grade varieties of soybeans," says Dr. Milena Corredig of the Department of Food Science and a Canada Research Chair in Food Nanostructures. "There are many possibilities for Canadian farmers in the area of soy proteins."
Researchers at Agriculture and Agri-Food Canada (AAFC) are working on developing a series of high protein soybean varieties that contain different types of soy protein. In collaboration with Corredig and other researchers, they are looking at different varieties to evaluate their processing performance, albeit at a very fundamental level, stresses Corredig.
"This is not about developing new products but working to evaluate processing performance to identify where or how different soy proteins could be best used," she says, citing fruit beverages as an example of a potential application for an improved variety.
In order to be used in a fruit beverage, a soy protein needs to be highly soluble and have a low pH value. A soybean variety high in beta-conglycinin could improve solubility, whereas another may contain a high level of a protein more suitable for making tofu.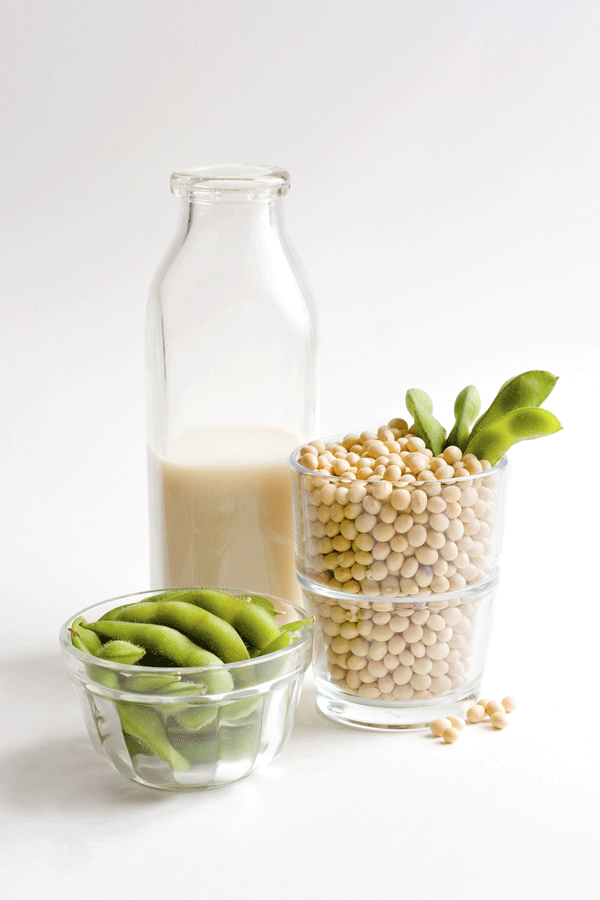 an evolving market
Other characteristics researchers are looking for are stability and gelation parameters, or how well and how fast a product containing soy protein, like a fruit beverage, will gel during processing. The ability of protein to bind – or 'gel' – with other ingredients is important to create a smooth, creamy texture in beverage products. Corredig is also involved in research to developing a better understanding of soy beverages, which are used as a base ingredient in many foods. This means evaluating different varieties of soybeans to learn how they can be used to make various types of beverages.
"Protein quality matters if you're trying to make creamy, tasty, soluble products," says Corredig. "To date, most soy protein isolates are sold for markets like protein bars or meat marinades where we do not need all those other characteristics. But to evolve the market for soy, we need to understand what tools a food developer needs."
And demand for food involving soy protein is likely to continue increasing as consumers search for healthier choices. According to Dr. Joyce Boye, a scientist at AAFC, this will help drive further development in this area.
Research continues to demonstrate the health benefits of soy proteins and peptides, she says in an email, adding that novel uses of soy in the future will capitalize on these research findings for the development of new products which target specific diseases. 
potential challenges
As the market is an emerging one, there are challenges to overcome in the production of soy protein isolates.  Their processing behavior changes depending on their composition and processing history. Many of their properties are still unknown and there are currently no soy protein isolate processors in Ontario, which means food processors purchase soy proteins from the US or are using soy beverages as a base ingredient instead.
According to John Michaelides, Director of Research and Technology with the Guelph Food Technology Centre, most of the current supply of soy protein isolates used in Canada comes from the US and Canada's relatively small population makes it difficult to be competitive in a commodity market. However, there is potential for soy proteins for targeted specialty markets.
"There is opportunity in developing specialty proteins from identity preserved soy," he says. "This is more prominent in Canada than in the US, but we need to build the market. We need domestic processing capacity to supply our own market but there is also the potential for exports."
Corredig agrees that Canada's soybean sector with its capabilities for targeted production and segregation lends itself well to development of new food applications for soybeans, but adds that vision and leadership are needed.
"We think of food as a commodity, as cheap and available. We need to continue to do research to advance but we need research to happen with vision," she says, adding that while this can be a big challenge, it is important to build relationships with all partners in the chain so that everyone is aware of what research is going on and how it is relevant to the bigger picture.
Fortunately, Soy 20/20 is helping make those linkages. The group helps connect researchers and entrepreneurs with funding and commercialization opportunities and works to promote awareness of potential new uses for soybeans.
"It is important for the industry to develop products and applications that meet the needs of the marketplace," says Soy 20/20 President Jeff Schmalz. "Building partnerships, which is our specialty, is a great way to achieve that." •