JESSICA SCHOUTEN WILL ATTEND THE AMERICAN SOYBEAN ASSOCIATION AND DUPONT YOUNG LEADER PROGRAM
grain farmers of ontario has selected Jessica Schouten as the Canadian representative for the 2011 American Soybean Association (ASA) and Dupont Young Leader Program.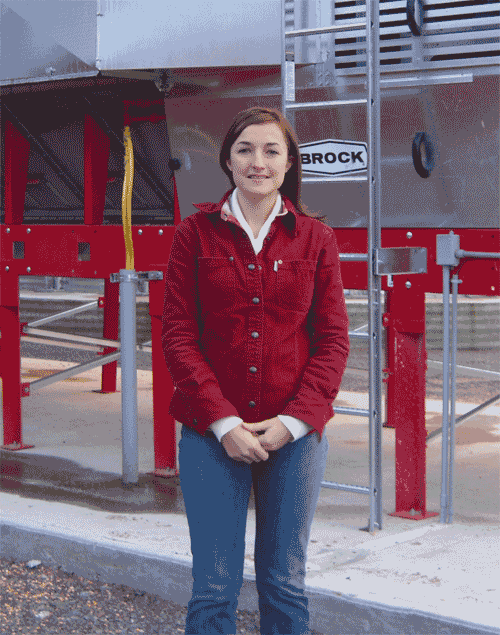 The program offers an excellent opportunity to help train Ontario's future farm leaders. Participants benefit from lessons in public speaking and exposure to successful farm leaders. The greater farm industry benefits from the future potential of well trained leaders.
After reviewing several applications, Jessica was chosen to participate in the Young Leader training opportunity. All applications were reviewed by a committee and interviews were conducted with some of the candidates before Jessica was chosen to receive the GFO sponsorship. "We had a great group of applicants this year and were glad to see keen interest to get involved among our younger members," says Barry Senft. 
about jessica
Jessica is a graduate from the University of Guelph Kemptville Campus, with a degree in General Agriculture and a specialization in crops. She is president of the Ottawa Carleton Soil and Crop Improvement Association, a member of the Canadian Association of Farm Advisors, a director of the Celebration of Agriculture (in Ottawa) and helps out at various Ontario Federation of Agriculture events.
Schouten Corner View Farms Ltd. was started in 1956 by Jessica's grandfather, Bill Schouten south of Ottawa. The farm consists of dairy and cash crops and is exploring green energy. Currently they grow 900 acres of IP soybeans, 1,750 acres of corn, 400 acres of wheat, 850 acres of hay and are expanding their elevator system to keep up with the increasing acreage. Jessica is active in the farming community and discusses the future of the family business with keen interest.
With four years experience as a crop advisor and work as an agronomist assistant during college, her agricultural knowledge is well rounded. She is currently working with TD Canada Trust Agricultural Services, analyzing farm business operations and cash flow.
Jessica advises farmers to "know your cost of production. I subscribe to AgWeb news, DTN ag, and E-morning news and I study the markets by reading current news about the United States, South America, China and other major importers and exporters. Supply and demand is one thing you need to understand. Watch for rallies and when the cost of production is figured in, make a move. In a year like this, basis is huge. Watch your local elevators and IP premiums."
young leader program
The 2011 class of Young Leaders will participate in a challenging and educational leadership experience  in December at Pioneer headquarters in Johnston, Iowa, and then complete training in March, 2011 in Tampa, Florida in conjunction with the annual Commodity Classic. The goal of the program is to train the next generation of leaders for the North American soybean industry.
The first part of the training starts several months before the first meeting. It involves personality tests and background information to help evaluate each participant's strengths and weaknesses. The first meeting, at Pioneer headquarters, provides communication skills training and a break-down of the supply chain – from grain dealers, to suppliers, to buyers. The public speaking training focuses on how to interact with politicians, the media and the general public.
The second half of the training delves into greater detail about the expectations of the group moving forward. Each participant has the potential to be a leader in the grain industry and this portion helps them realize their capabilities and motivates them to move forward.
2010 young leader
Last year, the Canadian young leader representative was Markus Haerle. Markus, and his wife Roxane, appreciated the experience and gained a lot of information, motivation and good relationships from the program. "It was a really positive experience for us," says Markus. "It was a highly interactive program so we were able to get to know other farmers on both a business and a personal level."
One of the best lessons for Markus was the public speaking training and personality assessments. Prior to the training, Markus was uncomfortable speaking-up at meetings. Following this training he learned, not only to participate in conversations but also to start them.
Roxane, who handles the financial aspect of the farm, appreciated the importance that was placed on partnership and teamwork. Support at home was a key theme throughout both training sessions with emphasis placed on emotional support. The program emphasized that all members of a family-farm business play a critical role. Although some roles on the farm – whether a spouse or a child is responsible for them – may seem secondary, the program made many realize the critical importance of having a strong support system and that each role is essential to the success of the family business.
At the second training session, which was held in Anaheim, California in March, the President of the ASA spoke to the group and explained that many years ago he participated in the Young Leader program and was motivated to get more involved, ultimately leading him to the position he holds now. For Markus, this message really hit home. When the opportunity to become a GFO director arose, he jumped at the chance and is proud he did. He is an asset to the GFO team and continues to learn and grow in his role. Markus has kept in touch with several of the 2010 "young leaders" and many have had similar motivations – taking on delegate, director and even national director positions.
"Everyone who takes part in the Young Leader program takes something home with them – everyone is satisfied with the experience," says Markus.  "For Jessica, this will be a commitment that lasts about two years, but the relationships she forms and lessons she learns will last a lifetime."
The Young Leader program is sponsored by Pioneer Hi-Bred, a Dupont Business. •