Ontario's newest inductee
FARMER AND FORMER MANAGER OF THE OCPA HAS BEEN INDUCTED INTO THE ONTARIO AG HALL OF FAME
there is no doubt that Ontario agriculture has benefited from a great number of leaders. As with any industry, the best leaders are innovative and focused on contributing to the industry as a whole, not just one business or for personal gain. The most memorable leaders leave behind a legacy that will not be forgotten.
It is the mission of the Ontario Agricultural Hall of Fame to "acknowledge, record and preserve the contributions made by leaders to the growth and development of Ontario's agriculture/food industry."
With this mission in mind, the Hall of Fame inducted Terry Daynard earlier this year and recognized him for his outstanding contributions to agriculture, specifically, Ontario's corn sector.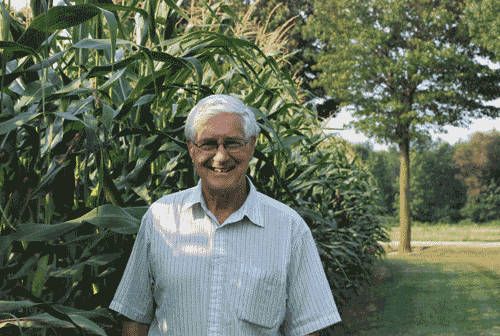 As a farmer, teacher, researcher and a major driving force in the creation of the Ontario Corn Producers' Association – one of Grain Farmers of Ontario's founding organizations – there is no question that Daynard deserves this prestigious award.
about the hall of fame
Induction into the Ontario Agricultural Hall of Fame comes at the end of a lengthy nomination and selection process. Each year, all potential nominations are  reviewed by the 15 directors of the Hall of Fame. The directors come from all over Ontario and represent a variety of agricultural industries; from producers to policy makers to industry stakeholders.
"The board will use only the material that is submitted in the nomination to make the decision," explains Reg Cressman, the Secretary/Treasurer of the Hall of Fame. "The board must set aside their own personal knowledge and experience. That's difficult to do," he continues; "it takes a fair amount of discipline."
The Hall of Fame has 544 individual members and 220 corporate members. Any member is eligible to nominate a person for induction.
As a result of Daynard being an instrumental leader in the early days of the Ontario Corn Producers' Association, his nomination was put forth prior to the GFO amalgamation by the OCPA.
a lifetime of contribution
The decision to induct someone into the Hall of Fame does not come lightly. "An inductee must have a lasting legacy that extends to at least a provincial level," says Cressman. "They have to have done something that produces a benefit well beyond the farm gate. We're looking for people who have been innovative," he continues.
Although Daynard's list of contributions to the industry is long, it is clear that his work on behalf of corn producers is paramount. Daynard himself chalks up his role in the creation of the Ontario Corn Producers' Association as a case of being in the right place at the right time; "I was just lucky to come along as the Ontario Corn Producers started," he claims. Despite this humility, there is no doubt that Daynard was instrumental in building the OCPA.
"Terry was convinced as a corn producing farmer, researcher and crop extensionman, that the most important need for the Ontario corn industry in 1982 was the formation of a strong corn growers' association," says Dale Mountjoy – former chair of the OCPA – in the letter nominating Daynard for induction into the Hall of Fame.
One of Daynard's greatest achievements during this time with OCPA was his influence on the ethanol industry and his focus on developing markets for Ontario corn.
"We were growing more corn than we had markets for domestically and it's expensive to export using the St. Lawrence Seaway," says Daynard of the drive to find new markets. "Prior to ethanol," he continues, "the Ontario corn industry worked a lot to develop export markets. The shippers appreciated these efforts but it was difficult for farmers to take advantage of them."
Daynard, along with many others in the industry, worked hard to make corn ethanol a reality in Ontario. With this goal in mind, the Canadian Renewable Fuels Association (CRFA) was created in 1984.
"We were a lobbying organization to begin with," says Jim Johnson, a farmer from Alvinston who worked closely with Daynard in the early years of both the OCPA and the CRFA. "We were trying to get people interested in giving incentives to drive investment in ethanol. It was an uphill struggle," continues Johnson.
With ethanol plants now located throughout the province, it is easy to forget the work involved in developing the industry. The current success of the ethanol industry is built on the early work of the CRFA. "I think our contribution was that we kept the notion of ethanol alive even when it wasn't trendy," says Johnson. "There were times when oil prices were low and there wasn't much interest but we kept working away."
more than just ethanol
Although impressive, Daynard's influence is not limited to the ethanol industry. Prior to joining the OCPA and founding the CRFA, Daynard worked as a professor in the Crop Science Department of the University of Guelph for 16 years. A large part of his career was spent preparing young students for successful careers in agriculture.
"I've seen so many students that Terry inspired, including myself," says Don LeDrew – past student of Daynard's, fellow OCPA employee and current president of ACC Farmers' Financial. "He has a unique ability to inspire and encourage people."
During his time as a professor, Daynard supervised nine Ph.D. students and 14 M.Sc. students. All nine of his Ph.D. students became successful in their careers and, like LeDrew, many of his students are still close friends with Daynard and his wife, Dot.
commitment to making connections
Although Daynard is no longer actively teaching or lobbying for ethanol development, his commitment to agriculture has not wavered. Still focused on market development, Daynard has utilized his ability to connect people to create the Ontario BioAuto Council.
By bringing the chemical, plastic and agricultural industries together, the BioAuto Council hopes to make Ontario "a world leader in bio-based automotive manufacturing while protecting the environment for generations to come."
"The bio-auto focus is simply an extension of ethanol," explains Daynard. Automotive part manufacturers are similar to farmers in that they are price takers; they don't have much control over the price of their inputs. This, combined with rising oil prices and environmental concerns  means there is a lot of potential for partnerships between the agriculture and manufacturing industries.
"It's going to happen globally and there is no reason Ontario can't be at the leading edge," says Daynard of the move to more bio-based auto parts.
an inspiring leader
Although he is humble to talk of his accomplishments – instead, preferring to focus on those that worked with him along the way – there is no doubt that Daynard's impact on the industry is inspiring.
Daynard's hesitation to draw too much attention to these accomplishments comes from an understanding that his greatest successes were inspired by new opportunities that came through exploration, relationships and being in
the right place at the right time. "The only thing I know is that they shouldn't do the things the way we did them 30 years ago," he says. "The world's changed
too much." •