Save the earth, buy a tractor
New farm equipment now more eco-friendly
time's running out and some kitchen table debates about new equipment purchases have reached a deadlock. But there's one new 'pro' to consider since recent emission regulation changes are making new releases the most environmentally friendly available.
 
Whether they're red, green or techni-coloured, any new off-road diesel engine released this year has to meet tough new "Interim Tier 4" regulations. Introduced in 1996 as a tiered regulation, the newest phase to be implemented is the most severe emissions reduction scheduled in Canada, the United States and the European Union. Equipment manufacturers have to reduce the amount of particulate matter and nitrogen oxides emitted by engine combustion by 90 percent compared to last year's standards says Henry Lau, Environment Canada spokesperson.
PHOTO 1: PowerTech™ PSX 6.8L engines feature series turbochargers that deliver more boost pressure than single turbocharging configurations which results in higher power density, improved low-speed torque and improved high altitude operation.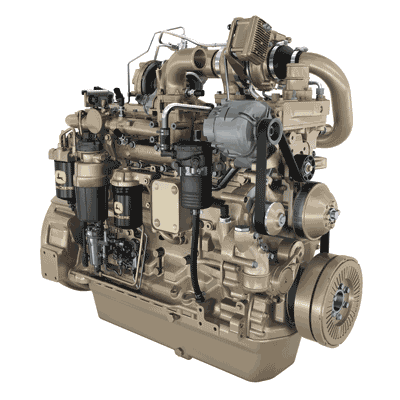 "Environment Canada is in the process of amending the current regulations to incorporate the interim Tier 4 and Tier 4 emission standards that are in place in the United States," said Lau. Following publication of the proposed amendment and a 60 day comment period, the final regulations will be prepared. But equipment manufacturers are moving ahead with new models that meet the current American regulations anyway, expecting them to be similar enough in the end. With three more years until the final stage of the regulations takes full effect, Lau says there are many options for manufacturers and it will be completely up to them to choose appropriate system designs.
"Different equipment manufacturers will have different ways of meeting emission standards," said Lau.
selective catalytic reduction
Among equipment manufacturers, the most popular option for meeting the new emission standards appears to be the Selective Catalytic Reduction (SCR) system. Chosen by both Case IH and New Holland for all new models over 100 horsepower, this system relies on optimum combustion in the engine to reduce particulate matter. But the hotter burn in this system produces more nitrogen oxides from straight diesel fuel, so an injector mixes small amounts of Diesel Exhaust Fluid (DEF). DEF is a urea based additive that provides ammonia to react with the nitrogen oxides and converts them into harmless nitrogen and water vapours.
Robert Meier, Territory Sales Manager for Case IH in Ontario and the Maritimes, says that initially farmers did react negatively. The idea of filling up the DEF tank with every other fuel fill up wasn't popular at first and since DEF is corrosive, farmers will have to purchase new plastic or stainless steel containers if they want to store and transport the DEF themselves. Many fuel delivery operators were not equipped to handle the additive initially and many fuel companies are still in the process of accommodating DEF, even as the transport industry continues to adopt SCR.
"This wasn't a farmer driven change, it's a regulation driven change" said Meier. "But I think with education has come comfort and confidence."
Meier says he believes farmers will ultimately judge the technology on its ability to perform and meet their needs, not its environmental impact. He's excited to see the new models being put to the test in the fields and says the first deliveries have already been made in Ontario.
"If you go back to tractors years ago, there were no emission controls. Then performance and fuel economy were sacrificed to meet all previous emission regulations. The new Tier 4 models overcome these handicaps and it is the first time we can actually improve performance and fuel economy while meeting emissions regulations. We can't wait to unleash the tractors," said Meier. "It's been like having a racehorse locked up in the barn waiting for spring."
PHOTO 2: SCR, Selective Catalytic Reduction, uses a catalyst to treat the NOx contained in the exhaust gas, transforming it into harmless water and nitrogen. An after treatment system adds Diesel Exhaust Fluid (DEF) in the exhaust. It is a water and urea mix, which is non-toxic and colorless in the exhaust.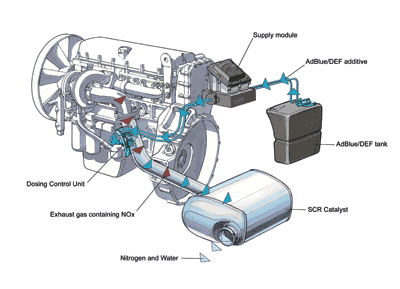 cooled exhaust gas recirculation
On all new John Deere models, and many of their competitors' models less than 100 horsepower, the emission control system being put in place is known as the Cooled Exhaust Gas Recirculation (CEGR) system. This system works by re-introducing a cooled portion of the exhaust emissions back into the air intake, lowering both the temperature and nitrogen oxides produced by combustion. Increased particulate matter produced by this process is then trapped by a Diesel Particulate Filter (DPF) which replaces the muffler on new models. As the filter becomes full, a regeneration mechanism is triggered and a small amount of diesel fuel is injected to burn up the particulate matter in the filter. Under normal operating conditions, this system self-activates and leaves a small amount of ash behind which, in the long-term, requires a filter change.
The system also works well with biodiesel and ultra low sulphur diesel fuel. Low ash oils with reduced trace metal content will also help extend the life of the DPF. Barry Nelson, Media Relations Manager for John Deere's Ag and Turf Division, says the important thing was to go with a system that performed well in the field and kept the customer in mind. Nelson says that this system was produced in direct response to customer focus groups and surveys.
"Customers told us to keep it simple and that's why we chose a one-fluid system," said Nelson. "We do have a responsibility to meet emission restrictions, but at the end of the day a farmer wants power, fuel efficiency, comfort and control in a tractor."
Nelson says that because John Deere is fully integrated in the production of their machines, new technology allows efficiencies in transmissions, hydraulics and cleaner-burning engine performance. He says John Deere's Veritable Geometry Turbo in the engine is just one example of how technology is allowing them to create a more efficient total package and he's excited about the advancements that could be made based on technology that's currently available. 
"Farmers in Canada and the United States are going to have a real advantage," said Nelson. "We have the most technologically advanced equipment in the world." •