The Big Picture: Building better bridges
TROY AND STACY HADRICK – ADVOCATES FOR AGRICULTURE
"for too long now, those of us in agriculture have been letting someone else do the talking," says fifth generation South Dakotan cattle rancher, Troy Hadrick. He and his wife Stacy suggest that the best way to combat negativity towards agriculture is to stand up and tell your own story. The couple has been travelling around the world, speaking to farmers about how they too can become Advocates for Agriculture.
PHOTO: TROY AND STACY HADRICK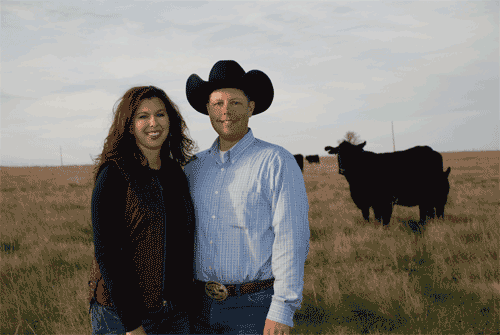 You might remember Troy from a 54-second YouTube video he produced in opposition to Yellowtail Wine's financial support of the Humane Society of the United States (HSUS) — an animal rights organization that has taken a stance on agribusiness and large scale farming. "I couldn't figure out why in the world we had this company down in Australia that relied on farmers to grow grapes for them, giving money to an organization over here that's trying to put other farmers and ranchers out of business. Doesn't make any sense," says Troy.
He spoke bluntly in the video, which was taken in the Hadrick's corral in front of their cattle. As Troy poured a bottle of Yellowtail out on the frozen ground, he talked about how Yellowtail's decision to support HSUS was impacting his business. That day, the video was viewed a few thousand times. A couple of days later, Troy got a call from ABC TV in Australia. They wanted to interview him. "Two weeks to the day," says Troy, "Yellowtail Wines apologized."
Although the donation of $100,000 had already been made, the Hadrick's actions effectively stopped an additional $200,000 from being donated to the organization.
"We changed the future course of donations for a multinational company because we were willing to stand up and tell our story," says Troy. "And you know what that little campaign cost us? Nothing."
are you an influential person?
When you look around, the most influential people in agriculture aren't actually in agriculture, say the Hadricks. Take, for example, actor Alec Baldwin, who narrated Meet your Meat, a documentary on factory farming created by PETA, or Michael Pollan, who is a professor of journalism at the UC Berkeley Graduate School of Journalism – not a farmer. These individuals shouldn't be painting the pictures that the general public sees; those who live them should paint them.
"Unfortunately, today, these are the things that are telling the story for us – telling your story for you," says Troy. "Now we know this isn't the whole story. We know this isn't an accurate portrayal of how food gets to the consumer. It's up to us to turn that story around." The Hadricks suggest that you do three things when you tell your story – talk, teach and touch.
talk, teach, touch
They started 'talking' to consumers through a blog. "What I was trying to do with this blog was to highlight articles I was finding in the media that were telling the story of agriculture – telling it in an inaccurate way" says Troy, "And then including my comments about what was wrong, what the real story was and giving producers an opportunity to take just a couple of minutes per day to learn what was being said about them."
From there the Hadricks started a Facebook fan page for Advocates for Agriculture, which linked directly to their blog. From Facebook they moved to Twitter. "I learned very quickly that there are an incredible number of conversations taking place about agriculture, about farmers and ranchers and what we do," says Troy. "As the old saying goes, if you're not at the table for the discussion, then you're probably on the menu. And so I got on Twitter – it's another way we can help share stories with people who live all over the world."
The Hadricks suggest that every farmer have a 30-second elevator speech that includes their name, where they're from and their connection to agriculture. "It's important that we realize the role we have as people in agriculture, to make sure that we know what's being said about us – and be able to dispel those myths," says Stacy.
Teaching younger generations about farming is another great way to share your story. Visit a school or open your farm up for a school fieldtrip. Doing so will provide you with an opportunity to teach the younger generations about what you do.
"If you take a couple minutes, and you're honest and passionate about what you do, and you're excited about the story you have to tell, that's going to show," says Troy. "That excitement is going to go into them and when they tell your story for you, they're going to be excited about it too. And that's how your story can grow and grow." •