AGCO LAUNCHES NEW S8 SUPER SERIES
IT TAKES SIX days for a bare frame to become a Gleaner combine. On average, that is approximately 218 to 225 man hours for complete assembly, including paint.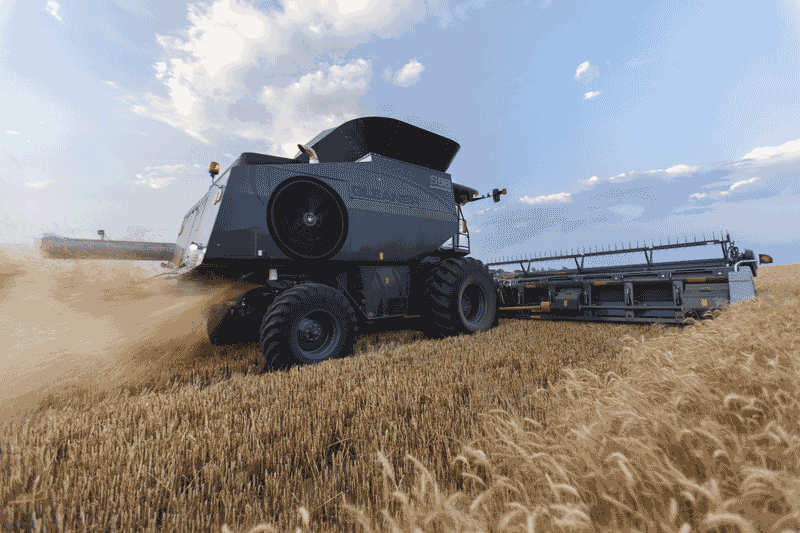 At AGCO's Hesston Operations in Kansas, a 180,000 square foot warehouse known as Plant 5 is divided into 18 main stations where each component is added on. From the engine and grain bin, the processor and front axle, to the operator cab – approximately 7,500 pieces are assembled to produce a single combine.
Three combines roll off the assembly line each day. Before they are handed over to the dealer and the customer, each one is thoroughly checked in the Dynamometer Bay. This simulates rough terrain to ensure all parts and hardware are secure. The brakes, transmission and drive motors are tested, a 7,000 pound header simulator tests header speed, and 90 different checkpoints are verified through a functional test in addition to a 30 point electrical test.       
new developments
The latest combines to be produced at Plant 5 are the Gleaner S8 Super Series, in S88, S78, and S68 models.
"The S8 takes the changes we made to the S7 series to a new level," says Kevin Bien, Brand Marketing Manager for Gleaner. "Our concept is an Optimum Harvesting Performance Platform. Our natural flow system gives us the ability to have a larger separator area than anybody else; but if you look at it, it's still in that compact package."
The S8 transverse rotary combine is a result of design refinements developed over the past three years that further reduce weight, size, and fuel consumption while maximizing grain capacity, improving grain quality, and increasing reliability and durability.
"This is the voice of our customers, this is what they want," says Doug Hennessey, Product Specialist, Hay and Harvesting. "The number one thing they tell us is that grain quality is key. Efficiency is the next feature they ask for, followed by consistent performance and longevity, and reduced loss. Those are the four cornerstones we have built this machine around."
The simple design focuses power on threshing and separating the grain. The natural flow design means the crop never changes direction as it is moved to feed the rotor and begin threshing. Material is progressively accelerated from the feeder to the chopper. AGCO claims this decreases the potential for crop damage and reduces machine wear. With an open rotor cage and 360 degrees of threshing and separating, grain can exit the rotor cage to the two-stage cleaning system whenever it is threshed.
"Gleaner gets the highest percentage of our engine rated power to the separator where the work is getting done," says Mike Nelms, another AGCO Product Specialist, Hay and Harvesting. "If you have an inefficient separator drive you are going to burn a lot of fuel just to run that processor. On Gleaner combines, because we have such an efficient way to transfer that power, if we get into a lighter situation like we had last year with the drought when we saw some pretty light crop conditions, it burns significantly less fuel. If the separator doesn't require that power, fuel usage goes down on the combine."
In an effort to help keep farmers in the field longer, the S8 Series has increased fuel tank capacity by 53 percent – from 150 to 230 gallons. All models are built with a unitized welded mainframe that helps reduce the weight of the machine. "The lightweight design also allows the combine to stay in the field longer during inclement weather, " notes Hennessey, " and when the weather passes and the field is drying, the Gleaner can go out first."
In redesigning the S8 Series combine, AGCO stayed true to the brand's design principles that have been their core since 1923. "We've created a light, nimble combine designed so that the horsepower is used to efficiently cut and thresh the crop, not to move a heavy machine or overly complex system through the field," says Bien. •