Managing the seasonal transition
UNDERSTANDING WINTER'S IMPACT ON SPRING CONDITIONS
WHEN ONTARIANS THINK about the winter of 2013/2014, cold temperatures and heavy snowfall are likely to come to mind. As seasons change growers become anxious to work the land, but this year, they may be doing so in unique conditions. What does a harsh winter mean for the following spring? 
PHOTO:  MONTHLY TEMPERATURE FORECAST MAP FROM ENVIRONMENT CANADA. THE CANADIAN MONTHLY PREDICTION SYSTEM IS AN ENSEMBLE PREDICTION SYSTEM WHOSE OBJECTIVE IS TO FORECAST THE EVOLUTION OF METEOROLOGICAL TRENDS.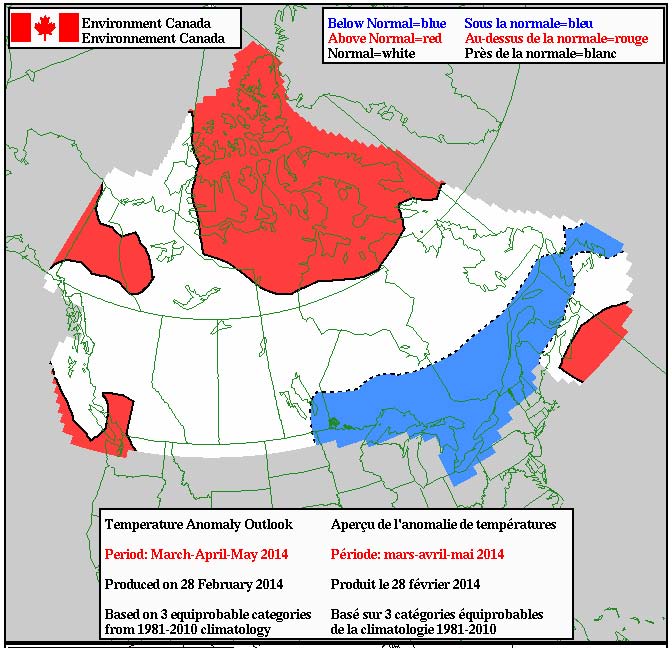 David Phillips of Environment Canada and Tracey Baute with the Ontario Ministry of Agriculture and Food and Ministry of Rural Affairs (OMAF and MRA), who research weather and pest management respectively, both say that growers could be facing delays and challenges this spring.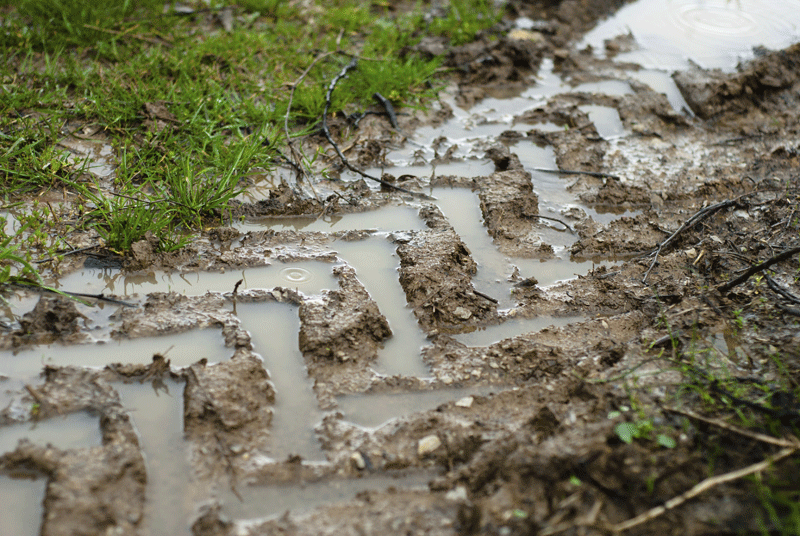 "There is good news in that there is no shortage of moisture but on the other hand, there may very well be concerns this planting season due to the winter conditions," says Phillips.
WINTER WEATHER
Snowfall is difficult to analyze because it varies geographically, but he says the Ottawa area saw approximately 10 percent more snow this year than normal and growers in the London area experienced 50 percent more.
"The amount of snowfall did not actually break any records but what is more significant is the length of time it stayed on the ground," says Phillips, noting that the season will be recorded as intense and long-lasting.
He says the cold temperatures were also significantly above average this year. Ottawa had double the normal number of days with temperatures below minus 20 degrees Celsius and Toronto experienced three times their norm. While official data is not yet released, Phillips says this winter could be the coldest many Ontario communities have seen in the last 20 years.
SPRING FORWARD
Given the winter conditions, the natural worry is spring flooding. Phillips justifies this concern and adds that the type of melt we experience can be predicted by the conditions at the start of the winter season.
"We had a wet year last year and precipitation totals were up in late fall which means that the ground was saturated," he explains. "Because the ground froze quickly and stayed frozen, percolation and filtration cannot occur during the melt so I predict there will be significant surface run-off."
Phillips also says ice jamming could be a major concern, not only because water bodies are frozen, but also due to the number of branches that fell during ice storms. "When water freezes around fallen trees, the concern for creeks overflowing into fields is more serious," he says.
Although growers are keen to move ahead with spring work, Phillips urges that we do not want a quick transition to warm temperatures given the possibility of standing water issues. But due to winter patterns, he predicts a slow transition into spring.
At time of publication, Phillips' spring outlook indicates colder than normal temperatures and average rainfall. Tracey Baute, Field Crop Entomologist, agrees with forecasts that it could be a wet spring.
PEST PREDICTIONS
All extreme conditions influence how well pests overwinter. With this year's track record, Baute predicts that smaller beetles such as the bean leaf beetle and flea beetle may be less prevalent in the upcoming growing season.
"If cold temperatures occur at times when there is a small amount of snow, insects who overwinter at the soil surface find it difficult to survive," she says. On the contrary, she explains pests such as wire worms and grubs are not significantly impacted as they over-winter deep in the soil.
But while harsh conditions can have the positive impact of breaking some pest cycles, spring weather also influences insect issues.
In springs that are cool and wet, pests like slugs and seed corn maggot are more prevalent. Baute says planting time is also a factor because the longer it takes to plant, the more opportunity surviving insects have to develop and prepare to feed.
She draws attention to slugs as they are known to take advantage of wet conditions and are not controlled by seed treatments. "Growers who are using fungicide-only seed need to be aware that they have to take an extra step to ensure they are not at risk of these pests," she explains.
"It could be a complicated spring in terms of monitoring pests but at the same time, it is a good year for not seeing every pest be a problem," Baute says.
FIELD MANAGEMENT
Baute offers three management tips for growers to combat spring challenges
this year:
Plant in good conditions instead of pushing seeding time. It is extremely beneficial to plant in ideal conditions so the crop can emerge quickly and pests do not have the opportunity to feed on in-ground seed.
Focus on weed management. As challenging as weed control is during a wet spring, pests who survived winter as well as pests who migrate into Ontario in early spring, like moths, will target anything that is present and green. 
Be aware of volunteer crops. It may be a year where we see a lot of volunteer plants which means full rotation out of the previous crop did not occur and therefore pest cycles did not break. Pests like rootworm will recognize this and remain in the field. Risks significantly worsen if volunteer crops contain Bt or Bacillus thuringiensis.
Updated information on spring conditions and concerns from Baute and other OMAF and MRA researchers can be found at www.fieldcropnews.com. •