What's new in cover crops?
THE LATEST RESEARCH RESULTS
INTEREST IN COVER crops has peaked in the past few years, says Anne Verhallen, Soil Management Specialist with the Ontario Ministry of Agriculture and Food (OMAF). Increased interest means more funding for research, which Verhallen says is important, since a lot of the information Ontario producers rely on comes out of the Midwest.
PHOTO: THE DIFFERENCE IN TOLERANCE OF ANNUAL RYEGRASS TO INTEGRITY (PLOT AT FRONT OF THE IMAGE) AND CALLISTO+PRIMEXTRA II MAGNUM (WHICH IS THE PLOT RIGHT BEHIND IT). INTEGRITY WAS APPLIED AT 0.44 L/AC AND CALLISTO + PRIMEXTRA II MAGNUM WAS APPLIED AT 0.12 L/AC + 1.6 L/AC.  THESE ARE THE LABEL RATES OF EACH HERBICIDE JUST AFTER PLANTING BUT WELL BEFORE CROP EMERGENCE. THE COVER CROPS WERE OVERSEEDED INTO CORN.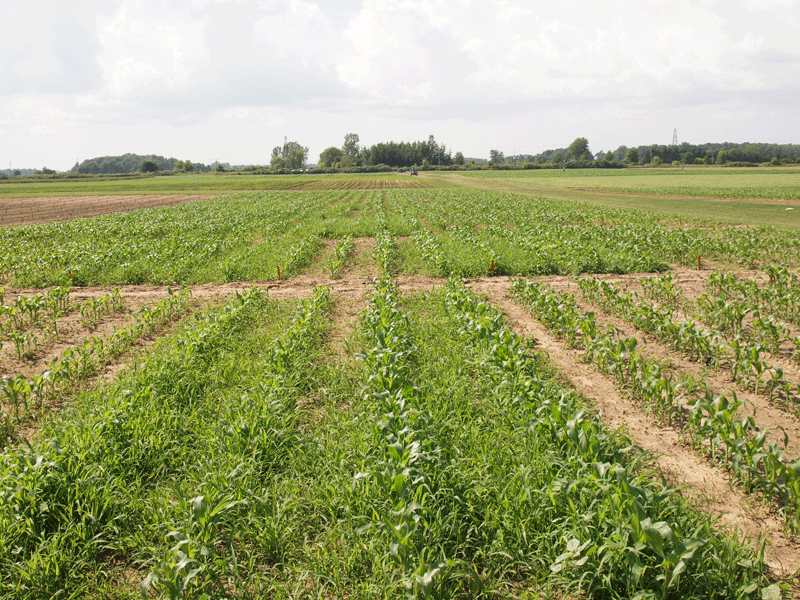 "We have a lot of speakers who come up here, but everything they bring you have to try to put into our context," she says. "We are very different than some of these other areas."
CURRENT RESEARCH
This year, Verhallen will continue work that was started in previous growing seasons. She just finished her second year of testing cover crop mixtures after wheat. The research was conducted on 12 sites over three counties, and looked at a variety of mixtures, including a two-way, three-way and six-way mix.
"We've been looking at the data and reporting on some of it," says Verhallen. "But every year is a little different, so it's the kind of thing that we need to get to the end of the project before we make any real sweeping statements."
Verhallen has also been looking at seeding rates in mixtures, trying a variety of rates from 20, 30, 40, and 50 pounds of a straight oat and radish mix. Some of the agronomics need more work, though, she says.
"We pretty much confirmed that we can maximize our biomass at about 30 pounds, which is nice to know because that's about where we were in our recommendations."
After taking biomass and nitrate samples in the fall, Verhallen will return to a number of sites that were not disturbed by tillage in the spring and look at water infiltration and earthworm counts. "What we're seeing, at least last year, was any place we had cover crops, we seem to have a greater number of earthworms. So we'll try another year of that to see if we're seeing the same thing." This time, though, instead of counting the worms, Verhallen says she is going to weigh them.
"It gave us some interesting numbers," says Verhallen. "I'd always been told that earthworms didn't travel very much, but what we were seeing is where we have strips of cover crops, I think we did see earthworms travelling."
Dr. Laura Van Eerd at the University of Guelph Ridgetown Campus has been conducting long-term trials in cover crops, and in particular, looking at soil health as a result. She looked at a variety of cover crops, including oats, rye, oilseed radish, hairy vetch, and forage peas, plus a mixture of oilseed radish and rye. In the trials, field corn was grown following four years of vegetable crops with the above-mentioned cover crops. After field corn harvest, the stover was removed in half of the fields and kept in the other half. In the year that followed, Van Eerd looked at the impacts on soil quality.
"What we found was that with the cover crop you had less decomposition of organic matter or organic carbon compared to if there was no cover crop," she says. "So what that's indicating is that the cover crops may work to conserve organic matter and thus soil quality."
Van Eerd plans to continue those particular trials for another two years and then move on to testing it with wheat. "And then we can compare that to crops that have had a cover crop and crops that have not had a cover crop," she says.
THE COST OF COVER CROPS
Van Eerd is working with Dr. Richard Vyn, Agricultural Economics Assistant Professor at the University of Guelph Ridgetown Campus to look at profit margins. His analysis includes the cost of purchasing seed, the cost of hiring a custom planter and, if necessary, the cost of an herbicide with custom application to control that cover crop in the spring.
"With those associated costs, we've seen in our systems that the economics or the profit margins are always as good as or better with the cover crop compared to without," she says. "The profit part comes from that slight yield boost that we see with the cover crop. In some years it is not statistically different in terms of yield, but when we work out the economics, it works out that it can be better."
In order to see that yield increase, Van Eerd says that farmers have to be committed to the long term. The same results will not come out of trying it for a year.
Dr. Darren Robinson, with the University of Guelph Ridgetown Campus, is working with colleague Dr. Peter Sikkema in the Department of Plant Agriculture. Their work involves over-seeding cover crops into corn to see if residual herbicides reduce stand establishment and overall growth and biomass.
Producers have found that certain herbicides hinder the establishment of certain cover crops, says Robinson. "If the herbicides are going to hurt the cover crops, then they're not compatible with one another."
Although their first trials were in corn, they do plan to conduct trials in both soybeans and winter wheat as well.
Preliminary results show that annual ryegrass, for instance, can be established where Integrity has been used; "whereas, an herbicide like Callisto Primextra will cause too much injury to that cover crop." Robinson mentions annual ryegrass because it is the cover crop that growers are most interested in over-seeding into field corn. He plans to continue his research for another three years.
"It's really good to see the interest in cover crops," says Robinson. "You know, we've known for years about the benefits of them, but growers have to be able to fit it into their production systems." •