The utilization of Ontario grain
UNDERSTANDING DOMESTIC AND GLOBAL MARKETS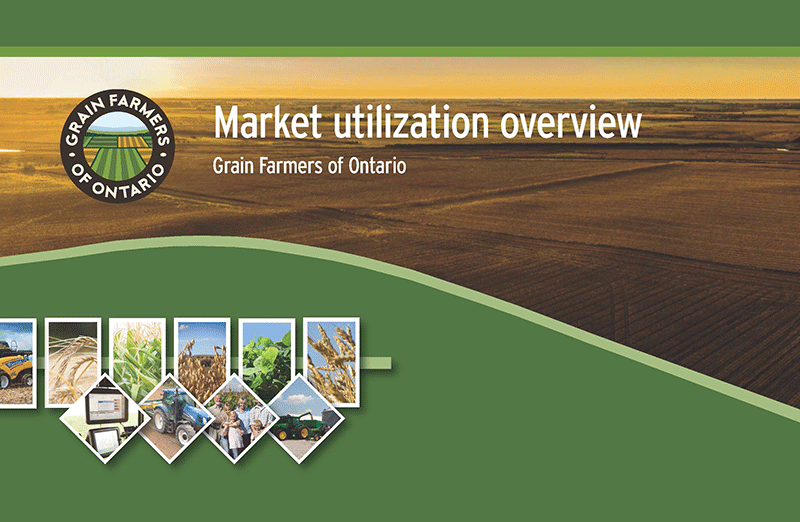 THE MAIN OBJECTIVES of Grain Farmers of Ontario's Market Development department are to create new markets and expand existing markets for Ontario grains. To better achieve these goals, a market utilization study was conducted in partnership with Synthesis Agri-Food Network in 2016.
"One of our biggest challenges has been the lack of a complete dataset for Ontario for market utilization and disposition," says Nicole Mackellar, manager of Market Development for Grain Farmers of Ontario. "We had a fairly good understanding of where our grains were going but we didn't have factual data to back it up. Having this baseline information will allow us to identify areas for growth within existing markets and identify new opportunities for each of our crops. This will help us set priorities for both our domestic and international market development initiatives."
UTILIZATION STUDY
To complete the market utilization study, analysts at Synthesis Agri-Food Network relied on information from Statistics Canada, the Ontario Ministry of Agriculture, Food and Rural Affairs, and Industry data (from groups such as the Canadian Oilseed Processors Association). However, these sources do not capture the numbers needed to analyze some important market segments — including domestic grain usage and on-farm usage. To capture this information, interviews were conducted with grain traders and handlers, grain buyers and processors (from the ethanol, milling, and crushing sectors), the feed industry (including nutritionists from commodity/producer associations), and the seed industry.
"There are fluctuations year to year within Ontario grain — depending on how early the crop is or how the grain quality influences which market it is sold into," says Rob Hannam, president of Synthesis Agri-Food Network. "The results are presented as a three-year average to avoid single year anomalies and provide a better picture of the markets for Ontario grains."
Another complexity of the Ontario market is the wide range of transportation options that are used to export grain (truck, container, rail, and lake freighter). According to Hannam, these different modes are not tracked consistently or accurately in government statistics or trade data sets.
"For example, Ontario export data can include shipments from the Port of Thunder Bay which is primarily grain produced in Western Canada and is not the focus of this report," he explains. "So we had to take exports from this port out of the data to get a more accurate representation of Ontario exports."
Interprovincial transfers of grains into Ontario for processing — such as oats shipped from Quebec for milling and soybeans shipped from Manitoba for crushing — added another layer of complication to understanding the utilization of Ontario grains by processors as transfers are not tracked in trade data. Similarly, wheat and soybeans trucked to Quebec for milling and export are not tracked as Ontario production so calculations had to be made to account for this usage.
DIVERSE USAGE
"Unlike some other parts of Canada, we have a really diverse range of places we can sell our crops — both within Canada and to export markets," says Hannam. "Similarly, within our domestic market, Ontario has processing capacity for a range of different food and industrial end uses which provides opportunities for grain farmers."
In addition to the strong growth in industrial uses for Ontario grains, livestock feed is still an important market. The study revealed that livestock feed is the number one domestic market for Ontario grains when bi-products of milling and crushing are included. Bi-products from industrial grain usage, such as dried distillers grains (DDGs) and soy meal, go into the feed market and are an economically significant secondary market for Ontario grain farmers.
Mackellar says these findings about the importance of the livestock feed market could redirect some of the market development initiatives planned in the future.
"If we look at oats, horse feed is the second highest usage; however, this has been declining in recent years. We now have to figure out why that is so we can recapture and expand within this premium market," says Mackellar, noting that could also mean involving Grain Farmers of Ontario's Research or Communications teams to help resolve specific issues.
The study also confirmed anecdotal evidence of the growing markets for soybeans which are diversifying both domestically and internationally. As the largest field crop produced in Ontario, this is good news for soybean producers.
"Soybeans are the only crop we export the majority of our production. We need to see if we can build out some of our export markets by leveraging Ontario's reputation for growing high quality, safe, and traceable commodities," says Mackellar. "That's why relationships with grain export companies, food processors and manufacturers are very important for us to maintain and develop."
Mackellar notes the study also revealed a new trend within the export market for corn. Three years ago, Ontario corn exports were close to zero but we are now exporting about seven per cent of our total production. Hannam also noted that the domestic corn market is seeing more diversification.
"We do see that 90 per cent of the corn produced in Ontario is used domestically, but when you break down that usage, 50 per cent is food or industrial usage, and the remainder is for feed," he says.
ONGOING ANALYSIS
As consumer trends evolve and grain production continues to increase, this baseline understanding of the markets will help Grain Farmers of Ontario adapt to any future changes within specific markets.
"We plan to conduct this same market utilization study every few years to make sure our efforts remain focussed and relevant and to make sure this information stays top of mind for our farmer-members and our partners within the agriculture industry," says Mackellar.
The 'Market utilization overview' booklet has been produced to share the results of the study. All farmer-members received a copy with the February issue of the Ontario Grain Farmer magazine and the brochure will also be shared with industry and government.
"This is also a tool for us to provide fact-based information to government during a formal consultation process or through our lobbying efforts," says Mackellar. "If we can show them the economic importance of a specific sector they will hopefully support legislation and fund programs that can help us ensure the market will remain intact." •