Agricultural innovation
SYNGENTA MEDIA SUMMIT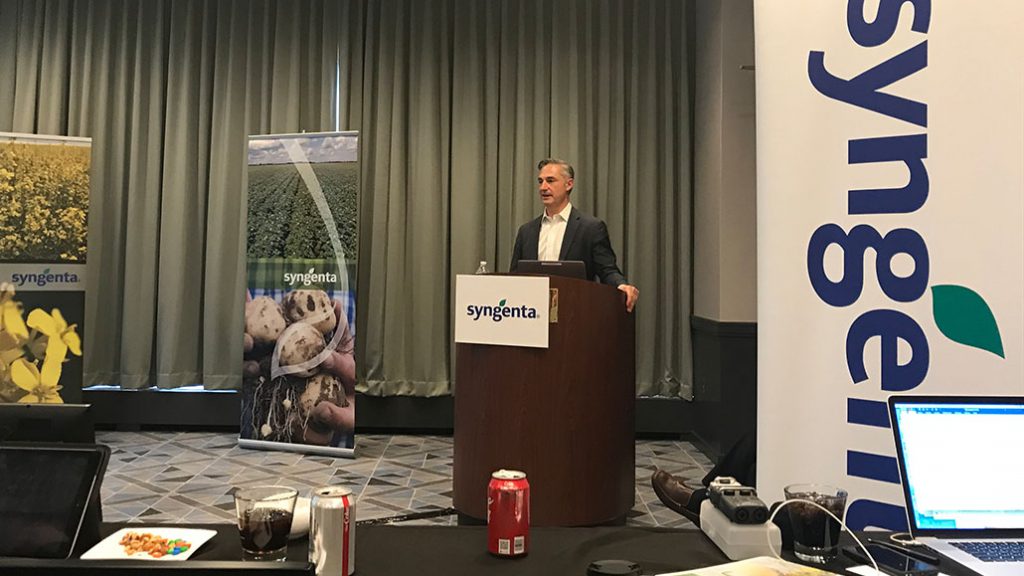 INNOVATION IS CHANGING faster than ever before, and Syngenta is growing along with it.
The theme of the 2018 Syngenta Media Summit was just that — a new era of agriculture innovation. But what does that mean?
Syngenta has identified several trends that are driving the agriculture industry. To keep up with these trends, they are developing new programs, technology, and have new traits and products coming down the pipeline.
INDUSTRY TRENDS
The first trend is the greater demand for agricultural products due to a growing population. There are concerns from consumers around the environmental impact of farming, but the growing population remains.
"I believe in the demand for agriculture, even though this is a challenging period," says David Hollinrake, president, Syngenta Seeds U.S.
Syngenta identifies the convergence of current and new technologies as another trend in the industry. They have new tools and ways to have shorter development cycles for traits. At the same time, they are seeing an increase in the use of technology in farming practices.
A fourth trend is a change in farming structure including multiple generations farming together on one farm. Finally, socio-political demands are faced by Syngenta and the whole agriculture industry. This includes consumer demands around organic, local, non-GMO, and other items, which can become tied to government regulations.
"We have to make new innovations," says Nancy Tour, head of Research and Development for Syngenta Canada Inc. "We must keep pace with the challenges of farmers. And socio-political changes in the value chain affects operators."
GENOME EDITING
One innovation Syngenta is utilizing is genome editing technology known as CRISPR. This will allow them to make precise edits to DNA for crop enhancements. This technology will be used primarily in corn and soybeans. Many of these changes could be made through traditional breeding, but genome editing is faster.
"We see an improved rate of genetic gain," outlines Ian Jepson, RTP Site head and head of Trait Research and Development Biology. "This allows us to speed up breeding."
What does this mean for genetic modification?
"For insect control, GM technology is still the best," says Jepson. Syngenta plans to continue developing both technologies to meet the demands of consumers and the needs of growers.
DIGITAL AGRICULTURE
Digitalization continues in all industries, but Syngenta sees this as a benefit to producers and the entire value chain including consumers and retailers.
"Think how a text message connected people, we see that digitalization will do the same," says Dan Burdett, global head of Digital Agriculture. "This will create a system so that growers can gain key insights about what is happening in their operation."
Syngenta is working on a Farm Management System that creates value to growers. It starts with a farm field tree, historical records, and financial management. This will benchmark analytics and precision farming and is linked to Syngenta tools and data access systems. They also have plans for it to be used in food chain systems and services.
"This will help not only growers, but every consumer in the industry," says Burdett. "We want to help growers and their stakeholders."
COMPUTATIONAL BIOLOGY
Syngenta identified yield stability as a leading difficulty facing the agriculture industry. It is no surprise, but year-to-year pest pressure, genetics, crop practices, weather, and soil all impact yield. Syngenta is looking to computational biology to create stability for farmers and a return on investment.
"We are moving from predictive to prescriptive analysis," says Laura Potter, global head of Computational Biology. "We look at what preformed the best in the last years and what will this year. We try and give a package of products that will work for the next three years. We use a preference algorithm, which is the same idea as Netflix, to apply to breeding."
How do Netflix algorithms apply to breeding? A breeder has trial data from only a limited number of locations and years. Syngenta uses their algorithms and analytics to choose hybrids based on genetics and performance. These analytics are very similar to how Netflix suggests shows based on what you have watched and what others watch. This will create a customized selection of hybrids for consistent yield for a specific farmer, location, and environment.
These technologies are allowing Syngenta to offer several new options in the areas of technology and innovation. Syngenta also has new traits coming down the pipeline that will be coming to market in the coming years including Miravis (Adepidyn), which will target leaf diseases. •