Rural childcare challenges
FARM FAMILIES STRUGGLE TO FIND SUITABLE OPTIONS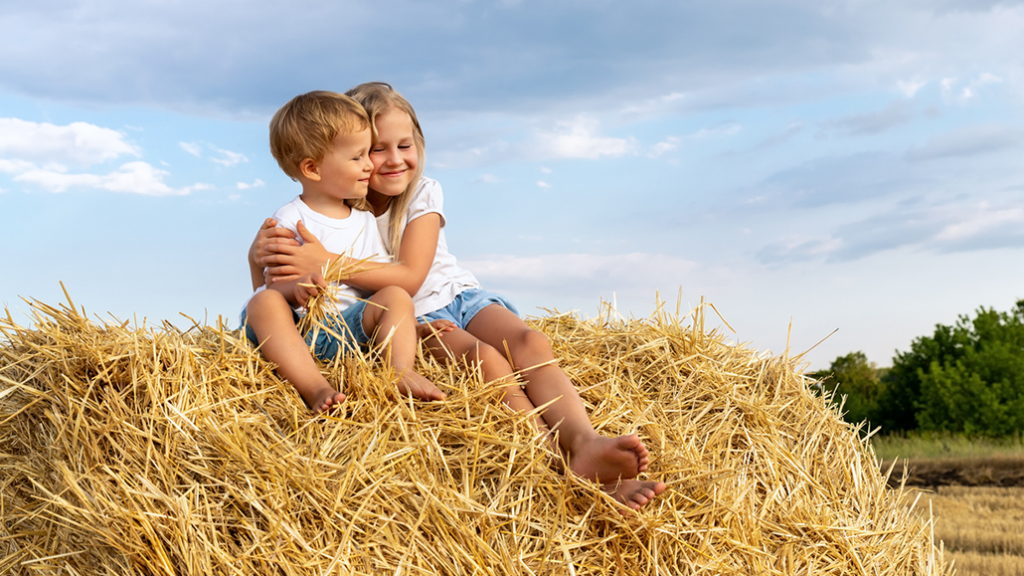 JORDANNA AND SCOTT Dietrich, who operate a grain farm, laying egg barn, and custom farming operation near Tavistock, Ontario, welcomed a son in September 2022. As Jordanna prepares to return to her off-farm job in the fall of 2023 following her maternity leave, she and Scott face a common dilemma for parents: finding appropriate, accessible, convenient, and affordable childcare options. Long waitlists for licenced care options are an unfortunate reality for many parents.
For farm families, the challenge is heightened by a number of factors: licenced daycare facilities tend to be centred in urban communities; home daycares can be difficult to find and often operate on a 'first-come, first-served' basis; and the reality of farm operations — early mornings, late nights, and schedules dictated by the season, the weather, or by the needs of livestock — means that scheduled hours of daycares, with strict opening and closing times more suited to those with typical '9 to 5' office jobs, do not always meet the needs of the agricultural community.
"During the peak seasons of planting and harvest, I am running around, delivering meals, seeds, and parts, and looking after the layer barn chores," says Deitrich. "There is also the 'extra' workload which can include paperwork and accounting. It's not very often that I finish my off-farm job and am 'off the clock' for the rest of the evening."
With no licenced daycare options in Tavistock, the closest options for the Dietrichs are in Stratford. Despite putting their names on waitlists early in Jordanna's pregnancy in the winter of 2022, as her return to work date approaches, they still find themselves without care options.
"New parents, especially new mothers, truly need more options and availability. Getting back into the workforce should not be this worrisome and stressful. It has hindered my maternity leave, an ever-looming cloud of trying to firm up some form of childcare for my son."
A COMMON REFRAIN
Dietrich's challenges resonate with Brad and Kristen McKague, the fifth generation to operate their family grain farm — in addition to a grain elevator and trucking business — near Teeswater, Ontario. The McKagues have one son, two-year-old George, and are expecting a second child in September 2023.
"We were told to start looking for daycare as soon as I found out I was pregnant," says Kristen, who notes that, more than two years later, she has finally heard back from one of the daycare centres they applied to, not with an offer of a daycare space, but rather to inquire if they still needed care.
Since returning to her off-farm job as an insurance administrator in the fall of 2022, McKague says they have found a patchwork of childcare options to fill the gap — but it has not been ideal. George is currently in a home daycare part-time in Belmore, Ontario, a 15-minute drive from home. On the days George isn't in daycare, Kristen works from home, balancing caring for her son and her full-time job.
"Brad's often busy with trucking, and from July to December, he's pretty much always at the elevator or farming," says Kristen. "He relies on me to fill the gaps when he's not home."
And like the Dietrichs, even if the McKagues were to find a daycare spot, it would not be local to them. The closest centres are in Wingham, Lucknow, or Walkerton — a 40-minute round trip to drop off or pick up.
WOMEN IN THE LABOUR FORCE
According to a C.D. Howe Institute Report, 'Juggling Act: Women, Work and Closing the Gaps with Men,' women's labour force participation has plateaued in recent years. From the 1970s to the early 2000s, women's employment rose from 45.7 per cent to 62 per cent, but has stagnated: in 2022, women's labour force participation was at 61.5 per cent, an eight-point gap compared to men. The gap, at 18.4 percentage points, is even greater for women with children under five.
The lack of daycare options is cited as one of the main reasons for the gap in gender employment.
For the McKagues, Kristen becoming a stay-at-home parent and dropping out of the workforce is one of the options on the table after their second child arrives. While the cost of daycare for two children is a factor, lack of availability plays a big role too.
SOLUTIONS
While the government of Canada has been working with the provincial government to offer $10-dollar per day licenced childcare in Ontario to address the affordability concerns of parents, there are still many barriers to addressing the needs of rural families.
Mandy Koroniak, director of children's early years services for the County of Wellington, acknowledges that there are no easy solutions for rural childcare challenges.
"The vast majority of childcare operators are not-for-profit or for-profit corporations — they are not run by municipalities — so they tend to go where there is density of population," says Koroniak.
"Under the new partnership between the federal and provincial government, they've set some ambitious goals for expanding spaces and are providing some money to support that expansion," she says. "Municipalities are interested in expanding services."
Koroniak says expanding licenced home daycare space may also help fill the gap.
But even if municipalities open more rural daycare spaces, finding qualified workers remains challenging. A province-wide shortage of early childhood educators contributes to the childcare crisis.
Childcare apprenticeship programs offered by community colleges, including Fanshawe College in London and Conestoga College in Kitchener, may help fill the gap by providing options for students to remain in rural communities to gain the necessary skills and grow the rural workforce.
For the Dietrichs and the McKagues, relief can not come soon enough.
"My return to the workforce may look different than I anticipated," says Dietrich. •