To be or not to be a soybean
EXPLORING THE POTENTIAL OF AN ONTARIO EDAMAME CROP
it's grown like a soybean crop but harvested like a vegetable crop. Industry experts say a niche market for Ontario-grown edamame could be one with potential, but there are still a lot of unanswered questions about how it can best be grown here.
"We grow a lot of soybeans in Ontario so we know we can meet the plant's needs," says Elaine Roddy, Vegetable Crops Specialist with the Ontario Ministry of Agriculture, Food and Rural Affairs (OMAFRA). "There's potential, but with edamame, it's a matter of finding the right variety for Ontario."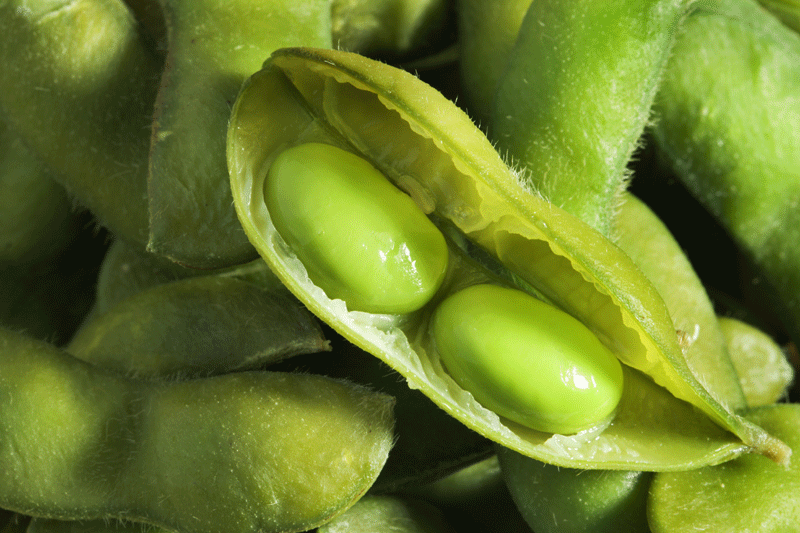 Edamame, a succulent soybean, is a staple in some Asian diets and is growing in popularity with Western consumers.  Planted and grown like a regular soybean crop, edamame is harvested when the plant has reached the R7 stage – still green and at the peak of its sugar levels, which results in optimum flavour.
finding the right bean
Most existing commercial edamame varieties have been developed in Asia and are best suited to the climate in that part of the world. Research is needed in order to determine which varieties will do well here in Canada.
That's where soybean breeder Dr. Vaino Poysa and the Agriculture and Agri-Food Canada research station at Harrow, Ontario comes in. The station is running a small amount of edamame research alongside its food grade soybean program, focusing on plant performance and, more importantly, taste. In order for edamame to have the best flavour, it must be harvested when the sucrose and amino acid levels in the beans are at their peak. This is a very short time span, often only a few days.
 "With edamame, you want a sweet, nutty flavour that comes from the sucrose and amino acids in the plant. There are considerable differences in taste and flavour across the varieties," says Poysa, adding that the challenge is developing one that tastes good and grows well in Ontario's climate and growing conditions.
Existing edamame varieties are determinate, where all the soybean pods mature simultaneously. North American soybean varieties are indeterminate, meaning not all pods will be mature during optimum harvest time. However, for small producers or for home consumption of edamame, Poysa says growers can use existing food grade soybeans like Harrovinton, as long as they grow a small enough acreage to be able to harvest the crop at the right time — half an acre to an acre.
Even though it is a soybean, edamame cannot be added to existing soybean production without some specialized equipment, particularly for harvest. And growers will need a market. Currently, edamame is sourced from China or Taiwan and is available at most Canadian food retail outlets in shelled or in-pod form or as part of vegetable mixes. President's Choice has a branded, shelled product available.
finding the market
"This is a niche market. The plant is harvested in the pod at the green stage, which is not that easy when you're working with a tender plant," says Poysa. "If we can develop a line that is quite good, we can over time get some processors interested in it. I can see a few growers having edamame as a decent addition to a crop lineup if they have equipment or facilities already."
One grower who is definitely interested is Jason Persall of Waterford, Ontario. Persall, a fourth generation farmer, markets a line of 100 percent Canadian oils, wine vinegars, soya sauces and cooking wines under the 'Pristine Gourmet' brand, as well as growing cash crop corn, wheat and soybeans. And this year, he'll also be growing edamame for the first time. 
Persall will be experimenting with at least a half a dozen varieties as part of his on-farm trials this year to determine the taste and ease of shelling for each one. He is also looking to identify yield, or pounds per acre, so he can establish a realistic price for his end product.
"This is a relatively new crop for Ontario. We want to really concentrate at the beginning to find a variety that produces a great tasting product," he says. "We're a food company as well as a farm, so we have access into the market place and there's a market waiting for it."
Persall is planning to hand harvest his edamame and sell it as a fresh product with the pods still on the stems directly to high end Ontario restaurants and chefs, a market he says has been asking for Ontario-grown edamame. He'll be working with a small group of chefs to gain their feedback to help evaluate the different varieties. 
"Chefs have told us they're eager to source edamame locally and we're excited about it," he says. "There are a lot of things we can grow in this country but we don't know how to market it."
Roddy agrees. Marketing is often the hardest part of breaking into a new crop, she says, adding that having consistent quality and being competitive is important, but it is hard to develop a market if a crop can be imported cheaper than it can be grown here.
This is where Soy 20/20, an organization dedicated to expanding market opportunities for Canadian soybeans, can help. The organization has been involved in analyzing the market potential for edamame, as well as fostering interest in the crop with growers and others in the sector.
"There are new applications and uses for soybeans evolving constantly, but not every new market opportunity will be suited to all farmers," says Jeff Schmalz, Soy 20/20's President. "At Soy 20/20, we're working on a diverse range of possibilities to give farmers market options to grow their businesses. Edamame is a great example of a new niche market."
Information on this year's trial crop of edamame can be found on Pristine Gourmet's Facebook page. Information is also available by contacting Soy 20/20 at www.soy2020.ca. •