Weetabix wheat art competition
BUILD A STRAW BALE SCULPTURE FOR CASH
grain farmers of ontario (GFO) and Weetabix Canada invite Ontario wheat farmers to participate in a straw bale sculpture competition. Participants are encouraged to express their artistic side and build the best straw bale sculpture in Ontario. Three winners will receive cash prizes!
Grand prize winner $5,000

Second place winner $3,000

Third place winner $1,000
To participate, you must:
Be an Ontario wheat farmer

Register as a participant – visit weetabix.ca or gfo.ca for contest registration

Wrap at least two bales in the Weetabix branded banner (provided in your participant kit)

Submit a photo of your sculpture to GFO at the Outdoor Farm Show (September 14 to 16, 2010, Woodstock) or mail/drop-off at the GFO Office:
Ontario AgriCentre, Suite 201
100 Stone Road West
Guelph, Ontario Canada N1G 5L3
Phone: 1-800-265-0550
A panel of judges selected by GFO and Weetabix will evaluate the sculptures based on the photos received. The winner will be announced at the International Plowing Match in St. Thomas, September 21 to 25, 2010.
In 2007, Weetabix worked with the National Farmers Union in the United Kingdom to run a similar contest. The contest was highly successful reaching over 5 million people and producing 8 regional winners.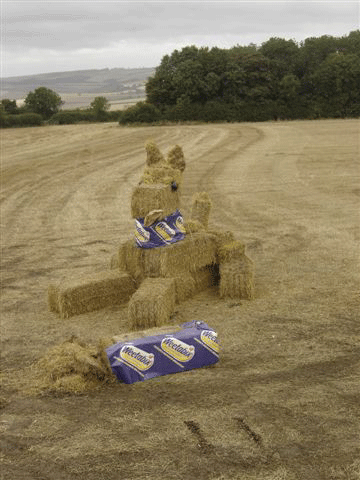 Weetabix is a strong supporter of Ontario wheat farmers. The company's manufacturing plant in Cobourg uses 100 percent Ontario grown wheat in its cereals, with 25 percent being grown in Northumberland County. The cereals produced at this plant are enjoyed in Canada and many other countries. •