Enjoying a glass of Ontario corn
PROMOTION OF NEW CANADIAN WHISKY IS FOCUSED ON THE USE OF LOCAL INGREDIENTS
grain is going into some interesting products these days – from wheat straw bio-plastics to soybean-based asphalt sealant. New markets for Ontario grain are always a good thing, especially when the product is of premium quality and locally-made. If you haven't already heard of it, let's now introduce you to Collingwood Canadian Whisky. It hit LCBO shelves in the Toronto area in July, and is made from Ontario corn in Collingwood by Canadian Mist Distillers Limited, a Brown-Forman company.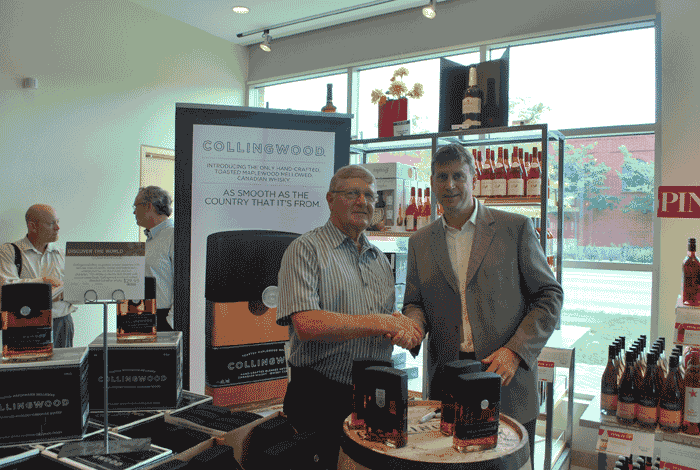 DON KENNY, GFO CHAIR AND BRAD FLETCHER FROM BROWN-FORMAN CANADA AT THE LAUNCH IN COLLINGWOOD.
There are about 25 farms which grow Collingwood corn. One of these is Lang Farms located just outside Walkerton, a family cash crop operation that started in 1972. "We've been growing corn for Brown-Forman since 1988," says owner Tony Lang. "For Collingwood, we've been growing a high-yielding Pioneer variety with a good bushel weight." Canadian whisky is aged for a minimum of three years, so the corn that went into the bottles of Collingwood now on sale was harvested some years ago. Lang says there are no special handling requirements.
industry partnerships
Grain Farmers of Ontario has been involved in helping promote the launch of this new spirit. (The municipality of Collingwood and provincial and federal governments have also shown an interest in the product in their public relations campaigns and tourism activities.) "We are supportive of all quality products that contain Ontario grains and Collingwood is a great fit with our current market development initiatives," says GFO's manager of market development and research Crosby Devitt. GFO has been working with Spirits Canada, the national association representing the interests of the Canadian distilled spirits industry, for some time to improve the profile of Canadian whisky across the country and beyond, and got to know Brown-Forman through those activities about two years ago.
There are several reasons why Collingwood is a particularly good fit for GFO in terms of lending promotional support, explains Nicole MacKellar, GFO's marketing development co-ordinator.  "Spirits represent an important market for corn, and it's a market with potential growth," she observes. "Spirits are also a value-added product, and corn going into whisky can bring back premiums to the farmer."
The local angle is also very significant in GFO's view.  "Collingwood is the first new significant Canadian whisky to be launched in a long time, and the fact that it's made here is very exciting," says MacKellar. The locally-made aspect is also very important to Brown-Forman. "It's the centerpiece of the promotional message of the brand," says Daniel Navarro, the Canadian marketing manager for Brown-Forman. GFO hosted a sampling event to raise awareness of Collingwood at Canada's Outdoor Farm Show in September.  
smooth taste
Like all Canadian whiskies, Collingwood is a blended whisky. "It contains two whiskies made from rye and corn, both of which are distilled and matured separately and blended after maturing," says David Dobbin, vice president and general manager at Canadian Mist. "It then goes through a unique post-blending maple-mellowing process prior to bottling, which is what makes Collingwood rich in sweet notes and smooth on the palate." The maple staves used to make the barrels the whisky is aged in are made at the Brown-Forman cooperage where they are toasted, not charred. The wooden staves contain very little tannic acid, which reduces the amount of astringency the wood would impart to any spirit. In addition, maple staves contain calcium, potassium and other minerals that react with the natural acids found in a blended whisky, which also reduce the astringent character.
Canadian Mist began developing Collingwood after noticing quite some time ago that Canadian whisky was under-performing in the marketplace. "Canadian whisky does not yet have the same dynamic image in the eyes of the Canadian consumer as, for example, Irish whiskey does, and our company saw an opportunity to liven things up," says Navarro. "We started talking to liquor boards and they expressed immense interest in bringing some new product offerings to the category." Various avenues will be used to create excitement around Collingwood, including the internet, social media, print media and materials for restaurant owners and chefs.
Ontario is currently serving as a test market, with LCBO in-store displays and sampling in the Toronto area that started mid-summer; there will be a full launch in October during the LCBO's 'Whisky Month' event. It will be available across Canada next year. Collingwood has so far also been launched on a small scale in BC and is available in select US states. "We're very excited about the product," says grower Tony Lang. "It feels great to know that if you buy a bottle of Collingwood, chances are that some of our corn has gone into it." •