2013 INTERNATIONAL OILSEED PRODUCERS DIALOGUE
a new proposed low level presence policy and the significance of sustainable agriculture principles made the agenda at the 2013 International Oilseed Producers Dialogue (IOPD) in Paraguay. Ten oilseed producing countries, including Canada,  were represented at the 16th annual IOPD conference held in July.
PHOTO: REPRESENTATIVES FROM 10 OILSEED PRODUCING COUNTRIES MEET IN PARAGUAY.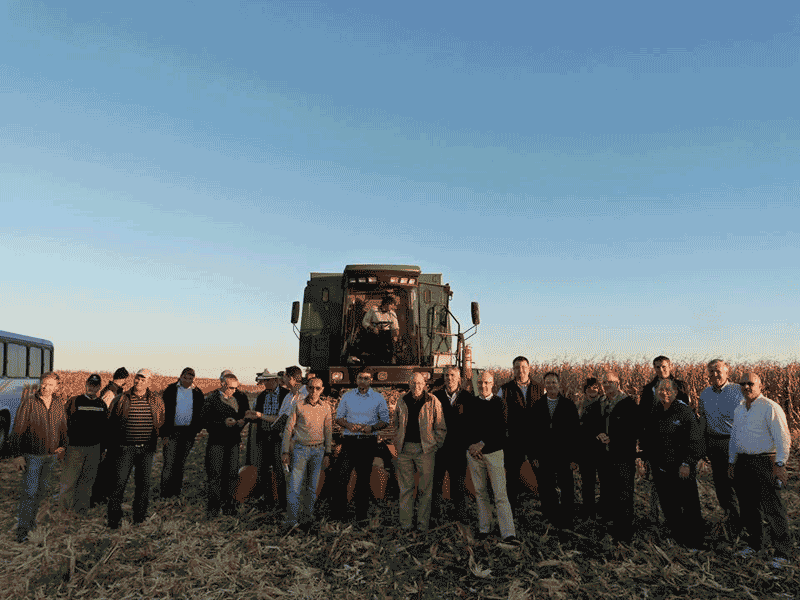 "Such a worthwhile event, the IOPD is a chance to discuss issues at an international level," says Henry Van Ankum, Chair of Grain Farmers of Ontario, who also represented the Canadian Soybean Council (CSC) at the conference. "There is a lot of value being at the table with more than 30 participants engaged in discussions concerning international oilseed exports and production."
the dialogue
Among the topics discussed, two key issues were addressed at this year's conference – advocacy for practical solutions when dealing with genetically modified (GM) exports and the importance of sustainable farming practices. Delegates discussed the increasing importance of a low level presence policy for GM material in oilseed exports as it affects exporting countries like Canada.
Low level presence (LLP) refers to the unintended presence, at low levels, of GM materials that has been approved in at least one country, but not in the country importing the product. Currently, some importing countries have a zero tolerance policy for GM products, resulting in huge costs and risks for grain exporters who face load refusal if even one GM seed is found – that is one seed in 40,000 tonnes.
Van Ankum says the group discussed a more practical approach — an LLP policy that would allow for minute traces of GM seeds. "A perfect zero is virtually impossible, so raising the tolerance to slightly above zero with an LLP policy will allow for more practicality," says Van Ankum. "Exporting is costly and sometimes insignificant amounts of GM seeds can unnecessarily hold up or suspend shipments."
Every country around the table showed support for the LLP policy and agreed to work towards a proposed agreement.
A hot topic at last year's IOPD conference – the discussion of sustainability and sustainable farming practices — continues to be an important international issue. Conference attendees agreed consumers are increasingly demanding their oilseed products be produced in an environmentally sustainable way and want proof of it. Van Ankum noted many exporting countries, including Canada, already practice sustainable farming principles, but find it challenging to prove to buyers and consumers. "We all have a role to play in the preservation and sustainability of our agricultural resources," says Van Ankum, explaining the CSC is currently working with the Grains Roundtable, a national industry group, to address sustainability in Canadian grain and oilseed production.
worldwide updates
A portion of the IOPD conference agenda was also dedicated to regional updates and issues, with each country presenting highlights of domestic supply and demand and forecasting trends. "As an exporting country, this type of information is important," says Van Ankum. "We need to keep a close eye on what's going on around the world and how things like events and policy changes can impact the demand for Canadian soybeans."
The European Union (EU) is a significant purchaser of Canadian soybean exports, notes Van Ankum who says EU representatives informed conference attendees on new amendments to biodiesel regulations. Canada will be watching EU policy makers closely as new domestic restrictions on commodity soybeans could shift the overall demand and mandate of the EU biodiesel market, and could result in an overall decrease in demand for Canadian soybeans.
China is the third largest producer of soybeans worldwide and is the fifth largest destination for Ontario soybeans, importing nearly 112,000 metric tonnes of Ontario soybeans in 2012. Exporters have  been watching the growth of China's middle class for years, eagerly anticipating a rise in demand – especially for soybeans. "A rising Chinese middle class means increased meat consumption, resulting in the demand for soybean meal needed to feed their livestock," explains Van Ankum.
Brazil and the US have recently been neck and neck for the position as world's top producer of soybeans and conference attendees learned recent announcements by the Brazilian government will help expand domestic production. For years, one of Brazil's biggest challenges in soybean production has been infrastructure and problems getting soybeans from the field to markets. The Brazilian government has launched an infrastructure program to help address this problem, potentially increasing the flow of supply to export markets. Brazil currently has a five percent biodiesel mandate and their government is pushing for an increase to seven percent, and the result could mean increased demand for domestic soybean production. Overall, Van Ankum says it is no surprise South American soybean production levels are on the rise. 
"No matter what changes occur worldwide, Canadian soybeans maintain a strong position in the international market," assures Van Ankum.
As the seventh largest producer of soybeans worldwide, Canadian soybeans do not compete for quantity of production, but rather, the superior quality and segregation capabilities like the Identity Preserved (IP) program. Van Ankum says Canada's strength in the international soybean market is our ability to supply to high value markets and our proven track record in segregation. As Canadian soybean farmers are facing the trend towards a decline in commodity prices, Van Ankum views this as an opportunity for Canada to show our strengths in the international market by capturing higher value markets, specializing in what we are good at – producing high quality soybeans and positioning Canada as a leader in soybean exports.
International discussions about issues facing oilseed demand, production and consumer trends will continue to bring Canadian representation back to the table at the annual IOPD. "Canada and the Canadian Soybean Council have been a regular part of this international dialogue over the years," says Van Ankum. "We are a well-respected country and will continue to be involved."  •