UNDERSTANDING THE FEED MARKET
THERE ARE OPPORTUNITIES for grain farmers interested in tapping livestock feed markets – but feed specialists advise producers to do their homework before any seed is planted.
"If you're going to grow for the livestock market, you really need to understand who your end user is and what type of feed product they need," says Robert Larmer, Canadian Livestock Information Manager for DuPont Pioneer. Otherwise, he says it does not take long to get tangled up in a web of feed market options, or miss the mark with the end user.
The complexities can be sorted out by broadly dividing livestock into monogastric (simple stomach) or ruminant (four-part stomach) digesters; then further subdividing within those digestive types by species. Because each group has specialized feed needs, it is important to know the particular animal end user.
Ron Lackey, Ontario Ministry of Agriculture and Food (OMAF) Feed Ingredients and Byproducts Specialist, agrees. "One size does not fit all," he says of the animal feed markets. "It's so species specific."
Lackey says many of the swine producers in the province tend to have land-based operations, enabling them to grow most of their feed grains. He says this is true to a lesser extent for poultry producers where the majority of poultry producers are well serviced by the feed industry through "complete feeds" – with manufactured products delivered to farms that are formulated from ingredients mixed and balanced to meet that particular farm's needs. Farmers raising cattle tend to have a wide array of feed ingredient needs, ranging from complete feeds to individual feed components, as well as homegrown products.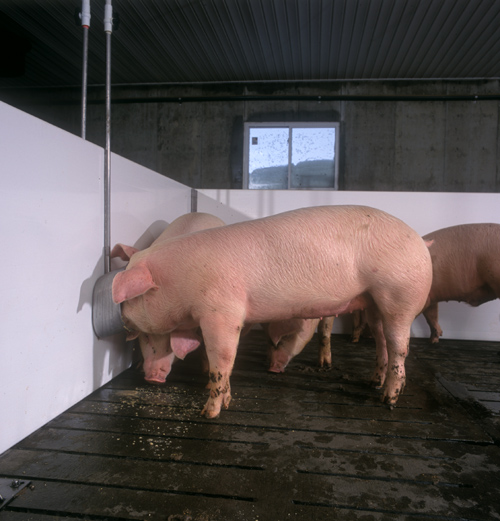 Both Larmer and Lackey say generally, all livestock producers are interested in crops for their energy and protein nutritional value contributions. "In Ontario, corn is the gold standard as an energy crop, while soybeans (soybean meal) are the gold standard for protein," says Lackey, noting all others are often stacked against these for both quality and pricing.
To single out a crop type, both Larmer and Lackey consider corn as the dominant grain in the market for Ontario livestock feeds. "We know corn, we know how to maximize it in feeding programs, and we know how to supplement it to achieve balanced diets," says Larmer.
With six corn-based ethanol plants and three corn sugar plants operating in Ontario, Lackey says there is a good supply of corn by-products available such as distillers' dried grains (DDGs), gluten feed, and gluten meal for livestock feeds.
Without an identified end customer, soybeans can be challenging to grow direct for livestock feed, both say. The majority of demand in Ontario is for soybean meal, a by-product of the soybean crushing process. There is also a more limited market for roasted soybeans within the livestock market. Lackey says there has been some interest in farmers extruding soybeans on farm to use the oil for biodiesel and the residual cold-pressed meal as a feed ingredient but the trend has not taken off amid strong soybean prices.
Demand for barley, oats and other smaller grains also tends to be limited without identified customers. "Genetic leaps have closed the gaps between varieties, so there really isn't much difference to set your product apart, and opportunities are limited," says Larmer.
Lackey says there are opportunities in the organic market for producers that know their cost of production and are able to identify a market that can provide the profit margin to make it worthwhile. He feels Ontario agriculture could be more aggressive in exploring the potential for functional foods. He says it can be a "win-win situation" by using feed ingredients to enhance the healthfulness of agricultural products. He lists DHA milk, Omega-3 pork and poultry, and Omega-3 and lutein-enriched eggs as success stories that have opened doors in consumer markets.
"We're always looking for new Omega-3 sources in feed," says Lackey. Currently flaxseed and fish oil are the main concentrated sources, he says, with some potential for hemp seed (though not yet approved), and more research into emerging crops such as amaranth and camelina.
Lackey says livestock feed companies are enabling the production of functional food-related products to help the livestock industry differentiate in the highly competitive food market and potentially need growers to fill gaps in grain supply.
Both agree the time spent by growers to understand the feed type options, their market pricing, and their feed value to livestock producers is well worth it. They encourage growers to talk with feed mill operators – the largest user of livestock grains – to see what specific opportunities they see available.
"Learn their specifications," says Lackey. "Ask what they are doing to set their feed products apart in the minds of livestock growers, and how growers can help to fill gaps in grain supplies."
Farmers should also work with seed companies to select hybrids and varieties that will maximize feed value. For corn hybrids, seek ones that are readily digestible and recognized for providing "high available energy". For roasted soybeans, typically higher oil varieties offer the better energy value.
Larmer gives a nod to seeds that offer enhanced resistance to disease, and encourages crop rotation and other management techniques. "The end product absolutely needs to be clean for the animal feed market," he says.
It is important to have a harvest plan that meets the end user's needs. Lackey gives the examples of how critical a small, uniform particle size is in swine feeds, and how the moisture content can make or break successful fermentation in something like high moisture corn.
Last year's drought shone a spotlight on double cropping as a management option for growers. Lackey says when the heat enabled wheat to come off early, 100,000 acres of ground was planted to crops such as oats, barley, or oats and pea combos. The crop turned out well enough that Lackey hopes more growers can be persuaded to consider double cropping in the future to maximize feed production – and potentially feed options for animals.
"Whatever you grow, do it with the animal in mind," says Larmer. "You'll have a better product, a happier customer, and, in turn, should be compensated for it." •