Field tested: Case IH 1240 Early Riser Planter
CASE IH 1240 EARLY RISER PLANTER
A review by farmers for farmers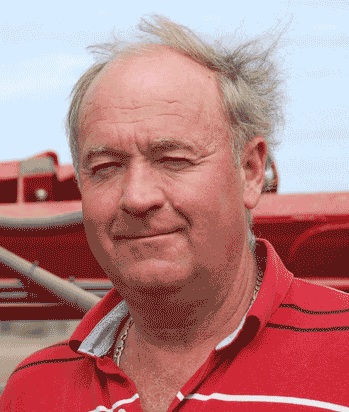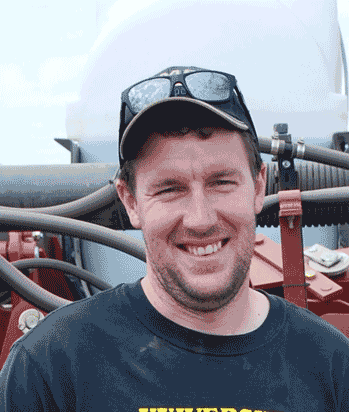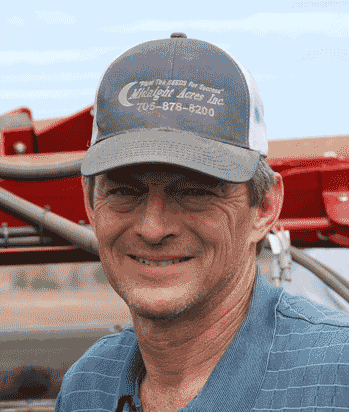 Keith Buckley             jim callaghan         joe hickson
lindsay, ON                 lindsay, ON              Lindsay, ON
the case ih Early Riser series of planters was named for its performance. Comparison studies conducted by the company showed their row units and metering systems produced a crop that emerged three days earlier than their competitors. In a dry year, such as we saw in 2012, the difference can be even more pronounced – between five and seven days sooner.
Bill Hoeg, Case IH Planter Sales and Marketing Manager, says those results are seen because of their commitment to key agronomic principles. "Proper seed depth, uniform depth, good soil to seed contact, uniform soil pressure, accurate seed population, and proper seed spacing help to ensure a better stand of crop and higher yields,"
said Hoeg.
PHOTO: CONSISTENT SEED SPACING.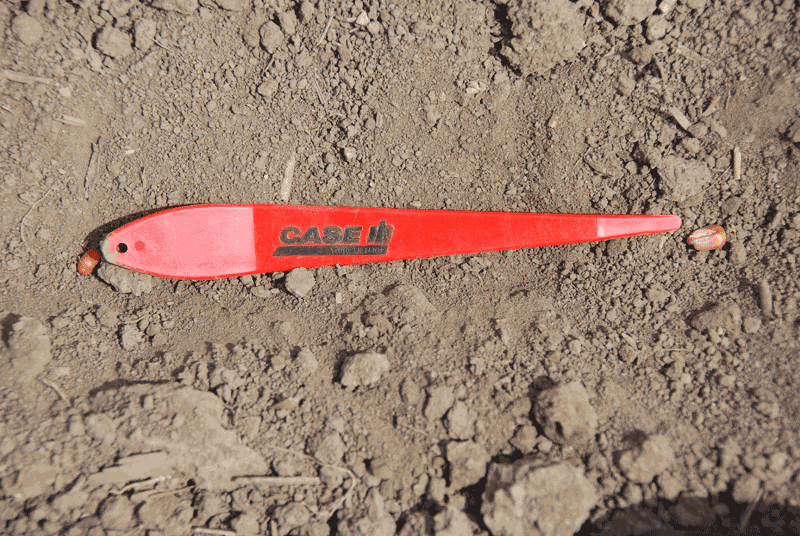 For Field Tested, our three farmers from Lindsay, Ontario tried out the 1240 Early Riser 12 row pivot planter. Keith Buckley says he's happy to see Case IH has kept its focus on the core principles noted by Hoeg. "Case IH has been a leader in soil to seed contact —  it's very important. Obviously it works good for me, I keep continuing to buy the Case IH planting tools. I've had probably four different Case IH corn planters in the past 30 years. I'm very well satisfied with it."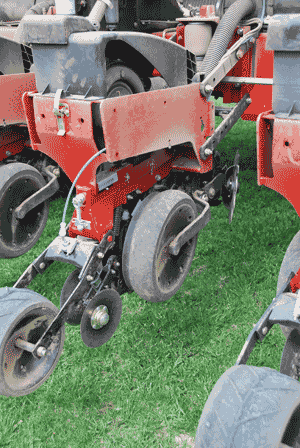 A new development on the planter is the seed disc. The larger diameter of the disc allows it to spin slower at 15 to 35 revolutions per minute. Hoeg explained that because it spins slower, they can achieve a more uniform drop. The flat edge allows the same disc to be used with several different shapes and sizes of seed.
Keith Reeds said he sees the advantage with this design, "because it turns slow enough, it is able to pick up small seeds and metre it." And because he plants corn, soybeans, wheat, and also canola he appreciates that it is pretty quick to change from one type of seed to another.
Buckley agreed. "It's very user friendly, and time is often of the essence when you are planting. You can go right from corn into soybeans and switch over and it is set up excellent that way."
Our third farmer, Joe Hickson also saw a benefit to the seed disc. "The other thing that impressed me is how it metred and fed. I'm in the seed business and contamination is a big issue, and it looked like there are fewer bottlenecks for contamination when you are switching varieties. I was quite impressed with how the system is based for ease of clean out to switch products."
The 1240 planter has two areas for cleanout. There is a shut off under the hopper which allows you to open the boxes and allow grain to flow out easily. On the mini hoppers you flip open one latch and take off the vacuum hose, take the cover off the metre, and then dump out any extra seed. This also completely exposes the seed disc.
It is not only easy to switch between your crops, it is also easy to switch from field to field. The planter's pivot system is designed for easy transport. The planter transitions from its operation width of 40 feet to 12 feet. Reeds commented that "as far as a pivot planter – it is very quick to bring it into a field, spin it around and get planting. I would recommend one for sure."
Hoeg highlighted a few other benefits of the design. "It has a split row option because of where the wheels are spaced – so for those who want to do a narrow corn planting they can have 15 inch spacing. And it's convenient for maintenance – when it is in transport position it is at more of a shoulder level, so a person working on it can stand up and be more comfortable."
"The mechanical part of the planter is user friendly for maintenance," agreed Hickson.
The function of the 1240 planter can be monitored inside the tractor cab through the AFS Pro 700 Monitor system which allows you to integrate precision farming features.
"It's a nice option," said Hickson. "Everything you are looking for going across the field is displayed – in terms of your population, where you have been, how much you've planted and your GPS guidance."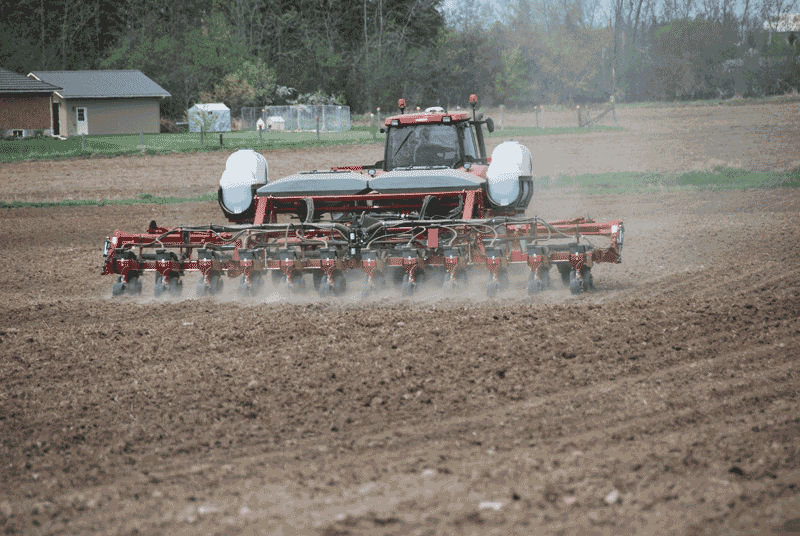 Watch a video version of this review here:
spec sheet
Row spacing: 12r 30″ (762 mm)
Frame size: 12r 30″(762 mm)
Sections: three (3)
Wing flex: 11°
Section flex points: 3r-6r-3r
Transport (lxwxh): 
  38′ x 12′ 9″ x 10'  (11.6 x 3.9 x 3 m) w/ gran chem
Min HP needed: 150 pto hp
Min/max tractor hydraulics:
  13 gpm  (w/PTO Pump 36 gpm)
PTO Pump: Optional 22 or 36 gpm
Hydraulic seed drives:  two (2) standard
Fertilizer System:
  Liquid w/tanks on-row hopper (optional 400 gallon)        
  Liquid w/out tanks (multiple options available)
Row unit tillage: multiple options available
Hitch:
  Mech telescope drawbar or Hydraulic         
  telescope drawbar
Seed Feeding System:
  On row hopper 1.9 bu (standard)
  Bulk fill (Optional 60 bu)
Equipment provided by:
Hub International Equipment Ltd.
12 Golden Mile Rd, Lindsay, ON K9V 4R4
Tel: (888) 393-6498
www.hubinter.com •