Growing the future of soybeans
2014 ASA/DUPONT YOUNG LEADERS
rob and cindy Foster believe in preserving the land and serving their agricultural community. It is that dedication that prompted a Grain Farmers of Ontario committee to select the Middlesex County couple to  represent the organization and Canada in the 2014 class of the American Soybean Association (ASA)/DuPont Young Leader Program. The Fosters are looking  forward to being involved in a program that was highly recommended by previous participants. 
PHOTO: rob and cindy foster with their three daughters, taylor, sarah, and megan.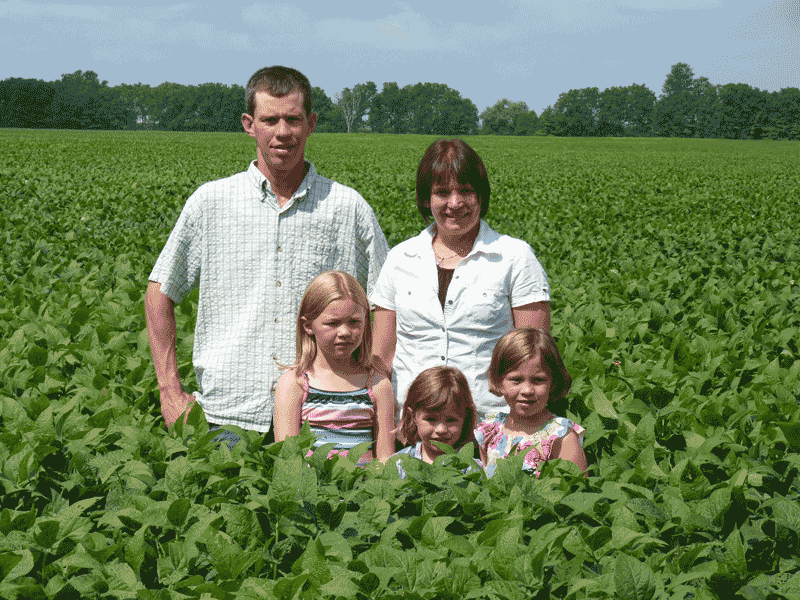 "Anytime you meet with other people who are in the same business as you are, you can share information – everything from production to marketing issues," says Rob. "Even though other people are doing the same things you're doing, it's a little bit different. I always find it interesting to hear about different crops or other things that don't happen here in Ontario but is just normal practice a thousand miles away or further."
opportunity to learn
The Fosters will have the opportunity to share business and production practices with other soybean producers when they travel to Pioneer's headquarters in Johnston, Iowa, this November and to San Antonio, Texas at the end of February for training held in conjunction with the annual Commodity Classic Convention and Trade Show.
According to the ASA, the official mandate of the Young Leader program is to provide "an in-depth, hands-on leadership training program for soybean growers and their spouses who are interested in strengthening their existing leadership abilities for the betterment of soybean growers domestically and internationally."  This program offers a unique opportunity for future farm leaders to network with each other. It brings together representatives from ASA's 26 state affiliates, including Grain Farmers of Ontario.
"I'm hoping to gain some leadership skills to bring back to the community and use in future endeavours through the kids' schools or agricultural organizations," says Cindy. "You don't always realize you have some of those skills, and it becomes a matter of enhancing them when you get there."
Rob and Cindy have been married for 10 years and have three girls; Taylor, 9, Sarah, 7, and Megan, 6. They are a busy family, participating in sports and school activities. Rob is also an active director of the Middlesex Soil and Crop Improvement Association (SCIA) and a delegate for Grain Farmers of Ontario District 4 (Middlesex).
family farm
The Fosters operate a family owned farm business with Rob's parents in Ilderton. They grow corn, soybeans and wheat on 1,400 acres, provide custom work, and market their grain through an on-farm storage system. They also produce broiler chickens.
Rob says finding ways to grow crops in a profitable and sustainable manner while improving soil health is a priority on their farm. "We've been blessed with a few good years of margins that are higher than normal, but you can't always expect that. So anytime you can improve efficiencies through higher production and lowering costs it will put you in a better position to maintain the viability of the business part of it," says Rob, while adding, "It has to be sustainable going forward in that the resources we've got today – our soil, water, and air resources – you want to see them improved or maintained for future generations so they can have viable businesses as well."
sustainable future
Soybeans on the Foster farm are all grown using a no-till production method after corn in a three crop rotation. Their family has been using no-till and reduced tillage for more than 20 years as a way to preserve and improve soil health and increase operational efficiencies.  They also have wind breaks, buffer strips and tile drainage to help reduce soil erosion and protect waterways. The soybean varieties they plant are carefully chosen to provide a high yielding, quality product suitable for the premium food market – something they believe will remain a strong market in the future.
"We grow a lot of soybeans in Ontario that are exported for human consumption, and I wonder, with the change in demographics in the province, if we will see an increase in the consumption of soybeans within the province itself," says Rob. "I can see there being reasons to grow just as many soybeans, if not even more than what we grow now, through different markets."
Rob also feels that research will continue to play an important role in moving the agriculture industry forward. The Fosters participate yearly in a number of research projects led by the Ontario Ministry of Agriculture and Food or the SCIA with the goal of increasing profitability, efficiency or land stewardship.
"A lot of the benefits we have today with yields and growing crops are the result of research done in previous years," notes Rob. "Whether it be control of Fusarium in wheat, or no-till production of soybeans, or nitrogen rates for corn, its' all been the result of research."
2014 marks the 30th year of the ASA/ DuPont Young Leader Program. If you are interested in learning more about this program, or participating next year, contact Valerie Gilvesy, Member Relations, Grain Farmers of Ontario at vgilvesy@gfo.ca or 226-979-5581. You can also read more about the program online at www.gfo.ca/ Youngleadersprogram.aspx. •