COMPARING GENETICS, SEED RATES AND PLANTING DATES
what happens when you compare two varieties of winter wheat, one older and one newer? How have genetics changed over the last 40 years? And what happens when you plant outside of that optimum window, either too late or too early? Wheat specialist Peter Johnson from the Ontario Ministry of Agriculture and Food and Ministry of Rural Affairs (OMAF and MRA) has tackled these questions with some of his recent research.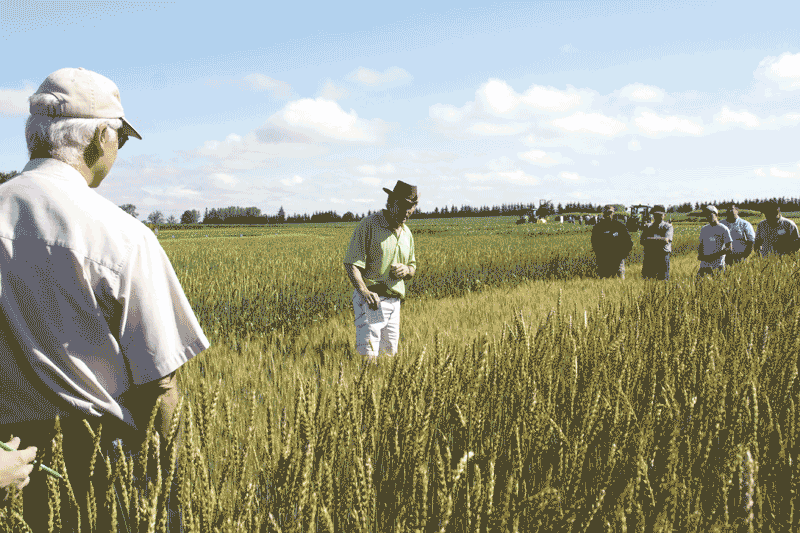 how far have wheat genetics come?
In recent performance trials at Elora Research Station, Johnson compared two varieties of winter wheat: an older variety, Frederick (1971), and a newer variety, 25R40 (2011). He chose Frederick because in its day it enjoyed 100 percent market share. He chose 25R40 because it became commercially available in 2011, 40 years later, and has tremendous yield potential.
Although it is not immediately obvious when you look at the stands, great improvements have been made to wheat genetics over the past 40 years, especially in terms of yields and standability. For instance, while both crops have the exact same biomass, much of 25R40's weight is in the grain itself.
"In terms of total biomass, they're exactly the same," says Johnson. "What we've managed to do is get more of that photosynthate into the grain." Using a modified harvest index, Frederick came in at 35 percent, whereas 25R40 came in at 40 percent.
Johnson also tested for lodging at different nitrogen application rates: 0, 40, 90 and 140 pounds (lb). Lodging did not appear in Frederick until the 140 lb application rate.
Often performance trials are planted late, says Johnson, which means that researchers are selecting for varieties that do better under late planting conditions. But what happens when you plant earlier or extremely late?
Johnson's earliest test plot was planted "crazy early," he says, on August 31. Crops were seeded on September 10, September 26, October 4, October 26 and November 10. Seeding rates were increased as planting dates moved beyond what is considered optimal, but for dates between August 31 and October 4, the seeding rate was set at 1.6 million seeds per acre. Beyond that, rates were increased to 1.9 million seeds per acre.
Looking over the test field, the first thing you notice is lodging in the plots that were planted before September 10. "If we had pulled that seeding rate back to 1.2 million seeds per acre, that stuff would have been standing," says Johnson. "One of the things we've learned that I think we have to get a lot better at is matching our seeding rate to our planting date."
Being a high-moisture year, Fusarium head blight damage was visible throughout the field. In fact, both Frederick and 25R40 showed signs of Fusarium damage, and although some fields looked better than others, Johnson says that could be attributed to planting dates, not genetics.
"When you think about 40 years of genetic progress, we've made huge inroads in yields, we've made huge inroads in standability," he says. "But in terms of Fusarium resistance, we have not made the genetic gains that we would have liked to. And that's just because it is incredibly tough to breed for."
how late is too late?
In the past, farmers have been reluctant to plant wheat beyond October 31, especially since Agricorp does not provide winterkill insurance beyond that date. However, trials reveal that it is possible to plant late and still obtain reasonable yields – under the right circumstances, of course.
OMAF established two replicated, randomized field-scale trials in 2005 (four sites in total) and 2006 (seven sites in total). Seeding rates ranged from 0.9 million seeds per acre to 2.1 million seeds per acre. Treatments, including fungicides, fertilizers and herbicides, were applied at their recommended rates, if necessary. Come harvest time, researchers took measurements for yields, moisture, test weight, protein and thousand-kernel weight.
Again, the trials revealed that seeding recommendations are closely tied to planting dates. While it is possible to plant well past optimal dates, producers who choose to do so need to make management decisions that fit the conditions. Special consideration should be given to soil conditions and proper seed depth placement. Growers should also have realistic expectations when it comes to yield, says Johnson.
Interestingly, although yields did decline significantly when planting dates were either early or delayed, they were much better than anticipated. "Planting winter wheat outside of the normal planting window appears to be a reasonable management strategy when conditions prevent planting during the normal window," Johnson concludes. •