AN INVESTMENT IN TECHNOLOGY
AGRICULTURAL EQUIPMENT HAS been manufactured by AGCO in Hesston, Kansas since 1947. The latest evolution in their facilities there is a state-of-the-art Paint Center for hay and harvesting equipment. It represents a $45.6 million investment in technology that enhances productivity and efficiencies, provides a higher quality product, and reduces the environmental impact of the painting and finishing process. The Center is now the most extensive user of E-coat and powder-paint technologies within the North American agricultural equipment manufacturing industry.
PHOTO: AUTOMATED GUIDED VEHICLES (AGV'S) FOLLOW MARKERS OR WIRES IN THE FLOOR TO MOVE RACKS OF PARTS TO AND FROM THE PAINT SYSTEM.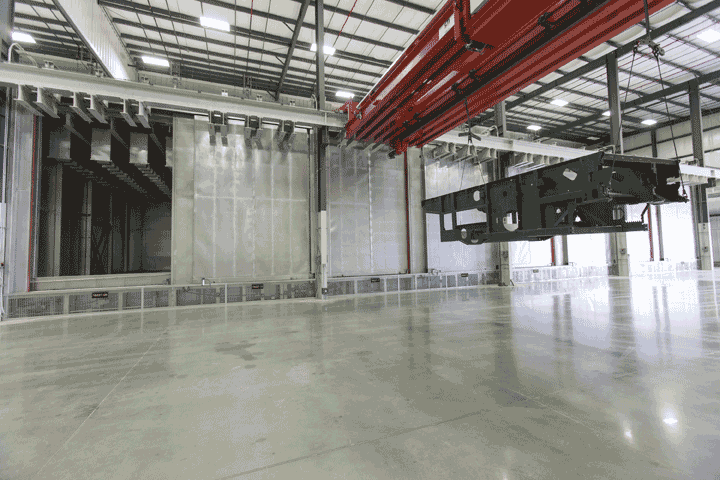 "Some people call this a paint shop, but at 200 thousand square feet this is a paint factory – a factory for surface treatment. This is the most modern paint facility in the US," says Hans-Bernd Veltmaat, Senior Vice President and Chief Supply Chain Officer for AGCO. "It is our goal to be number one in quality and invest in the future of our equipment and our employees."
the process
Veltmaat explains the facility houses 17 dip tanks, each large enough to fit an entire truck into. The first 16 dip tanks are the cleaning stages. They contain various solutions which remove rust, scale, and laser oxides. They are then dipped into the 17th tank – the eco dip tank which has a high voltage electric field which ensures the entire surface area is coated with primer. This provides corrosion protection.
After this dipping process, a powder coat of paint is applied. Thirty-two guns are used in the automatic section of the paint booth which is then followed up by two manual reinforcement painters before components are put into the powder cure ovens. Veltmaat says the powder coat provides a finish three times the thickness of traditional liquid paint, covers all edges, and lasts longer. This finish is similar to that used in the automotive industry.
environmental benefits
The E-coat and powder paint processes  have significant environmental benefits to traditional liquid paint. More than 95 percent of powder paint is transferred to the parts during the application process and the remainder is fully captured for re-use. Nearly 75 percent of all parts will go through this process. The remaining parts, including gear boxes and drives, and components that cannot withstand heat, will be painted using a traditional coating system.
"We fully understand the importance our customers and dealers place on a high-quality finish and the impact it has on machine life and resale," says Bob Crain, Senior Vice-President and General Manager for AGCO North America. "That is the reason we have invested in this new E-coat and powder paint facility." •