HIGHLIGHTS FROM COLUMBUS, OHIO
THE COLUMBUS CONVENTION Center in downtown Columbus was home to this year's John Deere Intro and unveiling of 2014 equipment. This event was for John Deere dealers as well as investors and media. Grain Farmers of Ontario was invited to the two-day media event that provided a snapshot of the two-week long conference. The main draw of the event was the announcement of the new 7R and 8R series tractors. In addition, the new R4030/R4038 self-propelled sprayers, the enhanced S-series combine line-up, a new W235 self-propelled windrower, the 2510L liquid fertilizer applicator, new wireless data transfer technologies across models and platforms, and an expansion of the commercial z-track mower to include a flex fuel model were unveiled and demonstrated. The theme for Intro 2014 was Delivering Distinctive Value and was presented to attendees of the conference through a wide range of high tech presentations and very knowledgeable John Deere technicians who knew all the ins and outs of these new models. Highlighted below are three of the new products that were released at Intro 2014.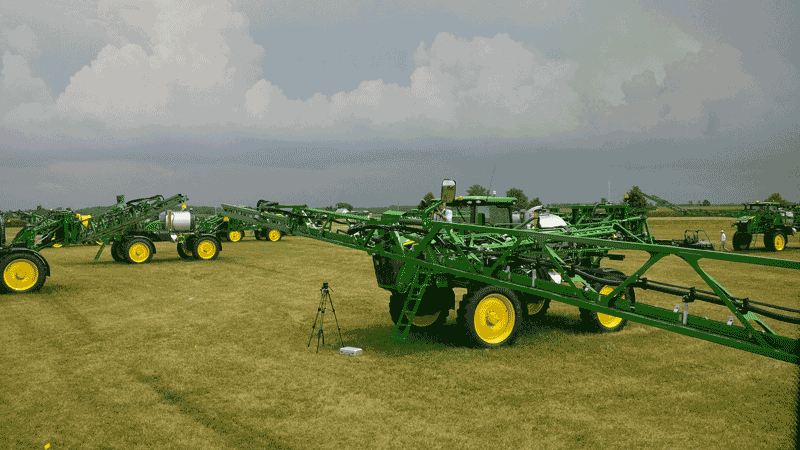 New 7R Tractors boost power, performance and control
In the first make-over of the 7R Series Tractors since their introduction in 2011, John Deere rolled out five new 7R Tractor models that offer between 210 and 290 engine horsepower. These tractors are powered by either a 6.8L or 9.0L PowerTech PSS engine with an efficient selective catalytic reduction system. The new 7R Tractors also boost 10 to 20 more horsepower and more torque than previous models, giving farmers more power in the field when needed. This series of tractors also includes the redesigned CommandARM control system with improved control of the major tractor functions such as throttle, AutoTrac resume, transmission speed and direction, SCVs, PTO and hitch controls.
John Deere rolls out more powerful 8R Series Tractors with FT4 engines
The 8R line-up for 2014 will include nine models (six wheel and three track) that range from 245 to 370 gross horsepower.  Initially the 8R will only feature the 16-speed Power Shift and infinitely variable transmissions (IVT), but will soon be followed by an e23 option. The 2014 John Deere series of 8R and 7R tractors both feature the new CommandView III cab that is quieter due to a laminated front windshield that dampens outside noise. The cab also features an operator's seat that swivels 40-degrees right for easier viewing of rear implements. Other options include the convenience of an in-cab refrigerator and LED lighting package that provides 40 percent greater illumination compared to HID lights. 
R4030/R4038 Sprayers
John Deere unveiled two new, completely redesigned self-propelled sprayers that are easier to use, operate at higher speeds and deliver a more precise metering of product, even on uneven terrain. Both sprayers have redesigned flat-fold booms in widths up to 120 feet, improved weight distribution, and the CommandView II cab with the fully integrated GreenStar3 2630 display. Cruise control, new on these models, allows the system to automatically control the vehicle to the operator's target speed when the operator sets the engine speed and hydro handle at maximum positions. •