INCREASING ROBOTICS IN AGRICULTURE
SOONER, RATHER THAN later, unmanned robotic vehicles will not just be the stuff of spy movies, war torn battlefields and missions to Mars. Instead, they could be pulling your grain cart or planter, or even handling tasks such as crop scouting or soil sampling. Here in Ontario, the coming generation of on-farm robots will be home-grown.
PHOTO: THE GRIZZLY DREW THE ATTENTION OF FARMERS AS IT NAVIGATED THE ALLEYS AT CANADA'S OUTDOOR FARM SHOW THIS YEAR.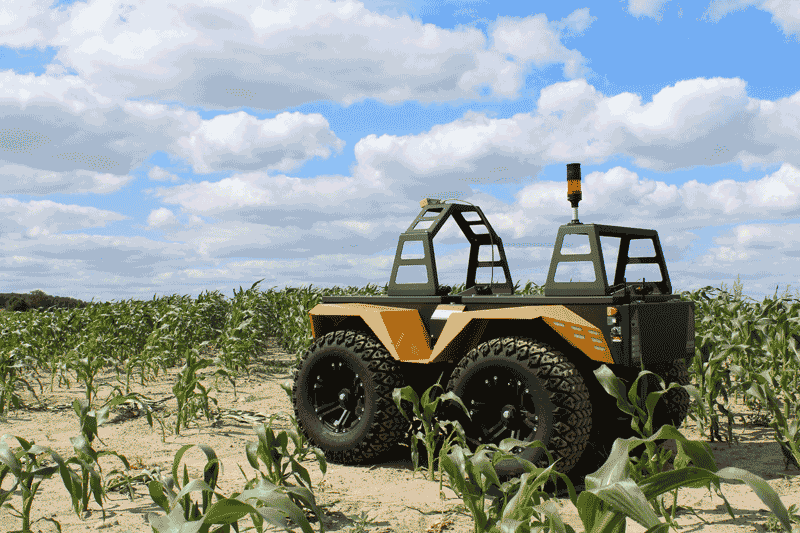 Kitchener-based Clearpath Robotics is looking to break into the agricultural sector and they say they have one robot in particular that can help ease the workload of farmers.
The company began in 2009 as a collaborative effort between four University of Waterloo robotics students, three of whom are still with the company, including CEO Matt Rendall. Clearpath got its start by building rugged robot vehicle platforms designed to help researchers handle dangerous and dirty tasks. In just four years, what started as a small start-up has ballooned into a multi-million dollar company.
Their best-selling robotic vehicle, called the Husky Unmanned Ground Vehicle, has been used for tasks ranging from mowing between orchard rows and forestry mapping, to military defense and next generation Mars rover research.
EVOLVING TECHNOLOGY
Last year, Clearpath launched the Grizzly, its latest and largest robot, and that, says Rendall, is when the agricultural world came knocking. Over the past months, he says Clearpath has fielded an increasing number of inquiries about how the Grizzly could be used to benefit a wide range of farming operations.
He describes the Grizzly as an "RUV" – or robot utility vehicle – designed with military, mining and agricultural applications in mind to haul heavy payloads on tough terrain. The Grizzly features four 26-inch all-terrain tires, a solid steel chassis, and a maximum drawbar of almost 1,400 pound force (lbf) for towing.
Power comes from a lead acid battery or an optional gas powered generator that produces 48V at 400Ah of power and propels the Grizzly to 30 kilometres per hour (19 miles per hour).
A whole host of sensors, including GPS and IMU (inertial measurement unit), allow Grizzly to move precisely and accurately. The articulated front axle helps the robot remain stable on challenging terrain.
Rendall says this all adds up to a machine that can be customized by farmers to get the roughest, dirtiest and most dangerous jobs done around their farm.
"If you want to attach a sensor to scan under the ground, or a mobile arm to pick soil samples, or a GPS to map fields and stop at selected spots, we can do it," he says. "The beauty of Grizzly is that it's a platform – and through the customer's request, we can make it do whatever they want."
AUTOMATING AGRICULTURE
As far as he sees it, the idea of unmanned robotic vehicles, like Grizzly, becoming more commonplace is not too far off, given how agriculture has become increasingly more automated in recent years.
"Tractors and farming equipment have become incredibly advanced over the last few decades and, only more recently, have we started to see a fusion between the robotics industry and agriculture," says Rendall. "Farming requires labour-intensive, dangerous, and often repetitive work – it's these types of scenarios that can be an ideal fit for robotics."
Now that Clearpath has been fielding  increasing interest from the agricultural world, Rendall is seeing a clearer fit between Clearpath's robotic offerings as well as modern farmers and farming practices.
"Precision agriculture is a key area of opportunity. The progression of precision agriculture is automation – it will help drive down input costs through improved efficiency and reduced labour costs," he says.
Once Clearpath has a better idea of what its potential agricultural customers want, the company plans to begin developing a version of Grizzly with more farm-specific features.
For the moment though, Rendall says the existing Grizzly has the potential to be used for crop scouting and soil sampling, to pull grain carts, planters and manure spreaders in place of a tractor, or haul chemical or seed refills to a sprayer or planter in the field.  
INCREASING INTEREST
Clearpath attended this year's Canada's Outdoor Farm Show with the Grizzly in tow and quickly attracted attention from different sides of the agricultural industry – from asparagus growers wanting something that could measure plant stalk heights to chicken farmers looking for an automated manure hauler.
After a bit of gentle ribbing and skepticism, Robin Albrecht, Clearpath's Account Executive, said farmers began discussing how and where the Grizzly could be used on their farms. "There was an immediate gravitation to automated towing – particularly manure spreaders, hay wagons, sprayers, and mowers," says Albrecht. "We also received some great ideas for integrating more high tech sensors like laser scanners that can read the height of crops and calculate which areas are ready to be harvested, and adding on robotic arms, or manipulators, to help with different tasks."
As for what the next steps are for bringing their robot to Canadian farms, Rendall says he and the Clearpath team need to learn more about the way things are currently done on farms, as well as find out from farmers what parts of their operations would benefit most from robots.
"We're robot experts and don't pretend to be an authority on farming," he says. "The agricultural world is very new to us. We want our robots to exceed expectations and the only way we can achieve that is if we have an in-depth understanding of what those expectations are."
Even if growers do not want to trade in their tractors and grain carts for a new robotic vehicle, Clearpath is set to offer robotic retrofits to make existing tractors, combines or grain carts fully autonomous.
"We would love to get our hands on some large scale farming equipment," says Rendall. "And of course, we would be more than happy to answer any questions farmers may have."
INNOVATIVE ROBOTIC SYSTEMS
Some of the biggest names in farm equipment manufacturing have made great strides with their own innovative robotic systems. At the National Farm Machinery Show in Kentucky this past February, John Deere's product marketing manager, Bob Dyar, spoke at length about the company's ongoing efforts to develop autonomous systems.
"We feel that it may be the next big thing in agriculture. Up until this point, GPS guidance and roundup have been the two biggest things in the last 50 years," said Dyar. "Given some of the labour issues our customers face today, there is an appetite for automation in various forms."
Dyar said the ultimate goal is for the company to develop fully automated tractors and harvesters. In 2011, John Deere introduced Machine Sync, which automates the process of unloading grain from a combine by allowing the combine driver to automatically control the position of the tractor and grain cart.
Also at the National Farm Machinery show was planter and grain cart manufacturer Kinze, whose product manager, Rhett Schildroth, said the time is now for on-farm robotics.
Schildroth said that Kinze has already unveiled an autonomous grain cart system and are also developing robotic planters.
"One of the things that has really surprised us is the level of interest we've gotten from farmers," he said. "For us that validates our position that autonomy is coming. And when the systems are at a point where they have a positive return on a farmer's investment, when it makes them more productive and precise, then they're ready to buy that equipment." •