For the love of wagon wheels
HOW ONE MAN'S PASSION CREATED A FAMILY LEGACY
FRED WEAGANT WAS a dairy farmer and a grocer before he discovered the work he really wanted to do – and 60 years later, the family business he left behind is bigger and better than ever.
PHOTO: THE NEW HOLLAND WINCHESTER LOCATION, SITE OF THE 60TH ANNIVERSARY CELEBRATION.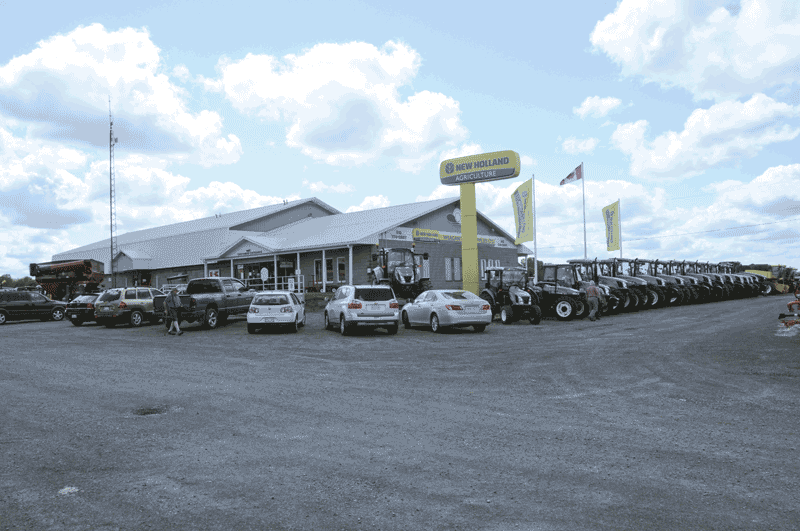 THE EARLY DAYS
Weagant Farm Supplies started in South Mountain, Ontario when Fred and Anita Weagant 'moved to town' to buy the general store in 1953. More than anything else Fred loved to sell farm parts and implements out of the backyard, specifically wagon wheels; so the couple bought a Minneapolis Moline, called themselves dealers, and eventually gave up completely on the groceries. They went into business with Cockshutt Farm Equipment a couple years later and began to raise a family of four.
Their son Laird Weagant, says things were not always easy. "The early days were survival days, as anyone in the business would tell you at the time," he recalls. His parents had to steer the company through the ever-changing business atmosphere which included the sale of Cockshutt to the White Motor Company in the 1970s, a series of industry buyouts leading to a Hesston tractor dealership in 1985, and finally arriving in 1993 at the Ford-New Holland brand the company still sells today.
SECOND GENERATION
Fred and Anita's eldest son, Bob, joined the dealership in 1970, followed by Dave Black, their son-in-law, in 1974, giving Weagant Farm Supplies the opportunity to grow and expand to include a second shop in Winchester. Then, Laird returned home in 1980. "The day that I arrived was about the day my Dad said he'd had enough and he retired," said Laird.
The three-way partnership of the second generation triggered another expansion and Laird took over the management of a Kubota and Kawasaki dealership in Brockville in 1983. Dave directed New Holland sales at South Mountain until 1988, when it was merged with the Winchester shop. Then in 1993, the company became a three storefront operation again by opening Topline Trailer & Equipment in Vernon. Though Dave retired five years ago, both Bob and Laird are still very involved in the everyday operation of the business together with three members of the third generation of family business owners, Stacey Weagant, Julie Baker, and Scott Weagant.
THIRD GENERATION
"We recognized that there can be conflict and a bit of division is good," reflects Laird as he thinks back to how the second generation operated. "It's a question of respect and sometimes, if we couldn't agree, we had to pass an opportunity by."
Laird's nieces, Stacey and Julie, suspect that family dynamic has always been a major contributor to the success of the business. If an idea could not pass the litmus test of a family discussion, it very well could be because of a flaw that one family member alone may have missed, they say.
Another key success brought on by the second generation partnership was product diversification into all forms of land maintenance, enabling company sales to continuously increase every successive year since 1994 regardless of agricultural booms or busts. Now the third generation is adding diversification of skills, bringing new expertise in human resources, administration, and management to the company.
Working with family can be taxing at times, but Stacey chooses to focus on the way her family relationships are strengthened because of the family business.
"Unlike a family farm, we're able to go home at the end of the day; so a lot of what is business stays at work," says Stacey. "There's more than just work and more than just family, there's that additional tie.
LOYAL CUSTOMERS
No matter how much the company has changed from the original business their grandparents started, the two cousins believe the same family values persist. They love to hear stories about how they have had an impact on long-time loyal customers.
Allan Acres, for example, tells the story of becoming a loyal Weagant customer on a cold winter's day in 1970 when he bought his first tractor from Fred Weagant at the original shop in South Mountain. Acres had just taken over the family dairy farm from his Dad. He remembers how Fred had come to see him two or three times but was never pushy and was always a real gentleman. When that tractor developed a clutch issue, he traded it back to Weagant's in 1973 for a brand new, four wheel drive, 1365 White tractor. Acres says he bought other tractors over the years from Fred and his son Bob, but the farm did not trade that old White tractor in until three years ago, partly thanks to the good service he got over time.
"I didn't buy a lot of machinery but I met the parts man and he had an amazing brain because I don't know how long it was until I was in there again but he called me by name after I'd only met him once," recollects Acres. "They were always really respectful people to deal with; and it tells you something when you get employees that are still there from when they started as a teenager."
LOYAL STAFF
Julie says her grandmother, Anita, is quick to point out the staff is the reason the family business has gotten to where it is today. Weagant Farm Supplies currently employs 67 people in its three locations, many of whom have worked for the company for over 25 years. With that loyalty, the lines between hired help and family bloodlines have blurred beyond recognition. Everyone in the family is on a first name basis says Stacey, except for Anita Weagant who is always 'Mum' or 'Nana' to the family.
"It's a bit of a mutual love affair between the staff and Nana," laughs Stacey. "She's always had the respect of the staff, and respect for the staff, so when she says she's proud of her family she's also referring in a large part not just to blood family."
Stacey says the staff is quick to flock to the matriarch, going straight for her approval at an event such as the annual Christmas party or the 60th anniversary celebrations held at the end of August this year at the flagship store in Winchester. It seems the passion she and her husband embraced so many years ago continues to prove as irresistible as ever. •