A 2013 REVIEW AND A LOOK AHEAD
WITH MORE THAN 20,000 farmers growing corn, soybeans, and wheat on five million acres across 15 districts, there is a lot of ground to cover when it comes to the grain farming industry in Ontario. We spoke with the Directors of Grain Farmers of Ontario to get a feel for what is happening across the province – the challenges, issues, and success stories of 2013 – and insight to the year ahead.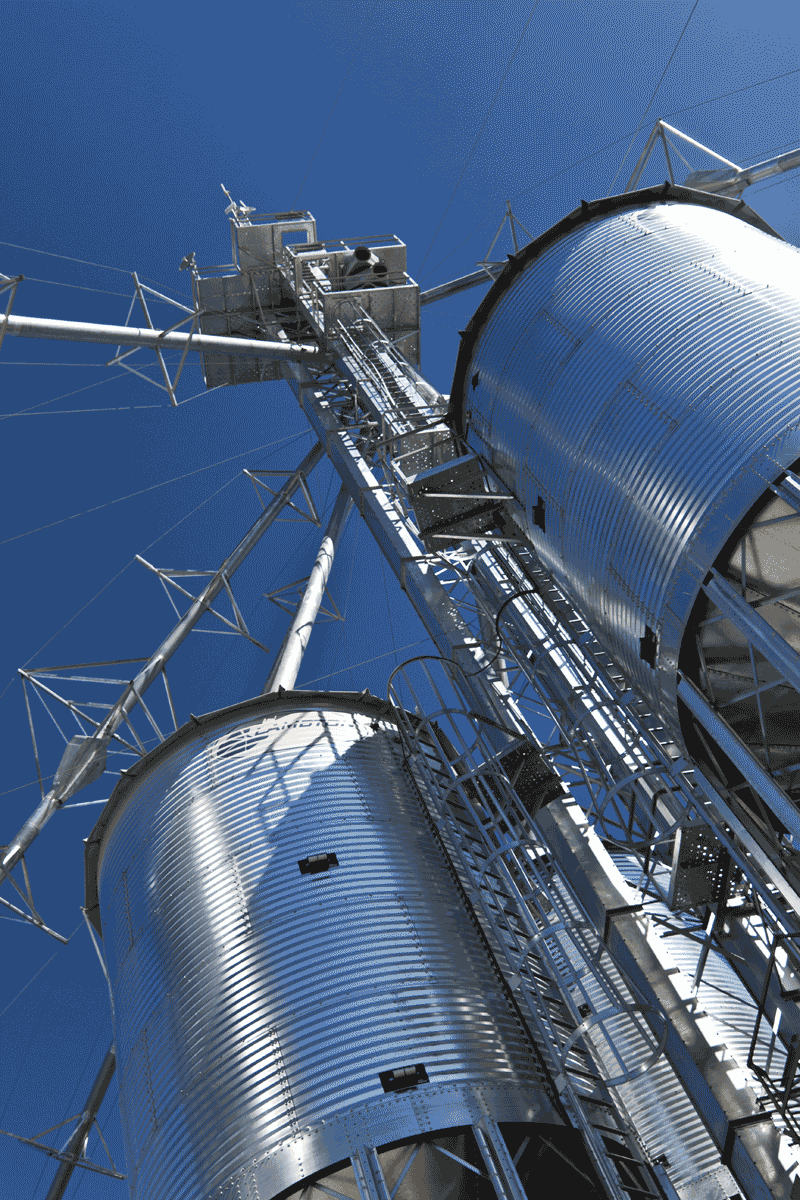 SOUTHWEST
Across Ontario, a year of weather extremes began with a wet spring. For District 1 (Essex), "the biggest challenge through the spring was trying to get spraying and side dressing done in a timely manner," said Director Leo Guilbeault. "And weed emergence was greater than usual because of the moisture."
Some farmers in District 3 (Lambton) were not even sure they would get their fields planted. "From the central part of my district to the south, soybean planting was done twice, even three times — it was the end of May or the beginning of June before some of us managed to get finished," recalled Director Dave Park. "That being said, the soybeans turned out pretty good and we ended up with a decent yield."
District 2 (Kent) Director Mark Huston noted that yields in his area were reflective of how the weather impacted fields this year. "It wasn't just the corn and soybean crops, the excess moisture also impacted other crops grown in my area – including tomatoes, peppers, and sugar beets. And as if the wet spring wasn't bad enough, some areas were also hindered by a bone dry August and early September."
The same was true in neighbouring District 5 (Elgin, Norfolk). "I had soybeans running 30 bushels because of the drought, but five miles away they had 50 bushels because they received just a bit of rain at the right time," observed Director Scott Persall.
Joe Thomson, Director for District 4 (Middlesex) said they had some rain during the wheat harvest which made it a challenge to get the crop out of the field. In District 1, the wet weather led to problems with mildew and sprouting issues in wheat; and Guilbeault said this has reignited concerns over wheat grading. "I've received quite a few calls over this. Quality issues come up in a year like this, and you want the grading to be accurate and fair. Our biggest concern is the training for the people doing the wheat grading – there needs to be consistency." Thomson said the problems they have had with wheat and Fusarium have highlighted the need for more research. "We need to put money back into public research, it's important. We don't want to see more government cuts."
Other issues being talked about are the availability and funding of government programs, the availability of treated seed as the Pest Management Regulatory Agency (PMRA) re-evaluates neonicotinoids, and the decline in corn prices.
"I think the market volatility we are currently seeing with agricultural commodities has to be one of the most important issues, not just for our district but for the province moving forward," said Huston. "With the decline in the markets from last year's highs, there is going to have to be a close look at many ag practices and whether or not they may be worthwhile going forward. From the markets comes our profitability as well as our opportunities for growth."
Some of those agricultural production practices include an increased use of cover crops following the winter wheat crop, a return to tillage to try and combat glyphosate resistant Canada fleabane and giant ragweed, and an increased use of GIS mapping and imaging technology as farmers turn to precision agriculture to ensure crop inputs are used effectively and efficiently. Persall also noted one farm in his district that has invested in underground irrigation for corn production on their lighter sandy soil. "It's a big step to move towards irrigation, and putting it underground is a big investment. They've committed to ten years of corn."
In District 4, Thomson said farmers are trying to improve soybean yields. "I think more people will be going after the IP premiums in 2014. There's definitely a demand, and that's good because that means there's an export market. We live by exports and we need to grow and expand them." However, he would also like to see more soybean processing take place here in the province. "We definitely need a new soybean crush plant in Ontario. It's been an ongoing issue for several years," said Thomson.
Guilbeault expects 2014 is going to be an adjustment year. "Some guys have forgotten what it's like working under a balance sheet with lower crop prices. In particular, we are going to have to watch how this affects land rent prices which have increased in recent years." He also noted that markets could be influenced by Canada's new trade agreement with the European Union, how many US acres are planted to soybeans instead of corn, and any wild weather events that may occur around the world. 
There are several developments in the southwest that may help to stabilize market opportunities in the region. In Kent County, Huston pointed to the successful partnership between GreenField Ethanol and Truly Green Farms. The greenhouse utilizes waste CO2 from the ethanol facility.  Meanwhile, Park pointed to the growing interest of the bio-industrial industry to set up shop in the Sarnia area. BioAmber, a provider of sustainable chemical products, recently received government funding to support its new succinic acid plant being built there. It currently uses glucose (sourced from companies such as Ingredion) as its feedstock but is looking into the potential for using corn stover and wheat straw as part of its feedstock. "Getting the attention of large international companies is a way for us to increase the value of the crops we grow," said Park.
SOUTH CENTRAL
In the south central region of the province, crop conditions varied widely this year. Wheat quality suffered in parts of District 10 (Grey, Bruce, Wellington). Good corn yields were seen in District 9 (Perth), but high moisture levels at harvest increased the need for drying. In District 8 (Huron), producers growing for the IP market saw smaller soybeans as a result of a wet spring and a dry August. The dry August also reduced soybean yields in District 7 (Waterloo, Oxford) and District 6 (Haldimand, Brant, Hamilton, Niagara), however, early indications were that the corn crop was better than last year's in District 6.
No matter how good or bad the crop is – the main concern amongst producers is the direction commodity prices are heading. "The luster of high commodity prices is waning, and as we hit harvest this year, reality was already setting in," said Mark Brock, Director for District 9.
District 6 Director, Gerry Prentice, echoed that sentiment. "Everybody was happy last year when crop prices were high – this year is a different story. When crop prices go down it makes it difficult to afford high input prices. That's why insurance programs are going to be very important for 2014. We need to make sure farmers have the coverage they need."
Larry Lynn, Director for District 8, said another concern farmers have is how they can afford rising interest rates and the high price of land. "Some farmers have committed to high rent prices that may need to be renegotiated. That could impact feelings in the countryside."
The high cost of land is also a concern in District 7. "With the price for commodities right now, it is becoming increasingly difficult for people to make those land rents," said Director Kevin Armstrong. "It all comes down to the price of corn and what it is going to be like in the future."
Despite these concerns, there is optimism amongst producers in the region. "We are seeing markets downturn a little, but it is still an exciting time in our industry," said Henry Van Ankum, Director for District 10. "It's going to be our job at Grain Farmers of Ontario to develop new markets and increase demand for our crops."
Brock said farmers in his district want to see more work done on finding new uses and new markets for our grain. "It's important to maintain our current markets but there is also a need for trade agreements and bilateral trade agreements to find new markets for what we produce in Ontario. With the global population demand, we will get back to higher prices. We just have to get through these hiccups."
Van Ankum said he knows that producers will do what they do best and keep increasing production. He pointed to farmers in his district who are exploring new ways to raise the bar on yields. He said precision agriculture is being adopted in conjunction with fungicide and fertilizer use. Prentice has also seen new precision planting equipment being used in his district along with additional tiling of land. And Lynn has noted an increase in conservation tillage by larger producers in his area.
Armstrong has heard of farmers in his district who are trying out new production techniques to increase their soybean yields. "There have been some experiments this year that I am intrigued to learn the results of. They are testing the effect of rolling soybeans after they have emerged. They are also chopping off six inches or so of the plant to try and force more bushy growth."
In Perth, Brock believes more farmers will grow IP soybeans in place of crusher beans next year to take advantage of the contracts offering good premiums. In general, he is seeing more of a trend towards higher net grossing crops. Lynn has seen something similar in Huron for several years. "Specialty crops are a big part of the economy around here – high-end, high risk crops that pay off if you get a good yield. Farmers use these in rotation which helps manage the risk associated with commodity prices."
However, it is not just farmers who are still positive about the potential that exists in the industry. Van Ankum is seeing more investment in agriculture within his district. "We've heard more concrete news about a flour mill that is going to be developed north of Guelph. We are also seeing elevators expand and invest in more storage facilities to handle the grain produced in the area."
CENTRAL
Two Grain Farmers of Ontario districts cover the wide area surrounding the urban hub that is the Greater Toronto Area. District 11 (Dufferin, Simcoe, Halton, Peel, York) is represented by Director Colin Elliott. "Weather patterns were spotty in my district this year. The planting season was cold, wet and late. Then some farms had no rain in July and August. Now in October, we've had so much rain, it looks like spring melt," Elliott said of fields in his district. This led to mixed results for yields. "Soybeans averaged in the high 50s, but yields were anywhere from 19 to 75 bushels per acre."
Joe Hickson, the Director for neighbouring District 12 (Durham, Northumberland, Kawartha, Peterborough, Hastings) also reported soybean yields were all over the map, "from the high 20s to the mid-50s. But when everything was said and done we had just as many highs as lows."
Hickson said farmers were coping with the weather up until late October, then, they started to get concerned as weather delays prevented crops from being harvested. "It's not a crop disaster but we are seeing marginal to average crops."
One exception was the wheat crop. "We had pockets of Fusarium in my district, but not right in my corner. It was a pleasant surprise to find the quality of the wheat was better than expected," said Hickson. "I chalk that up to the genetics we are planting and the management growers are putting into crops."
The concern now is what to plant next year. "What should I grow that will pay the bills?" asked Hickson. "We were starting to see input costs react to high commodity prices — it becomes a balancing act. A lot of growers make their decisions based on rotation and commodity futures, but with the concern over corn prices, many aren't sure what to do."
Elliott said uncertain corn prices have producers in his area wondering how they can afford the high cost of land. At $8,000 to $9,000 an acre, the farms that are available can be a risky investment. "It's hard to justify that much for a small parcel of land that isn't even tiled." But, he added, they are making the most of what land they do have. "There is the potential for grasses that can be grown on marginal land to be used in biofuels and we are waiting to see if that opportunity pans out."
Hickson said producers in his area are still investing in the tiling of marginal land due to the competition for additional acres. "But what we are seeing is coinciding with a reduction in livestock. So, some of that land that was good for livestock but marginal for cash cropping is being turned into crop land."
As we head into 2014, Elliott said there is some doubt amongst farmers about how much of a payout there will be available through Agricorp. Hickson said he expects debate over government support programs to come to the forefront again. "Talk about the Risk Management Program (RMP) has been quiet here because the last few years support programs were a non-issue. Now, it looks like they might be needed."
EAST
In the far eastern part of the province, rain was a problem throughout the spring and summer. "Wheat was certainly challenged because the Fusarium levels were very high," said District 14 (Prescott, Russell, Stormont, Dundas, Glengarry) Director Markus Haerle. "Since our area grows spring wheat for human consumption it was very difficult to get a good grade and that creates a challenge for marketing the crop."
Similar problems were seen in District 13 (Prince Edward, Lennox, Addington, Frontenac, Lanark, Leeds, Grenville, Renfrew, Ottawa). "We had to deal with a Fusarium issue in our spring wheat at harvest," said Director Don Kenny. "It was pretty widespread, nearly everyone was affected. Only one or two producers with small acres didn't go to feed."
Kenny noted that it was quite the change from 2012, when it was so dry no one had any issues with Fusarium. And even in previous years, he has not seen the disease as widespread. Disease issues like this are why Kenny and his delegates were so adamant in their support for Grain Farmers of Ontario's funding of a wheat breeder at the University of Guelph. "We recognized the need – because of government cutbacks, researchers weren't being replaced. Hopefully this will be a good start in getting new research done."
Other crops in the region were just as affected by the weather. Haerle noted that white mould was a big problem in his area. Depending on how bad it had infected a field, yields ranged from 35 to 80 bushels. Kenny said soybean yields in his district were above average on the whole, however, white mould was an issue in some fields in his area due to the excess moisture.
During early harvest, corn in District 14 was running moisture levels between 25 to 30 percent. "Yields were excellent, but bushel weight was low. We are talking grade 3 corn because of the bushel weight," said Haerle.
Concerns over crop quality combined with falling commodity prices have farmers in the region concerned about their bottom line. "Input costs – chemicals and seed costs – are going to remain at the high levels we have seen, and if our returns are not going to be there, how is that going to impact the farming industry?" questioned Haerle.
Kenny added, "We are all going to have to sharpen our pencils and find ways to cut back. The fact that RMP is capped at 100 million is a big concern for farmers who are wondering how they are going to pay for what they need."
Haerle said farmers are not sure if the current RMP funding will be enough to bring them through the slump the current prices will create. He has seen some farmers invest more money than perhaps they should have into land and new machinery. "All those calculations were made based on assumptions about commodity prices, and reality has now hit with lower prices. As farmers we need to play the markets safe and make different marketing choices than we have been for the past two or three years. We need to be smart, be efficient, and be realistic with our expenses even if that means letting an opportunity go by."
Despite the uncertainty, Kenny is still seeing farmers clearing land, moving fence rows and making fields bigger to grow more crops.
Haerle believes many farmers will go back to growing IP soybeans to take advantage of not only the better prices but also the great markets available for them in eastern Ontario. "The companies that handle exports have built a good client base and they need farmers to return to growing IP in order to have the volumes they need. They have been running short over the past few years." There has also been an increase in elevator capacity over the past two years in District 14 and Haerle said they expect a new grain terminal to increase shipping along the seaway, providing local farmers with easier access to export markets.
NORTH
District 15 (Northern Ontario) faces some unique production challenges, but new innovations are helping farmers succeed and Director Kevin Runnalls said they are confident about the future of the grain industry in the region.
One new technology more farmers are taking advantage of is planting corn under plastic. "Two more planters came into the area this year and we have just under 2,000 acres planted. Despite the cool weather we saw in July, when we were 300 heat units behind normal, this corn was already being harvested in mid-October."
Runnalls said the extra cost involved in growing the corn using this method is paid for by the premiums that are paid for corn in the district. They do not grow enough to meet the demands of livestock producers, and have to truck in corn.
Despite the challenge created by a short growing season, soybeans continue to gain popularity with producers. "Every year we see more acres planted – soybeans account for our biggest increase in acres," noted Runnalls. "This year, 30 bushels seems to be the average. We had a slow cool summer and saw our first frost on September 13 which shut down pods from filling."
Canola is an important rotation crop for farmers in the district, but this year the majority of the fields planted to it were affected by Swede midge. Runnalls said that is why farmers in his district are also paying close attention to the re-evaluation of neonicotinoids. "Bees are brought in to pollinate the canola. But at the same time, we have an insect problem and we need a new insecticide to fight the Swede midge. It could be three or four years before PMRA registers a new product for canola in Ontario, and if we lose what we currently have, it could be an even bigger issue."
One of the advantages to growing in the north is the price of land. "We are probably 30 percent of the land price of the southern part of the province. Land can still be bought here in that 3,000 dollar per acre range. As a result, we've seen a lot of new farmers come in."
Runnalls said they have lost a lot of beef producers in the region and that land has been turned into cash crop acres because of the good returns that were available. He is not sure how the drop in corn prices will affect land prices or the industry in the north, but notes they still have a lot of land that can be reclaimed and opened up for anyone still looking to invest.
Heading into 2014, Runnalls said the key issue for northern farmers is making sure there is access to new markets for their increasing production. "With free trade agreements being established for Europe, we need to make sure we are meeting their requirements – like stricter traceability – so that we can take advantage of them." •