Milling education cultural experience for all
Program participants learn more than technique
WHEN SAUDI ARABIA sends milling staff to Winnipeg for intensive training, business starts to mix with culture for everyone involved.
PHOTO: AHMED HUSSEIN ALHARTOMY(LEFT) AND MESHARI MULFI ALSHAMMARI  (RIGHT) FROM CIGI'S PILOT MILL.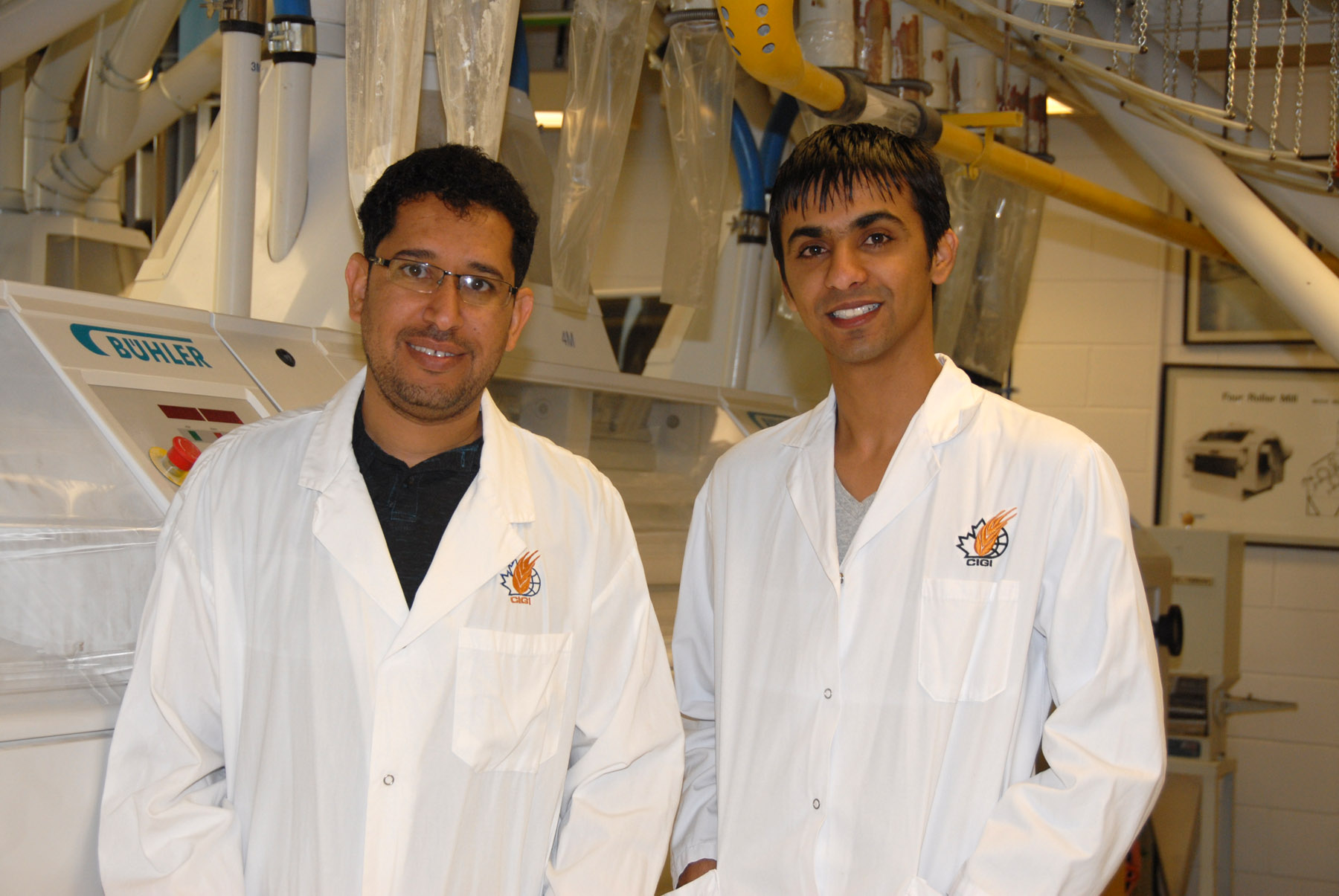 This June, the Canadian International Grains Institute (Cigi) welcomed 12 employees from the Grain Silos and Flour Mills Organization (GSFMO) of Saudi Arabia to attend what has become an annual training program and true northern experience. Rick Morgan, manager of business development for CIGI, closely monitors the GSFMO training program. He says Cigi began to pursue the opportunity to develop the program eight years ago when the Saudi Arabia government decided to stop producing its own wheat.
"We bid on this contract each year and for the last four years we've been successful in winning," said Morgan. "A number of companies bid from all parts of the world, we're never sure who else is bidding, but in Canada we are the only ones with these training facilities."
While most of the men are trained millers, some electricians, mechanics, and quality control technicians enrich the learning atmosphere with a wide variety of perspectives. But before they can start the six-month training program at Cigi headquarters, the group must first attend six months of English language training in Calgary and Ottawa.
"Most of them are millers so we're not starting from scratch," he explains. "We concentrate on milling, and include sessions with the Canadian Grain Commission so they understand our grain quality system, take them to see a farm and a grain elevator, and even have Buhler, the major international milling equipment manufacturer, come teach mill maintenance for a couple of weeks."
When the participants return to Saudi Arabia, Morgan says the training here can help them advance their careers within their own company. Not only do they have improved technical skills for operating the well-equipped mills in their country, but they also gain exposure to other western Canadian crops such as barley or pulses which they would not have known about otherwise. Morgan says he also gets the opportunity to become a student himself, learning about Saudi Arabian culture and getting invited to special feasts during the holy season celebrated in July.
One of the students this year is Mr. Ahmed Hussein Alhartomy, a mechanical engineer with the GSFMO. As one of the program participants who is not already an experienced miller, Alhartomy's focus is solely on wheat milling, understanding wheat quality, and learning about the equipment. "According to the curriculum, Cigi will cover many subjects that I need related to the quality of wheat," he said, adding. "I think it's a wonderful program for me."
For Alhartomy, the trip has been an eye-opener. He says he never realized Canada was one of the largest producers of grain in the world before he came here. "It has really changed my point of view," he says. "When I found out there are big farms here, and a variety of grains produced here, it really surprised me."
Mr. Meshari Mulfi Alshammari, who is a miller by trade, was also surprised by his Canadian experience. He says that it seems like everything in this country is so developed and even perfect.
"We go to other countries and it's not like I see here in Canada," says Alshammari. "I think wheat is cleaner than in other countries and there are more grades."
He says he is most interested in learning how to classify grain into different grades and wants to learn more about the milling process while he is with Cigi. Though both men say they have learned a lot from this experience, they laugh and agree they are looking forward to returning home to see their families again after being away for so long.
"But actually, I like it in Canada here," Alshammari offers. "Winters and all." •