HANDLING HEAVIER LOADS AND REDUCING SOIL COMPACTION
WHILE WHEELED TRACTORS continue to be the vehicle of choice for farmers in North America, tracked tractors have been gaining more of a foothold in the high horsepower market in recent years.
PHOTO: CHALLENGER MT 700E SERIES.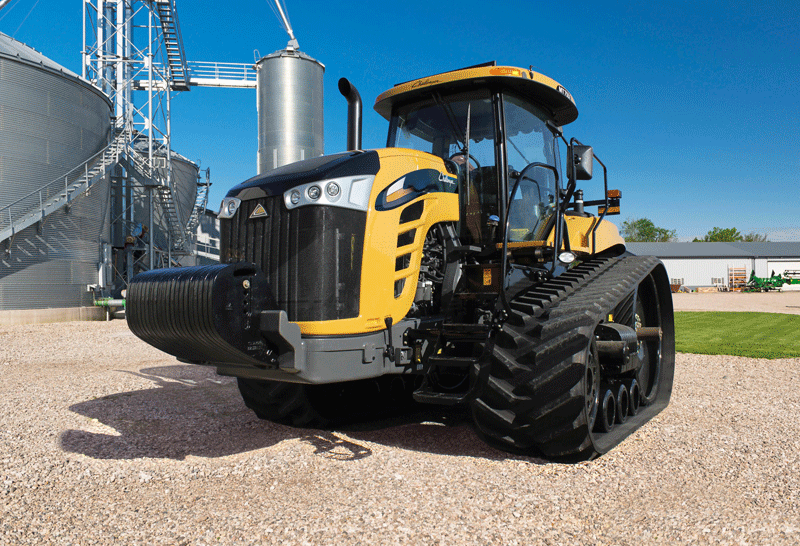 Improving efficiency, reducing soil compaction, and handling today's heavier equipment are among the key factors driving the interest in tracked machines. While numbers vary between manufacturers, tracked tractors represent about 15 to 30 per cent of the high horsepower tractor market.
PHOTO: JOHN DEERE 9460 RT.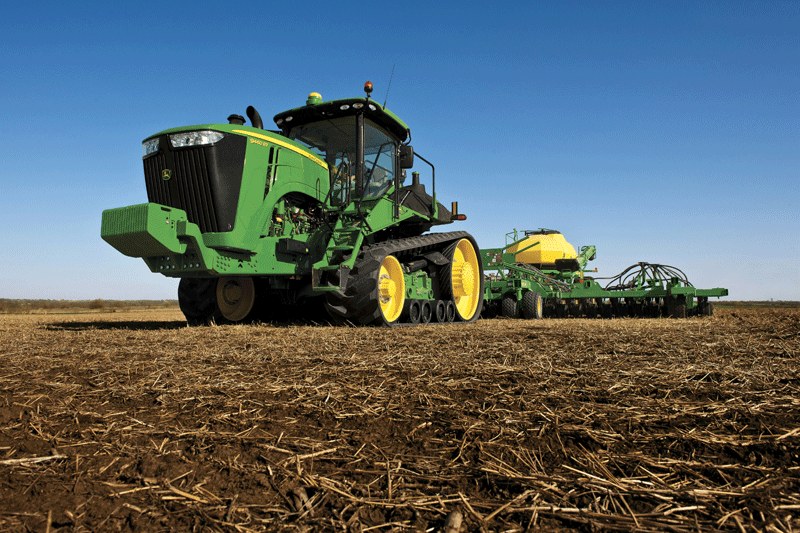 "I think a lot of that is due to the fact that farming operations are getting bigger and there have been significant advances in technology and agronomy," says Conor Bergin, product marketing manager of high horsepower tractors for AGCO and Challenger. "This makes it even more important for professional growers to get every last bit of yield out of their crop."
PHOTO: CASE IH STEIGER 620 QUADTRAC.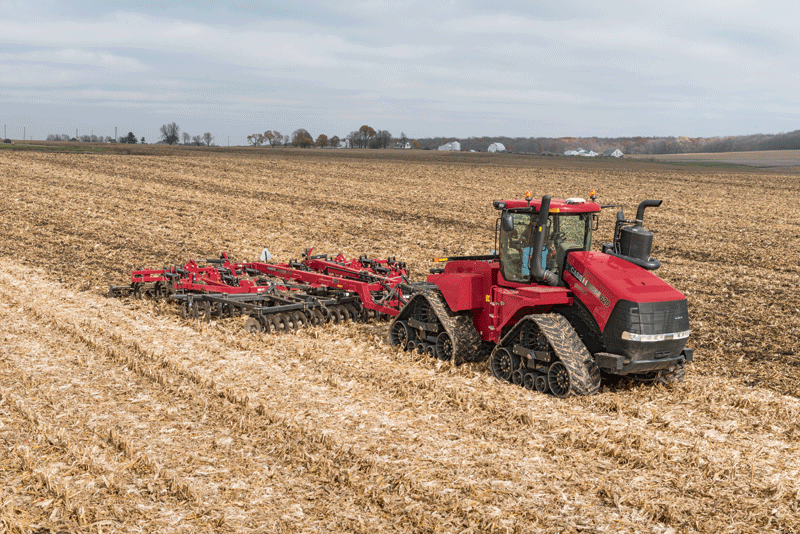 Ryan Schaefer, tractor marketing manager at Case IH concurs, noting that higher grain prices in recent years have also fuelled the demand for the tracked machines.
"As farm sizes have continued to grow, farmers have seen an increased need for covering more ground in a shorter amount of time, which has increased the demand for track machines," says Schaefer. "And really in the last three to five years, the record commodity prices and farm income that we've seen have certainly helped to elevate the demand for tracked machines in the marketplace."
ON THE RIGHT TRACK
As part of the effort to increase yields in the face of rising input prices, farmers and agronomists have been looking at ways to limit yield losses from soil compaction. The track design is intended to increase the amount of rubber surface to the soil. This larger footprint can spread out the weight of the heavy 550-600 horsepower models over a greater area and reduce the pressure on the soil.
"More customers tend to go to tracks to avoid going to a bigger tire that may not get the traction to the ground," says David Guetterman, marketing manager for John Deere.
He notes that adding wider tires to the high horsepower tractors can increase the overall width of the tractor to 16 feet, which becomes a concern for row croppers.
Another issue is power-hop that can result from having a heavy load on a tractor that has not been adjusted properly.
"Whether their air pressures are not adjusted right or the tractor is not weighted (or ballasted) properly, what happens is the tire will flex the sidewall, and instead of spinning, it will bite down to a certain point and the sidewall releases causing the tractor to lurch or jump," he explains. "It's just a bad situation."
In addition to reducing soil compaction, a smoother ride is often cited as a benefit for tracked tractors. Bergin says rider comfort is linked to the fact that farmers have to work more land.
"As our farming operations have gotten bigger, it's certainly not uncommon to spend eight, 10, or 15 hours a day in a machine," notes Bergin. "It's very important to design machines that are comfortable as well."
Guetterman adds that tracked tractors improve the ride quality because they tend to bridge the ditches or the imperfections in the field better than a wheel tractor does.
OFF TRACK
One of the drawbacks for tracked tractors has been the price tag. On average, the machines tend to cost 10 to 15 per cent more. Again, the amount varies between manufacturers.
However, Bergin says machine performance and efficiency, as well as increased yields from reduced compaction, help to offset the cost.
"Tracked tractors provide a larger footprint and can put more power to the ground more efficiently," says Bergin. "Tracks help reduce slip, and when you reduce slip, you burn less fuel and get more acres done in a day."
With more moving parts and more undercarriage components, tracked machines also require more regular maintenance. "But those operators that have a need for a track machine should easily justify the additional maintenance required," adds Schaefer.
ALTERNATE ROUTE
While equipment manufacturers are responding to the challenges of using heavier machinery, tire companies have launched their own innovations for high horsepower machines. For example, Michelin has introduced what it calls the ultra-flex technology to the marketplace, with tractor tires in the Increase Flexion class (IF) and Very High Flexion class (VF). One of the products, the YieldBib
VF-class tire, has been designed to handle a significantly heavier load.
"You can carry a 40 per cent higher load or 40 per cent less pressure for the same load against a standard tire," says Mike Pantaleo, tire usage specialist for Michelin Ag Tires.
Without getting into specifics for proprietary reasons, Pantaleo says the tire is taller with a larger air chamber. It has the same width as a standard tire, but the footprint has been made longer to improve traction.
"If we improve the traction and we improve the flotation, then we're also improving soil protection because less traction will mean more slippage and slippage drives into soil compaction," he adds.
For Pantaleo, a high quality radial tire with the new ultra-flex technology can do as good a job as tracks for less money. "And it's more flexible because tires are better on the road than tracks are," he says, referring to those farmers who may have to travel a fair distance on the road when working multiple fields.
Whether tractors will be driven on tracks or tires, farmers will continue to have options for the foreseeable future.
"We still sell a considerable volume of wheel than tracked machines and that will be expected to continue for quite some time," says Schaefer. "There will continue to be a demand for both wheel tractors and tracked machines, relative to their individual strong points and what applications they're best suited to." •