COLLABORATION AMONG COMMODITY GROUPS
GRAIN FARMERS OF ONTARIO has established important relationships across the agriculture industry, both domestically and internationally. Among these relationships are connections with the American organizations representing corn, soybean, and wheat farmers.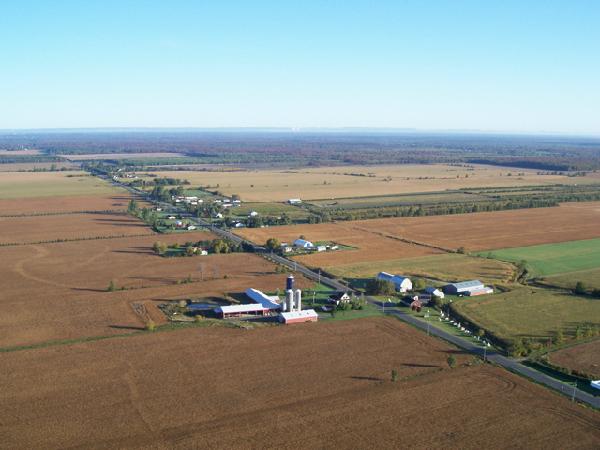 The American Soybean Association (ASA) represents 21,000 soybean farmers across 30 states. Membership is voluntary in the association which advocates for better domestic and international policy.
The National Association of Wheat Growers (NAWG) works with its 22 affiliated state associations on issues such as federal farm policy, environmental regulation, and uniting the wheat industry around common goals.
The National Corn Growers Association (NCGA) includes 48 affiliated state organizations who work together to create and increase opportunities for corn growers. The association represents 42,000 dues-paying corn farmers nationwide and the interests of more than 300,000 growers who contribute through corn check-off programs in their states.
Even though these organizations represent American farmers at the national level, there are many parallels to the initiatives Grain Farmers of Ontario undertakes on behalf of Ontario farmers at the provincial and national level. With the formation of Canada-wide organizations such as Soy Canada and Cereals Canada, some of these initiatives are being transitioned to their leadership. However, as founding members of these organizations with representatives on their Boards, Grain Farmers of Ontario continues to have a strong voice on national policy issues.
"For a while, we were filling a void that existed for soybeans in particular," says Barry Senft, CEO of Grain Farmers of Ontario. "We now fully expect that discussions at the national level will move to Soy Canada, however, we provide an important perspective as the only Canadian members of the ASA."
Five key international issues continue to form the agenda for meetings with the ASA, NAWG, and NCGA.
1) Low Level Presence (LLP)
Small amounts of genetically modified (GM) material can unintentionally be mixed with another product and end up in a shipment to a country that has not approved the GM material. This is known as Low Level Presence (LLP).
"The ASA in particular is concerned about LLP becoming a bigger international issue, due to strict regulations put in place by countries with a high demand for soybean imports," says Crosby Devitt, vice president of strategic development for Grain Farmers of Ontario.
The European Union, which relies heavily on imports for livestock feed, developed a technical solution which allowed for a minute amount (0.1%) to be considered a 'technical zero'. However, for food and seed no such leeway exists.
"There has been movement on this issue within all three organizations. Two years ago, no one was really talking about this issue, and now their opinion on how to adopt an LLP policy is coming in line with our approach," notes Senft. "It makes sense for the U.S. and Canada to go out together with similar policies in order to reduce the number of rejected shipments from either country."
For example, until approval was given to a specific biotech trait used in U.S. corn, all dried distiller's grains (DDG) were rejected from China. This caused DDG prices to dip to their lowest in more than five years.
"I believe the renewed talk over GM wheat has also forced the issue onto the table," says Devitt, noting that the U.S. and Canada are the top two exporters of wheat globally. "We are open to new biotech technology within North America – but how do we deal with it in cases where it is not approved in other countries?"
2) Biotechnology traits
Grain Farmers of Ontario's involvement in biotechnology is mirrored by the ASA who established a Biotech Working Group in 2007. One common project we have invested in is the Plenish soybean, a high oleic variety used for food-grade oil developed by DuPont Pioneer.
Educating growers on which corn biotech traits have international approval is a goal of the NCGA to prevent problems with delivery to elevators after harvest. On its website, the NCGA says it "stands solidly true to its policy in maintaining all new events must have approval in the United States and Japan prior to release. Additionally, the trait provider must be actively pursuing approval in all other markets for U.S. corn."
Similarly, Grain Farmers of Ontario advocates for faster approval of biotech traits with important trading partners, such as the EU which recently announced the approval 10 new, innovative biotechnology products for food and seed use import. As an organization we have helped to educate policy makers on the rigorous safety methods used in Canadian production and our traceability systems which allow us to produce both GM and non-GM crops.
3) Social License
The acceptance of GM crops is part of the larger issue of how agriculture is perceived by non-farmers. Public outreach initiatives designed to garner acceptance or approval from urban consumers (social license) are becoming increasingly important. Devitt says the industry as a whole needs to do a better job of communicating about agriculture and learning from U.S. grain organizations about what has been successful and what has failed is important in the development of future outreach programs here in Ontario.
"We have a common interest in ensuring the public has an understanding of agricultural issues," says Devitt. "But many within the non-farming public don't have even a basic understanding of agriculture and this leads to misconceptions about the tools we use, such as fertilizer and insecticides, how we use them, why we use them, and how we manage them."
4) Seed Treatment
For Ontario farmers, one of the biggest challenges is the pending regulatory changes to neonicotinoid treated seed. In the U.S., the Environmental Protection Agency (EPA) is conducting a review of neonicotinoids similar to the reassessment underway by Health Canada's Pest Management Regulatory Agency. In mid-May, the White house released its National Strategy to Promote the Health of Honey Bees and Other Pollinators. According to the official report, the Strategy "outlines a comprehensive approach to tackling and reducing the impact of multiple stressors on pollinator health, including pests and pathogens, reduced habitat, lack of nutritional resources, and exposure to pesticides." The Strategy involves several actions that are similar to those recommended within Grain Farmers of Ontario's Pollinator Health Blueprint, namely the Strategy expresses the need for "conducting research to understand, prevent, and recover from pollinator losses; expanding public education programs and outreach; increasing and improving pollinator habitat; and developing public-private partnerships across all these activities."
It's important to understand how the U.S. will deal with the issue of pollinator health as changing rules and regulations could impact Ontario's competitiveness.
5) The environment
The Great Lakes are a shared resource between the U.S. and Canada. Several joint initiatives exist to ensure the health of the ecosystem within the lakes. One of the most prominent concerns is algal blooms which affect water quality during the summer months. Grain Farmers of Ontario supports the US/Canada Water Quality Agreement which will set targets to address algal blooms. Grain Farmers of Ontario believes that collaborative and voluntary programs will be more effective than regulatory approaches to address agricultural sources. The organization is also involved with the 4R Nutrient Stewardship program, a voluntary program to increase the efficient use of fertilizer which will contribute to the goals of the Water Quality Agreement.

CONTINUING DIALOGUE
In addition to international policy issues, Grain Farmers of Ontario values the research and agronomic knowledge that is shared through our associations with the three American organizations.
"We are like minded in our corn and soybean production practices," says Senft. "Our southern growing area means we face many of the same disease and insect problems. In many ways we are more similar to the U.S. than we are to Western Canada – just as their growing conditions are more similar to Montana or North Dakota than to Ontario."
Grain Farmers of Ontario's most recent meetings with the ASA, NAWG, and NCGA took place during the Commodity Classic in Phoenix, Arizona. Representatives from the Board of Directors included: Mark Brock, chair (District 9, Perth); Mark Huston, vice-chair (District 2, Kent); Markus Haerle, vice-chair (District 14, Prescott, Russell, Stormont, Dundas, Glengarry). Staff representatives included: Barry Senft, CEO, and Crosby Devitt, vice-president of strategic development. •