HOW MUCH IS RIGHT FOR YOU?
INCREASING FARM SIZES and a desire by farmers to have greater control over their crops is keeping a steady interest in on-farm storage systems. But deciding whether to bring on-farm storage to your operation – and even whether to upgrade you current system — involves asking a lot of questions about your business to help decide if having your own on-farm storage is right for you.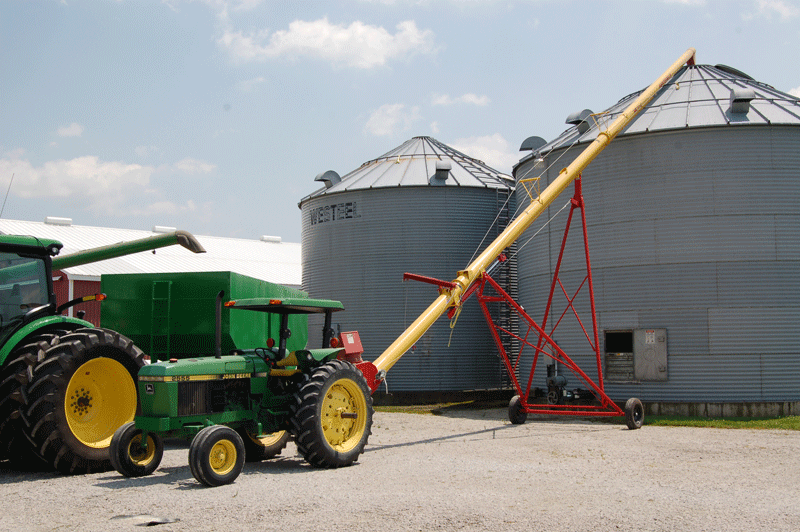 "Many farmers in Ontario are having to make tough decisions regarding their aging grain storage systems which need major upgrades in order to keep up with the newer harvest machinery and bushels per hour (BPH) expectations," says Lisa Devolder-Babula, business manager with Devolder Farms Inc. "The 20-to-30-year-old systems simply cannot keep up to the harvest demands of 2015, and we are seeing more requests to upgrade systems to help the farmer dry, dump, and ship grain faster."
HANDLING HIGHER YIELDS
Others, Devolder-Babula says, are looking to on-farm storage for different reasons. With corn yields on an upward trend, there is a greater demand for more grain storage at both the farm and commercial level. She also points to identity preserved (IP) soybean and seed contracts that, while attractive, are often only available to farmers who have on-farm storage. And, as farm operations grow and acquire more land, Devolder-Babula says the pressure to consolidate on-farm systems to one central location becomes more of a necessity, to ensure maximum productivity during the harvest season.
Certainly, cost and return on investment is a large consideration in determining whether on-farm storage is right for you.
"For growers looking at their first on-farm storage bin, it means deciding if the cost of bringing in an on-farm storage system is better than their current way of doing business," says Wayne Brubacher, director of sales and service with Horst Systems. "Costs for transportation, drying, elevation, storage, and even time spent waiting at the local elevator all need to be considered."
MAINTENANCE
With on-farm storage comes more responsibility, and that includes inspecting and maintaining your system. It's another consideration when deciding if on-site storage is right for you. Brubacher says, as a general rule, a basic yearly inspection on a grain bin includes a check of the structure of the bin, unload auger, fan, ladders, and safety cage. For a grain dryer, it involves a complete inspection of the burner and safety switches. A grain elevator requires an inspection of the belt's tension, a greasing of the top bearings, and checking the gear box oil, elevator buckets, and down spouting.
In terms of selecting the right system, Brubacher says there are a number of other questions that need to be answered as well. Using storage as an example, he says to think about whether you want to store your complete crop or just a portion of it, how long you want to store the crop for, and if the length of time you plan to store the crop might interfere with any of your other crops, which means you will need more bins.
Do you need to dry your crop? If so, Brubacher says to consider at what rate per hour you are harvesting. This will help figure out what size of dryer and the capacity of the wet bin you will need.
Another consideration, he says, is how quick of a turnaround you want your truck or wagon back to the field. This will help size the unloading equipment you will need.
SPECIFICATIONS
Christy Weber, a sales representative with John Ernewein Limited, says in terms of the storage bin itself, other options growers need to consider are things like the type of flooring they need based on their crop type (different grains require different sized aeration holes on the bin floor), the type of fan, the amount of exhaust venting in the roof, and various safety options such as ladders, cages, platforms, and hand rails.
Other important considerations are unloading capacity and whether to invest in a quality power sweep that, Weber says, will help save labour costs.
And, while cost is always a consideration, she cautions that it shouldn't be the only deciding factor when choosing the right system.
"Too many times, cost drives the buying decision but becomes a barrier to quality," says Weber. "Without proper planning, making a less costly choice initially based only on a dollar amount can lead to increased repairs and upgrades down the road."
With so many questions to answer in deciding whether on-farm storage is right for you, all of our experts agree that it comes down to having a hard, in-depth look at your operation, and that proper planning is the key.

CHOOSE THE RIGHT CONTRACTOR
Selecting the right contractor to install your on-farm storage system is a key, but often overlooked, consideration says Lisa Devolder-Babula, business manager with Devolder Farms Inc. And, she adds that while cost between contractors may be a deciding factor, it is important to choose a qualified contractor who is not only able to properly plan, design, and construct your project, but also provide the service that may be required in the future.
"A contractor that has properly certified service technicians on staff will be able to promptly assist you during the initial start-up and reduce downtime if any breakdowns occur in the future," says Devolder-Babula.
She urges growers to check references and also verify that the potential contractor consistently complies with all labour and building code regulations. A contractor who does not carry adequate insurance, is not in good standing with WSIB, or ignores standard safety protocols could result in project delays, damaged equipment, or injuries on your personal property.
As she says, projects can easily fall apart when misunderstanding and poor communication occurs. A reputable contractor will be able to provide you with a contract that clearly spells out any deadlines, system layout designs, and specific equipment that will be included in the project. •