The effect of extreme weather
UNDERSTANDING FARMERS' INSURANCE COVERAGE NEEDS
AS?FARMERS?IN?Essex County prepare for soybean harvest, they hope the weather cooperates this fall. It certainly didn't during planting in the spring. Farmers saw day after day of rain in May and June which flooded fields and delayed planting. Fields usually seeded with soybeans by the third week of May were not done until the first week of July.
PHOTO: FLOODED SOYBEAN FIELD IN ESSEX COUNTY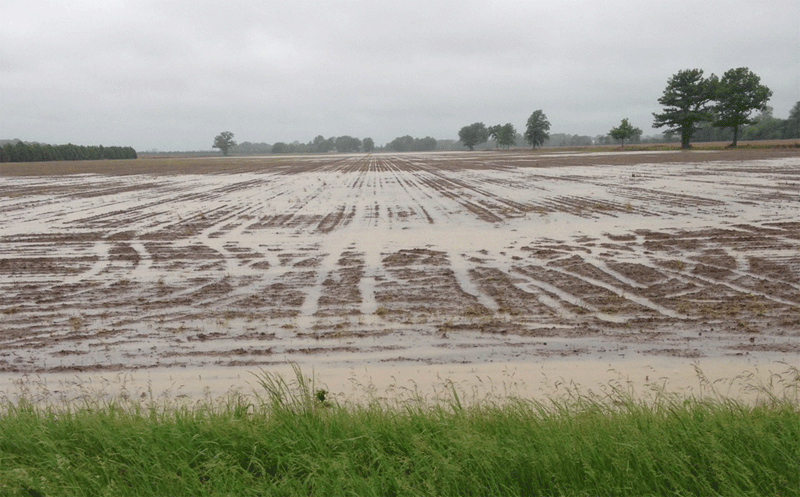 "Farmers did all they could to get the crop in and mother nature just wasn't giving them the time between rains to get the job done," says Barry Senft, CEO of Grain Farmers of Ontario. "Seeding conditions were not ideal and even reseeding was affected by the weather."
Some farmers reported no-till fields were even more difficult to get into once it dried up. A crust formed on the field that trapped moisture underneath and corn stalk residue kept additional moisture on the field. After significant analysis, Agricorp was able to extend the last day to plant soybeans in Essex by seven days which allowed many farmers time to report their planted acres and maintain their Production Insurance coverage.
"When making the decision to extend a planting date, we look at things like agronomic impacts, crop conditions surrounding the planting dates, and viability of the crop," says Randy Jackiw, CEO of Agricorp.
FIELD TOUR
Jackiw, Senft, and Grain Farmers of Ontario chair Mark Brock met with Brendan Byrne, Grain Farmers of Ontario District 1 director and Essex farmers in June to hear their concerns and see the challenging conditions they were dealing with.
"Agricorp's priority is to make sure we understand the full situation farmers are in when adverse conditions, like excess rainfall, cause crop damage," says Jackiw. "After hearing reports of the severity of this issue, I felt it was important for me to have a first-hand look at what many of our customers were experiencing. Having this understanding allows me to ensure Agricorp is responding."
"As administrators of programs, it's always good for us to get out of the office and talk directly to those affected in these situations," adds Senft. "It's important to us and it's important to farmers to know we acknowledge they have a problem. By getting out there in the field, we send a clear signal that we are paying attention."
Jackiw says they've dealt with wet planting issues before, just not necessarily in this part of the province where the soil can pose unique challenges. "What was interesting was that, even though the entire area was dealing with the same wet conditions, there were no fields alike. I saw very similar farm operations right beside each other yet conditions were extremely variable."
Jackiw says the biggest concern he heard from farmers was they hadn't planted within the optimal planting window and that could affect yields. There was also concern about how Production Insurance coverage worked in these situations, because farmers don't deal with making claims every year.
"Field staff had already met face-to-face with affected farmers to assess their specific situation and explain their coverage," says Jackiw. "Our call centre employees also responded to inquiries over the phone."
DAMAGE REPORTS
By the end of the planting season, soybean acres in Essex and Chatham- Kent were in line with the historic average. According to Agricorp, farmers in those two counties insured 376,812 acres of soybeans. As of the beginning of August, they had received 887 damage reports for soybeans in Essex and Chatham-Kent. On average, they receive about 500 damage reports for an entire growing season in the area.
"However, it's important to remember that damage reports don't necessarily equal claims," says Jackiw. "Farmers file damage reports with us if they suspect damage, but in many cases, crops rebound and they are able to harvest a good crop. We will know more about claims once the crop is harvested in the fall."
Farmers are concerned about their potential yields. By the beginning of August, crop growth was noticeably delayed and some fields had uneven stands. The hope is the longer growing season that is typically seen in Essex will make up for the delayed planting. If not, Production Insurance does trigger a claim payment for yields that are below their average.
CHANGING NEEDS
"New plant varieties and traits are helping farmers manage the effect of changing weather patterns," says Senft. "But as we develop this technology and see a shift in production practices, we also need to periodically look at crop insurance deadlines to make sure they are at the right time. This extreme weather event gave us a reason to revisit the issue with Agricorp, as we have done in the past when necessary."
Jackiw agrees that they need to maintain programs that are effective and relevant. "We continually monitor to ensure our procedures reflect changing technologies. We also consult specialists at the Ontario Ministry of Agriculture, Food and Rural Affairs for information that helps us make decisions about things such as planting dates."
Each year, more than five million acres of farmland are insured under Production Insurance. For those farmers who have made claims this year, Agricorp is still processing reseeding and unseeded acreage benefits, and expects to make those payments at the end of the summer.
With files from Erin Calhoun, Grain Farmers of Ontario, and Stephanie Charest, Agricorp. •