A NEW LIBERAL GOVERNMENT
ON OCTOBER 19, Canadians voted for a majority Liberal government in the country's 42nd general election. With strong support across Atlantic Canada, the North, and urban ridings within Vancouver, Winnipeg, Toronto, and Montreal, the Liberal Party of Canada secured 184 seats in the House of Commons. Despite their loss, the Conservative Party of Canada maintained strong support across Alberta, southern Saskatchewan and Manitoba, and rural southwestern and central Ontario. They are now the official opposition with 99 seats. Support for the New Democratic Party fell overall, but they won 44 seats across the West, Ontario, and Quebec. Ten members of the Bloc Quebecois were also elected as was one member of the Green Party of Canada.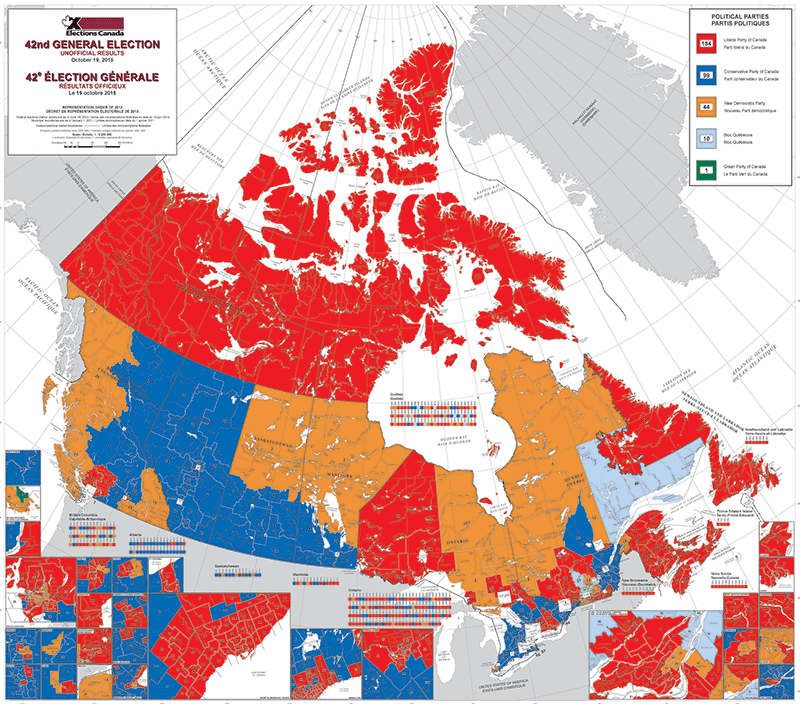 Justin Trudeau was sworn in as the 23rd Prime Minister of Canada on November 4. He selected 31 cabinet ministers, including Lawrence MacAulay as the minister of agriculture.
During the election campaign, the Liberal Party posted the following agriculture platform which outlines their policy for the sector over the next four years. Their stated goal is "to help Canada's agriculture sector be more innovative, safer, and stronger."
"Canada's farmers and ranchers are the foundation of our food sector. The work that they do to feed Canada and the world is vital, but government support is needed to help them with challenges ranging from transportation to water management to research and food safety. To attract investment and create good jobs in food processing, we will invest $160 million, over four years, in an Agri-Food Value Added Investment Fund. This will provide technical and marketing assistance to help food processors develop new value-added products that reflect changing tastes and market opportunities.
To support innovation in the agricultural sector, we will invest an additional $100 million, over four years, in agricultural research. To better allocate research funding, we will establish a transparent process that involves food producers.
We will invest an additional $80 million, over four years, in the Canadian Food Inspection Agency for more food safety inspections of domestic and imported foods. We will continue to defend Canadian interests during trade negotiations, including supply management.
We will also work with provinces, territories, and other willing partners, to better address water and soil conservation and development issues, including investments. •