Agri-Marketer of the Year
RECOGNITION FOR ADVOCATE OF MODERN AGRICULTURE
AT THE 2015 Canadian Agri-Marketing Association (CAMA) Best of CAMA awards, Stephen Denys was named Agri-Marketer of the Year. Denys is vice president of sales and marketing for Pride Seeds, a cash crop and vegetable farmer in Chatham, a delegate for Grain Farmers of Ontario District 2 (Kent), and a former president of the Canadian Seed Trade Association. Throughout his career he has helped to educate rural and urban groups on the importance of maintaining access and continuing to develop modern crop production tools including crop protection products and traits technologies.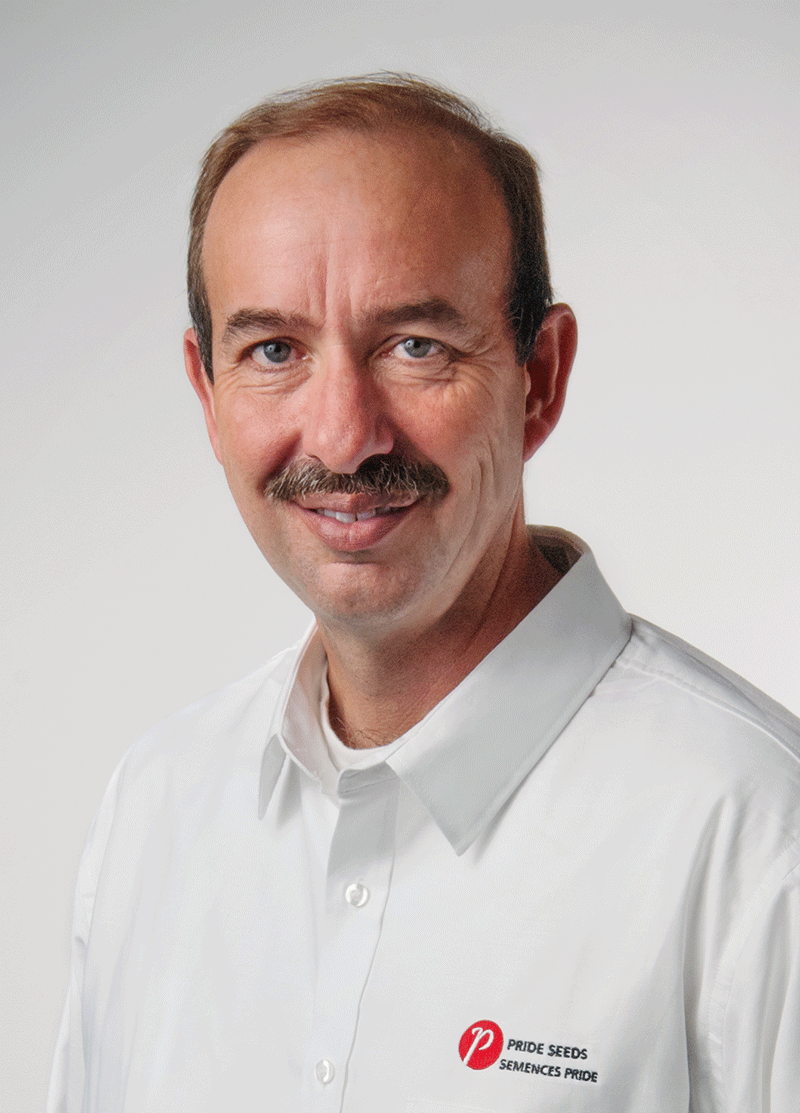 Ontario Grain Farmer asked Denys about the recognition he received for his work.
(OGF) WHAT WAS YOUR INITIAL REACTION TO HEARING YOU WERE BEING AWARDED AGRI-MARKETER OF THE YEAR?
(S.D.) I was very honoured. I have had an association with the CAMA organization for well over 20 years and appreciate the significance of this honour, especially in thinking about the other deserving industry professionals that have received it in years prior. It was very humbling.
YOU WERE NOTED AS BEING AN ADVOCATE OF MODERN AGRICULTURE — WHAT DOES THE TERM MODERN AGRICULTURE MEAN TO YOU? AND WHAT DO YOU FEEL IS THE BIGGEST MISPERCEPTION THE PUBLIC HAS ABOUT MODERN AGRICULTURE?
When I think about modern agriculture I would define it as the ability for farmers to use innovative products or approaches that have been developed and tested in science and enable us as producers to not only improve our productivity and efficiency, but to do so with benefits to the environment we work in, to our customers and their food supply, and to our quality of life.
I believe the biggest misperception is that the products we use, including crop protection products and biotechnology traits, are not well tested and are tainting the wholesomeness of our food supply and the environment.
In many ways it is a direct result of the unbelievable evolution we have seen in agriculture over the last 50 years that in many respects has occurred in a vacuum with the urbanization of our society. Many have no connection with their food supply outside of the grocery store and unfortunately are influenced by the media or well organized groups that are trying to move us away from the very technologies that have not only reduced the risk in our food supply, but allowed most citizens to have on a relative basis a high standard of living given the low percentage of their income spent on food. This is frustrating and speaks to why we as a collective agriculture industry need to work together to educate consumers on how proud we are as farmers about what we do and how we are doing it.
WHY HAVE YOU CHOSEN TO DEVOTE SO MUCH OF YOUR TIME TO EDUCATING THE PUBLIC AND REGULATORS ABOUT FARMING AND THE NEEDS OF OUR INDUSTRY?
I believe as a farmer and as someone who works within agriculture that we have an inherent responsibility to be stewards of not only our own operations and the environment around us, but stewards of the industry we work in. It is unbelievable what we have been able to do in agriculture in North America with such a small percentage of the population feeding a growing population with the safest food supply ever in the history of mankind.
Unfortunately, we now need to defend our ability to not only bring modern agricultural technologies to market but also have the ability to use them on our farms. This means we have to have the trust of consumers and the urban dominated government that regulates our industry. This ultimately requires the dedicated effort of people to communicate this message.
I have had the good fortune to work with companies that understand the importance of this responsibility and have afforded me the opportunity to do so.  More importantly, I have the support of my family given the time this can take in addition to my work and home responsibilities. Like many people I know across the industry, ensuring our continued access to tools that allow us to feed the world is a passion for me.
YOU'RE NOT JUST AN AGRI-MARKETER, YOU'RE ALSO A FARMER. WHAT ADVICE DO YOU HAVE FOR GRAIN FARMERS ABOUT HOW THEY CAN ALSO BE AN ADVOCATE FOR AGRICULTURE AND WHY IS IT IMPORTANT FOR THEM TO DO SO?
First, we cannot be afraid to discuss what we do on our farms. We should be proud about what we do and how we do it. We need to communicate that our goal as farmers is to leave our land in better shape than when we started farming it and that we not only breathe the same air, but eat the same food — which means our responsibility starts with our own family.
Many people, including even our neighbours on country roads, do not understand the science and testing behind the products we use. We need to communicate it.
An example is Bt corn, based on a protein found in dirt, which has eliminated the need to spray for insects like corn borer and by extension means preventing many diseases from infecting the ear of corn which can happen through insect damage. The result is a safer feed supply for livestock. Another example is Roundup Ready crops which have allowed us to increase our use of no-till or reduced tillage farming — meaning better soil, water, and air quality and a reduced footprint in the environment.
We also need to share what we have done to improve the environment around us. This includes taking the grower pesticide safety course and using best management practices, participating and implementing action plans through the Environmental Farm Plan, and the development and implementation of nutrient management plans. These are all things that many of our elected officials do not understand, let alone our urban neighbours who have elected them.
WHAT IS YOUR VISION FOR THE FUTURE OF AGRICULTURE IN ONTARIO AND CANADA?
I believe we have many challenges ahead of us to maintain the consumer trust that in many ways is now defined as the social license to farm. If we can keep the public trust, we are in a unique position in Canada and fundamentally in Ontario to be dependable suppliers to the world in a real way. We have spoken about the potential for Ontario for decades, but as resource and population constraints become a reality in some agricultural areas, the eyes of the world will turn to the pockets where we can grow a range of crops and that means Ontario.
To do this, we need to continue our efforts to ensure we work in a regulatory environment that supports investment in our industry — investment in innovative technologies that we can access on a globally competitive basis for our farms. This means working in an environment that is responsibly regulated using a risk-based science system, not oppressively governed, and with a tax structure that allows for investment and succession to future generations. Through our government relations efforts we have to make sure that we remain relevant in the world discussion around food investment and not removed from it given our regulatory system.
It also means the adoption of technologies including precision agriculture to refine and increase our yield potential in an environmentally responsible way. This will require a continued investment in on-farm education.
Almost equal in weight will be the need to address consumer demands for transparency in our production practices. This is a reality in this age and will require an investment in technology and human resources. The conversation we still need to have with government and consumers is the cost for this transparency which needs to be recouped through the prices of the crops or livestock we sell.
In meetings I have attended over the last 15 years, I have seen an evolution in the age, gender, and progressiveness of those investing in the future of farming.  This is extremely positive for our industry. But, to reach our "potential", we also need to invest time in the challenge of bringing people into agriculture from beyond the farm to address the shortage in human resources we are facing in several sectors. This again requires us to tell the positive story about agriculture to urban audiences and why if you are a young person it is a great industry to have a progressive career in — whether you are a plant breeder, herd manager, retail agronomist, accountant, logistics expert, or even in legal support. •