Leaf disease hampers corn yield
DISEASE MIX SHIFTS SPUR MANAGEMENT CHANGE
IN A FEW short seasons, we've seen corn leaf diseases become a bigger part of the high yield management conversation than ever before — and that's not likely going to change any time soon.
PHOTO: THE UNTREATED CHECK SHOWS SIGNIFICANTLY MORE LEAF DISEASE DAMAGE THAN OTHER TREATMENTS.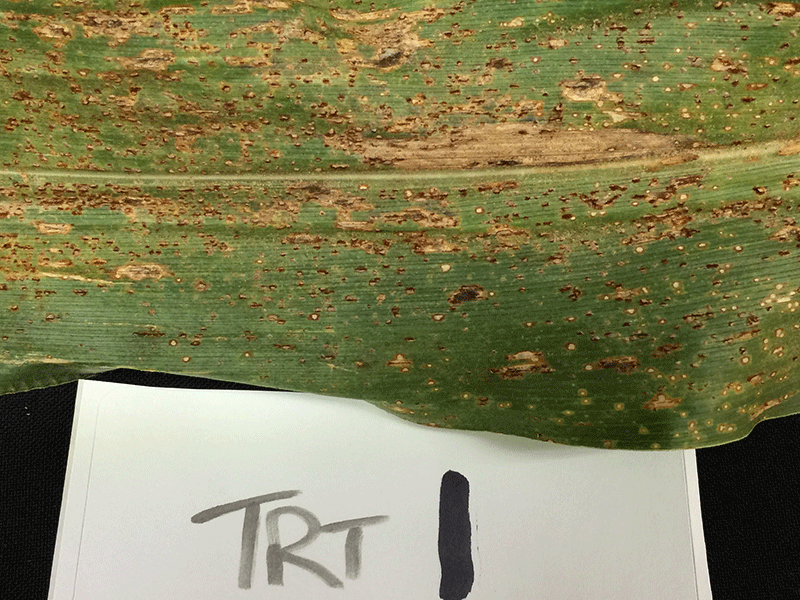 PHOTO: A FUNGICIDE APPLICATION CAN KEEP MORE OF THE LEAF'S SURFACE HEALTHY, GREEN, AND PRODUCING ENERGY FOR THE PLANT.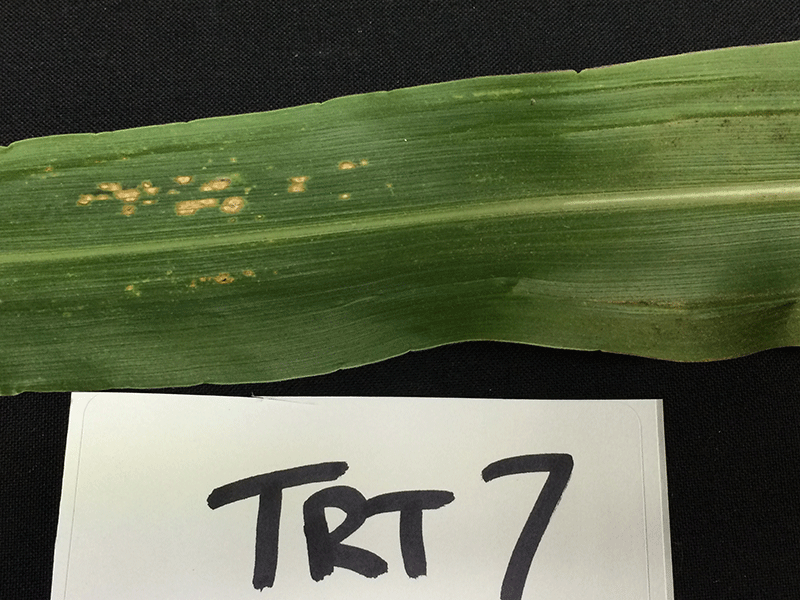 This recent spike in disease pressure can be attributed to a whole combination of factors — including environmental changes — changing management practices and shifts in genetic resistance, resulting in more difficult disease control.
According to the Ontario Ministry of Agriculture and Food's annual corn pest survey, results from Ontario's main corn growing regions indicate that northern corn leaf blight (NCLB) in particular is becoming an increasingly serious problem, with yield losses increasing every year.
KEEP THE SOLAR PANELS WORKING
So why is it so important to include management practices that limit the impact of corn leaf diseases? Think of a corn plant as a factory with its leaves as the main energy generators. Heavy disease infection can greatly reduce the leaf's total functional surface area, along with its ability to capture sun, produce sugars, and fill out the ear.
When you take a corn plant's energy-producing leaves offline, this can lead to cannibalization of the stalk, weaken the plant, and potentially cause a premature death. Weakened plants are also more susceptible to opportunistic stalk diseases.
NCLB is usually the most prevalent corn disease every year, and it isn't too difficult to find it at some level of infection in nearly every field across Ontario.
The same is also true for rust, which emerges later in the season. However, if rust strikes earlier, around tassel timing, it can potentially have the most devastating impact on yield out of all the foliar diseases. Where and when in the season rust infections occur depends almost entirely on weather conditions, as disease spores are carried up on storm systems from the Gulf of Mexico.
One thing we did see last year was a big spike in eyespot that came in early, spread quickly, and then died down around tassel timing. Both NCLB and eyespot can survive in Ontario on corn residue.
ROTATION, GENETICS, AND FUNGICIDES
As for what you can do to prepare for disease pressure, first look at your rotations and corn genetic selection. Avoid planting corn on corn if you can and diversify your rotations as much as possible with a winter wheat or forage. If you are growing corn on corn, or have a tight corn-soy rotation, pick a hybrid with genetics that carry a high disease resistance rating.
Keep in mind — just because a genetic package looks good in a seed guide doesn't mean it'll give you the best protection. We have about 11 races of NCLB in the province, which can make matching the most effective resistance genes up against NCLB strains both difficult and a guessing game. •