WHITE MOULD COULD BE THE BIG SOYBEAN ISSUE FOR 2016
HOW DO YOU manage a disease that growers and researchers have struggled to get a handle on for years?
PHOTO: WHITE MOULD OFTEN SHOWS UP AS PATCHES OF DEAD AND DYING PLANTS, SPREAD RANDOMLY THROUGHOUT THE FIELD. FIELD HISTORY IS A MAJOR DRIVER OF WHITE MOULD RISK.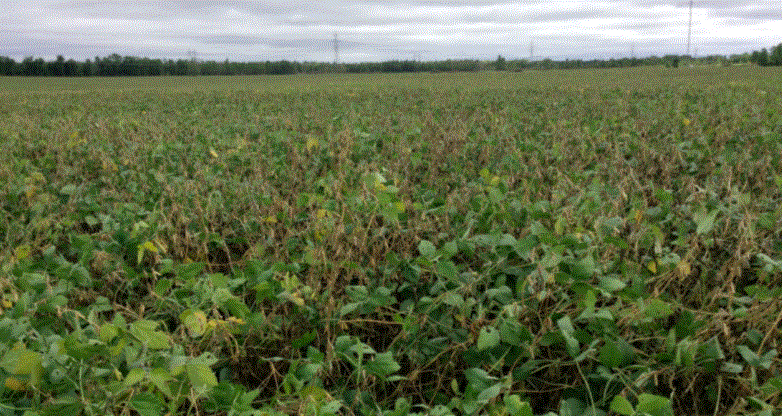 It's a lot to think about, for sure, but depending on the weather and conditions we get this coming season, you may find yourself needing a proactive white mould management plan for your soybean crop.
"White mould is one of the most frustrating diseases out there because there are certain situations where you think you're going to get the disease and you don't. And when you don't think it's going to develop, it does," says Albert Tenuta, field crop plant pathologist with the Ontario Ministry of Agriculture, Food and Rural Affairs (OMAFRA).
"We've had challenges every year with white mould in Ontario, and a lot of that is driven by our environmental conditions and agricultural practices," he says.
Tenuta says the conditions for white mould development are present in fields every year. But what determines whether or not the disease snowballs into a full-blown problem depends on the environment that develops at flowering and through the season.
As an example, he points to the 2014 season that had cool conditions, high relative humidity, and frequent rain showers that led to substantial white mould incidents throughout the entire province.
MAX YIELD, MAX RISK
Agricultural practices can also increase your white mould risk. Tenuta explains that all the things growers typically do to maximize their yields — such as planting high plant populations with narrower rows and an early-closing canopy — can help create the ideal environment for white mould to thrive. Often, the better established your crop is, the more likely it is to be damaged by the disease.
White mould infections are caused by the pathogen, Sclerotinia sclerotiorum, a fungal growth that produces tiny, black sclerotia bodies that grow on the inside of the plant and are returned to the soil, where they can survive up to eight years.
Any sclerotia bodies within the top two inches of the soil profile will germinate, forming apothecia, small mushroom-like structures where millions of disease spores are stored. Those spores are then released into the bottom third or bottom half of the canopy — where it's the most cool and moist — and land on flower petals to start the infection process.
Those infected petals eventually fall off and land in one of the soybean plant's bottom two nodes — providing an entry point for the infection to penetrate, grow up through the stem, and girdle the plant. In particularly bad cases, white mould infections can reduce yields by as much as 50 to 60 per cent.
CROP ROTATION
Tenuta says it's important to assess each individual field's history to know whether you've had white mould in the past.
Also keep tabs on other crops in your rotation, so you're not following a white mould-susceptible crop, such as dry beans or peas, with soybeans the following year. Instead, plant a corn or cereal crop so that any sclerotia lying in wait on the soil surface don't have a susceptible host.
One of the biggest issues with white mould is that the disease can be hosted in hundreds of different plants. This makes good weed management an absolute must, as common broadleaf weed species — including common ragweed, velvetleaf, lamb's quarters, and dandelion — can build up the amount of sclerotia in the soil.
When it comes to disease management, start by selecting a soybean variety with white mould tolerance. Though, a tolerant variety under the right conditions can still be susceptible to infection.
SCOUTING AND SPRAYING
Tenuta says growers need to be out and scouting early on in the season at flowering (around late June and early July), to keep an eye out for any infection developing on blossoms.
"Typically, you will start seeing the signs of early infection towards the end of June. Then, once it gets hot and dry in July, the disease development will slow down until about mid-August when conditions get cooler and wetter," he says.
Using fungicides preventatively against disease development is also a good option, but you need to be ready to spray as early as possible.
Tenuta points out research showing early fungicide applications — when soybeans are at the R1 or R2 stage — are critical to successful white mould management. At these earlier growth stages, you can protect the flowers, limit blossom infection, and reduce any further disease development.
If you let the beans get too tall, it can be difficult to get your fungicide pushed down into the bottom of the canopy to protect the plant's lower nodes.
Until recently, growers had relatively few fungicide options for effective white mould control. However, Syngenta recently expanded the label for Allegro 500F fungicide to include two application rates that offer control and suppression of the disease. This label expansion makes Allegro the only fungicide product currently on the market with a white mould control claim in soybeans.
The full, 356 ml/ac application rate can be used if you've planted a white mould-susceptible variety, while a reduced, 178 ml/ac rate can be used in tandem with resistant varieties for enhanced disease suppression and protection.
Shawn Brenneman is an agronomic services manager and certified crop advisor with Syngenta Canada Inc. •