Wanted: leaders in agriculture
APPLY NOW FOR THE 2017 ASA DUPONT YOUNG LEADER PROGRAM
Grain Farmers of Ontario is looking for soybean growers interested in becoming a leader within the agricultural industry. The application process for the 2017 American Soybean Association (ASA) DuPont Young Leader program is now underway.
PHOTO: DUPONT YOUNG LEADER PROGRAM, CLASS OF 2016. PHOTO COURTESY THE AMERICAN SOYBEAN ASSOCIATION.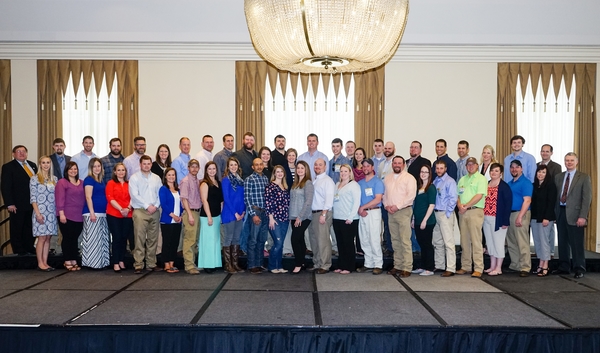 The program focuses on developing leadership, strengthening marketing and media skills, and learning more about the soy industry. It is also an excellent opportunity to network with other farmers from the ASA's 26 state affiliates. Participants (individuals or couples) will attend two sessions – one at Pioneer's Iowa headquarters in late fall 2016, and the second during the 2017 Commodity Classic in San Antonio, Texas.
PHOTO: KEVIN DIEHL, DIRECTOR OF REGULATORY STRATEGY AND INDUSTRY AFFAIRS, DUPONT PIONEER, JEFF AND DIANNE BARLOW, AND RICHARD WILKINS, ASA PRESIDENT. PHOTO COURTESY THE AMERICAN SOYBEAN ASSOCIATION.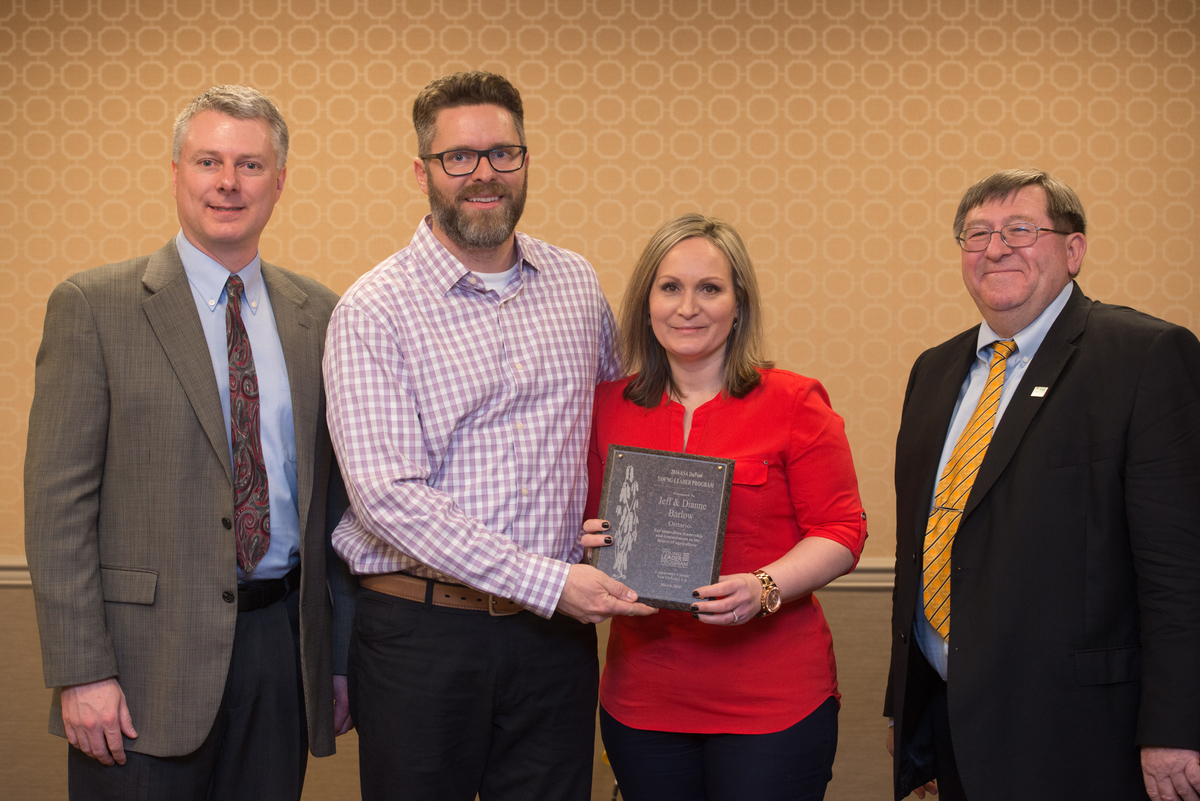 Jeff and Dianne Barlow, from Hannon, Ontario, were selected to represent Canada in 2016. Jeff Barlow is now one of four Grain Farmers of Ontario district directors who have completed the ASA DuPont Young Leader Program. He says completing the program made him realize he was ready to take his involvement as a Grain Farmers of Ontario delegate to the next level.
PHOTO: DIANNE AND JEFF BARLOW. PHOTO COURTESY THE AMERICAN SOYBEAN ASSOCIATION.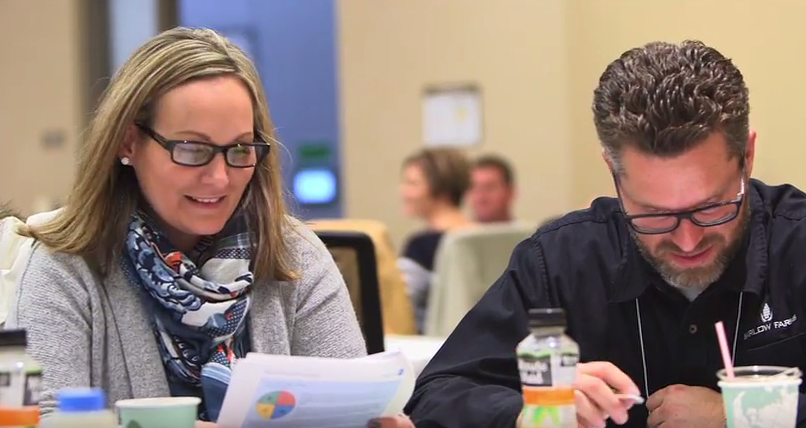 "I think one of the key elements that was driven home to us was how important government policy is to farmers and how we need to get involved and be a part of policy development instead of waiting for it to land in our lap," says Jeff. "The ASA has re- written their mission statement as 'to advocate for U.S. soy farmers on policy and trade'. I learned that policy is a big deal in the U.S., and it is becoming an even bigger deal. The same goes for Canada; and I realized I had to get more involved."
During the program, the Barlows heard from guests speakers and completed workshops that focused on understanding your personality profile, how to tell your story to the public through the media, and understanding the latest supply and demand factors affecting the soybean industry.
What they learned from other participants was just as informative. 
"Meeting different farmers from the different states and hearing about all the different things they are doing – like growing cotton and using irrigation– it was different from what I'm used to here in Ontario where we are all doing a lot of the same things," says Jeff. "I learned what they do and how they do it; not specific products they use but how they go about their business and why they choose to do certain things, such as integrating new technology onto their farms. They aren't just collecting data from their fields; they are using that information to make decisions."
Jeff also found common ground when it came to the challenges American farmers are facing – such as renting farm land, issues with wells and water quality, crop rotation, and diversifying their operations with livestock or other farm businesses.
The experience improved the way Jeff now deals with his employees and with his responsibilities as a leader in agriculture.
"I'm more relaxed. I feel more comfortable answering phone calls that I can get from farmers in my district. I feel confident when I speak to the media. I'm more understanding of the different personalities of the people working for me. I take the time to figure out why things are happening. I've changed the way I communicate, and I actively listen now," says Jeff.
APPLY NOW!
If you would like to participate in the ASA DuPont Young Leader program, fill out the online application at www.soygrowers.com by August 15, 2016. A Grain Farmers of Ontario committee will evaluate the applicants from Ontario and choose one couple or individual for the 2017 program. Their selection will be based on how well they demonstrate innovative and strong leadership qualities through the production and marketing of soybeans and community activities, their interest in serving as a soybean industry leader, and their commitment to natural resources stewardship through the use of best management and conservation practices.
Participants must be at least 21 years old. The ASA/DuPont Young Leader Program is designed for growers interested in assuming a position of leadership in the agricultural industry. Actual age is not a factor.
For more information, contact Steve McCabe, manager, Member Relations, Grain Farmers of Ontario at smccabe@gfo.ca or 519-767-9713.  Photos courtesy of the American Soybean Association. •