Grains in Action
SHOWCASING THE GRAIN VALUE CHAIN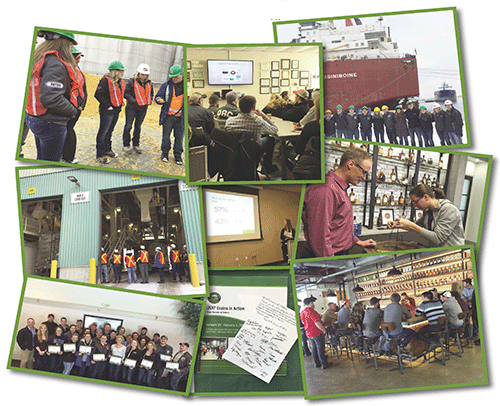 HOW ARE CROPS used after they leave the farm?
This was the question answered during a four-day journey that 26 young agricultural leaders took in early February. They attended Grain Farmers of Ontario's Grains in Action, a program that works to educate participants on the end uses of; and markets for, Ontario grains. They learned about the grain value chain and met with industry partners.
I learned "Grain Farmers of Ontario is always looking for ways to advance the grain industry and educate farmers and consumers about agriculture," said Paige Handsor a participant in the 2017 Grains in Action. "The experience on Grains in Action not only gave me the chance to learn more about where our crops go post-farm, but also the chance to meet other young farmers across Ontario."
Grains in Action provides a chance to network with industry professionals along the tour and with their peers. Participants learn more about Grain Farmers of Ontario as an organization and how it is involved in the grain value chain.
"We want to involve young farmers as they start or continue their ag journey and we want to keep engaging them through their career. We also want them to get involved in Grain Farmers of Ontario because eventually they will inherit the organization," says Steve McCabe, manager of member relations at Grain Farmers of Ontario. "The results of this program speak for themself. Out of more than 300 participants approximately 25 per cent are now Grain Farmers of Ontario delegates; and, six of our 15 directors are Grains in Action graduates."
NEW PARTNERSHIPS
Wallenstein Feed & Supply Ltd. was a new partner and tour stop for the 2017 Grains in Action program. 2016 participants identified that a feed mill would be a beneficial addition to the tour. Grain Farmers of Ontario reached out to Wallenstein with that in mind.
"We are proud to be involved with Grains in Action this year," says Wendell Schumm of Wallenstein Feed. "We think it's great that Grain Farmers of Ontario is reaching out and giving [participants] the chance to see what opportunities there are in agriculture and off the farm."
The Wallenstein tour outlined a history of the company and how they use Ontario grains in their poultry, swine, and ruminant feed. They were open to questions from participants before touring their facilities, including; where grain trucks are delivered, how the grains are tested and unloaded, the production lines in the mills and the premix facility.
"The connections we make are important. The participants were really bright, really engaged, asked good questions, had good discussions, and were making the most of this opportunity," explains Schumm of his experience working with participants of the Grains in Action tour. "Agriculture will be well served to have them as the next generation."
EDUCATIONAL PROGRAM
Day one of Grains in Action started with an introduction to Grain Farmers of Ontario by chair Mark Brock and CEO Barry Senft. Industry partners from Agricorp, Agriculture and Agri-Food Canada, the Ontario Ministry of Agriculture, Food and Rural Affairs, and the Ontario Farm Products Marketing Commission spoke on how these organizations work with Grain Farmers of Ontario and the wider grain industry.
Spirits Canada helped kick off the evening dinner with a whisky tasting. The tasting identified how Ontario grains are used in various whiskys and the tasting notes those grains bring to each beverage. This was also a time to network with Grain Farmers of Ontario staff, industry representatives, and other participants.
Day two began with a presentation on market development and the new Grains Analytical Testing Laboratory. The tour continued on to Aylmer, Ont. to IGPC Ethanol Inc to learn about ethanol production and their sustainable practices. The final stop for the day was the Cargill Sarnia Grain terminal.
"I personally enjoy the tour of the Cargill shipping centre. The staff were very knowledgeable and gave an in depth look at the distance our grains can travel, the effort that goes into getting it to food processors and purchasing countries," said Handsor of her experience.
The third day of the tour was action packed with a stop at ADM Agri-Industries in Windsor, Ont., a whisky tasting and tour at Hiram Walker, a meet and greet with researchers at the University of Guelph Ridgetown Campus, and a discussion by Dave McEachren, director of District 4 (Middlesex), on the American Soybean Association Dupont Young Leader program.
The final day began at Wallenstein Feed before returning to Guelph for presentations by Grain Farmers of Ontario staff on research, government relations, and communications. The day wrapped up with a valedictorian speech, certificates, and final words from the Grains in Action organizers. This was also
a chance for participants to ask questions about Grain Farmers of Ontario and learn of the other opportunities available to them in agriculture.
"I strongly suggest this tour to young professionals new to the workforce as a way to develop new connections and create broader agricultural experiences," said Handsor of her take-away from the Grains in Action program.
GET INVOLVED
If you are interested in attending the 2018 Grains in Action or would like to recommend a young agricultural leader for the program, contact Steve McCabe at smccabe@gfo.ca or 226-979-5581.
Member relations will also be running the Grains in Action alumni event in 2017.
Maegan MacKimmie is the communications coordinator, internal focus, at Grain Farmers of Ontario and the program coordinator for Grains in Action. •