Showcasing modern agriculture
TECH PARK AT THE IPM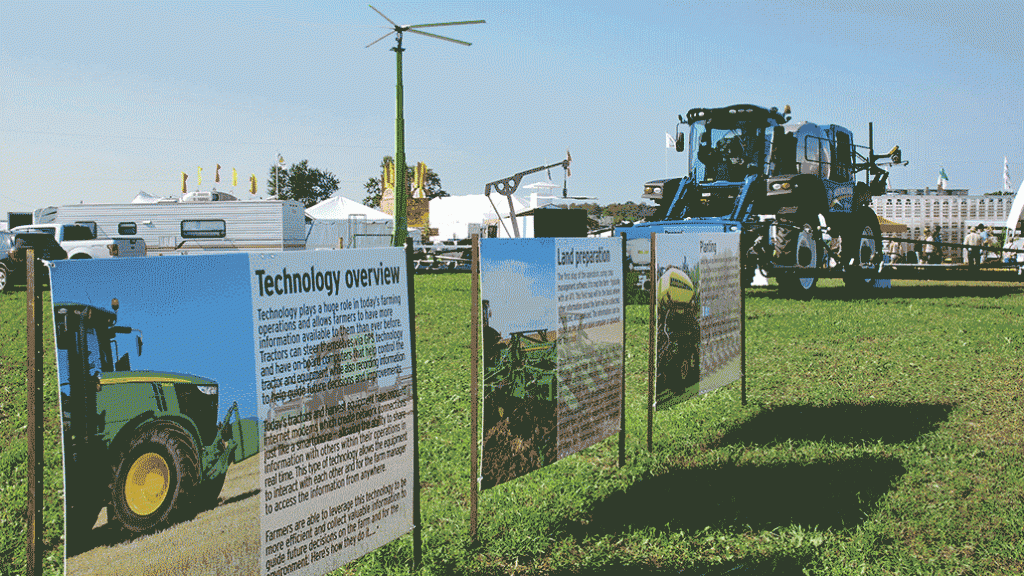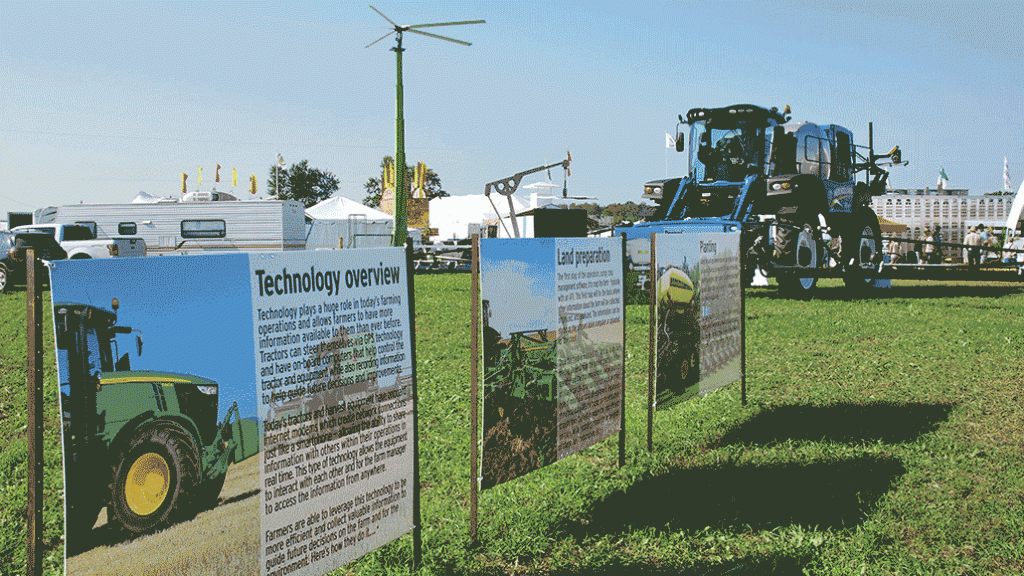 SUSTAINABILITY AND MODERN farming practices go hand in hand. Grain Farmers of Ontario highlighted this relationship at the 2017 International Plowing Match and Rural Expo (IPM) in Walton with the Tech Park. This is the second year for the exhibit which features examples of the latest machinery and technology available to grain farmers in the province.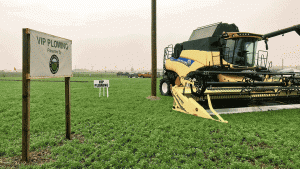 "The exhibit is a way for us to influence the perception of agriculture and educate the non-farming public about the new technologies farmers are using to produce our food," says Maegan Mackimmie, Grain Farmers of Ontario communications coordinator and exhibit organizer. "The scale of the equipment alone makes people stop and think about the advancements in farming today."
The exhibit featured a New Holland SP300F sprayer with 120 foot boom provided by Roberts Farm Equipment and a Phantom 3 Pro drone. A New Holland CR 7.90 combine was also on display in the VIP Plowing area to catch the attention of visiting politicians.
ON DISPLAY
Demonstrations of the drone were a big draw to the exhibit, especially for students who wanted to see the images it was capturing overhead.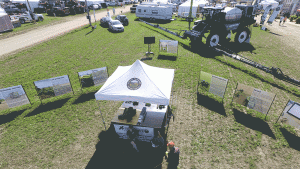 "The kids especially think of the drone as a toy and don't understand it's an important agricultural tool," says Mark Carter, Grain Farmers of Ontario web coordinator and drone flight instructor at the Tech Park. "But people of all ages don't realize how high-tech modern agriculture has become and that's why it's important for us to be here and show them some of the new tools being used."
While demonstrating the drone, Carter explained how the images captured can be used to scout fields to determine the health and growth of plants over a large area. Signage around the tech park explained how that information can be combined with other precision agriculture tools to more precisely apply nutrients to a field and track a crop from planting to harvest.
Grain Farmers of Ontario also had the Growing Connections trailer exhibit at the IPM. This continued the story of how and where Ontario grain crops end up on the grocery store shelf. Multiple products from oil, to diapers, to cleaning products show the diverse usage of barley, corn, oats, soybeans, and wheat.
Grain Farmers of Ontario is a bronze sponsor of the IPM and exclusive sponsor of the VIP tent and VIP plowing. •