Business side: Distracted driving
CONVERSATIONS WITH BUSINESS EXPERTS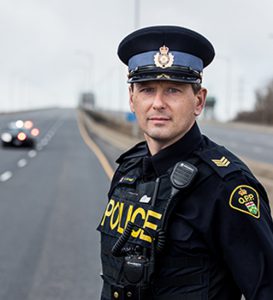 (J.M.) WHAT IS DISTRACTED DRIVING?
(K.S.) Distracted driving is most often associated with cell phone use. Under the Highway Traffic Act, motor vehicle drivers in Ontario cannot use a hand-held device while driving. And while it's easy to be distracted by dialing, texting, or talking on a phone, distractions aren't limited to technology use. Anything that takes a driver's attention away from the road is a distraction. We often forget that driving is a privilege and that privilege can easily be taken away, so stay safe on the road and give driving your full attention.
WHAT RULES APPLY TO TRACTORS AND FARM EQUIPMENT?
Technically, tractors and farm equipment aren't included in the Highway Traffic Act regulations that restrict the use of hand-held devices while operating a motor vehicle. However, distracted driving is still a serious issue and the driver of a piece of farm equipment could be charged with an offense under the Criminal Code if warranted.
Everyone traveling the roadway in Ontario should be aware that new distracted driving fines and penalties come into effect January 1, 2019. These include a fine up to $1,000, three demerit points, and a three-day driver's licence suspension for your first conviction. Subsequent convictions will also result in additional fines and penalties.
We've covered the rules of the road, but don't forget that the safe operation of tractors and farm equipment is also a responsibility in your farm yards and in the field. Even though an operator may be driving on private property, any actions that pose a threat to themselves or others, like dangerous driving, fall under the Criminal Code.
CAN YOU OFFER ANY ADVICE ABOUT USING TECHNOLOGY WHILE TRAVELING ON THE ROAD?
The general public likely don't understand or appreciate the level of technology found inside most tractors and combines today. But don't let your high-tech operating systems or anything else inside the cab distract an operator from safely traveling the roadways.
Farmers know this better than anyone — operating large machinery on roadways takes your full attention. Navigating narrow shoulders and sharing the roads with impatient motorists are challenging enough, farmers and equipment operators need to be alert and restrict any possible distractions from inside the cab.
ANY OTHER ADVICE FOR SAFELY DRIVING FARM TRACTORS AND EQUIPMENT ON THE ROADWAYS?
Traveling the roadways with tractors and equipment can be part of a farmer's occupation and conducting day to day business. Approach driving like any other portion of your business — manage and reduce your risks.
Make sure you're visible to other motorists — that includes using flashing lights and clearly visible slow-moving vehicle signs. Visibility is hardest at dusk and dawn, so, if possible, try not to travel roadways at that time. Farm equipment travel roadways all year long, not just during the busy seasons of planting and harvest, so be sure to check road conditions before heading out. And remember that everyone shares the road, no matter the size of your vehicle. •