Maintaining what's in the bin
OVERWINTER STORAGE TIPS FOR MOULDY CORN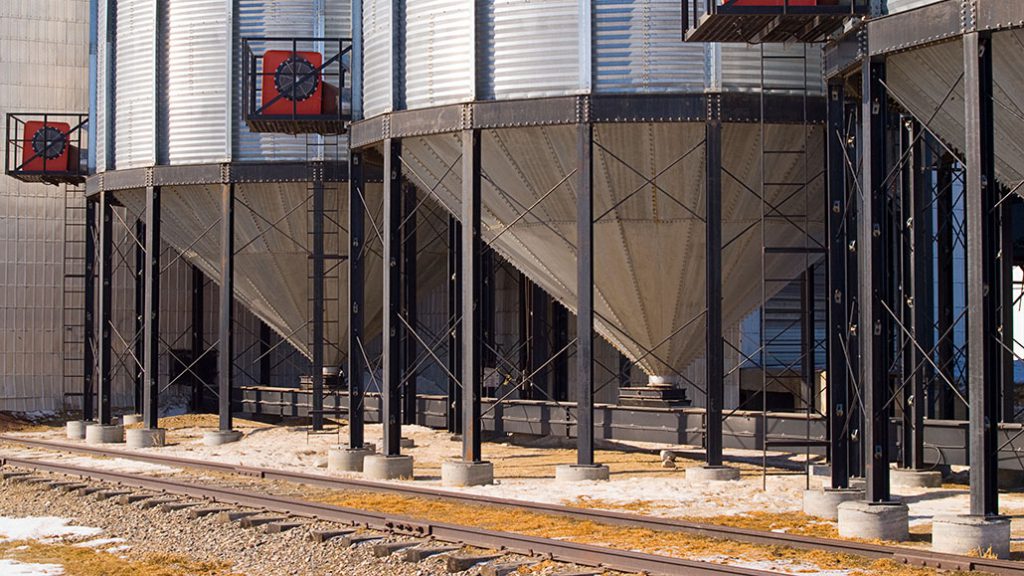 IF YOU HAVE mouldy corn in on-farm storage, keep an eye on it over the winter to ensure the corn that comes out of your bin in the spring isn't worse than when it went in this fall.
AERATE BINS FREQUENTLY TO KEEP GRAIN COOL AND DRY
"Aeration is the tool that we have to maintain the grain where you want it in terms of temperature," says James Dyck, Ontario Ministry of Agriculture, Food and Rural Affairs engineering specialist, crop systems and environment. "If we get a few warm days in a row, once it gets cold again, it's a good idea to aerate the bin to cool it down again for a few hours to make sure everything is equalized."
Moisture levels should be maintained below 15% by aerating when outdoor relative humidity is 65% — 70% or less. Grain temperatures need to be maintained between 2° C — 5° C if possible, and always below 10° C. This will reduce the potential for mould to grow.
MONITOR STORED GRAIN FREQUENTLY
"In the dead of winter if your grain is cold, and it was good quality going in, you can check it once a month. But if you have high DON levels, it's a good idea to check it more frequently, at least once every two weeks," says Dyck. "As temperatures start to warm up into March, you need to look at it even more frequently."
If you have temperature and moisture cables in your bins to constantly monitor conditions, it's still a good idea to do a visual inspection to ensure what your sensors are telling you is actually correct. Run your fans and smell for foul odours. Visually check for signs of mould. Use a temperature probe to detect warm spots. If there is growth or spoilage inside the bin, it could increase the DON levels.
CHECK THE CONDITION OF YOUR BINS
Dyck recommends you check inside the top of your bin to ensure snow hasn't been blown in. "If your bin was built such that the vents are hanging right at the edge, you could have a risk of snow being pushed up there."
You should also check for condensation in the attic space of your bin. "If you are seeing condensation that means that moisture has come from inside the bin. You could have some hot spots or some wetter spots inside and you definitely need to be running your fan."
DO NOT STORE CORN WITH HIGH DON CONTENT LONG TERM
Plan to sell corn by March if possible. If you plan to store corn into next summer, dry grain to 14 percent or less moisture.
"It's important to remember that poor-quality corn, such as that with higher fines, lighter test weight, or lower grade will likely store for less time. To be really safe, for poor corn I'd recommend a maximum storage time of 50% of what is shown in the Allowable Storage Time table," says Dyck.
Once you have emptied your bin of mouldy corn, make sure you follow best management practices for cleaning, such as blowing out any debris and making sure no residue is stuck to the walls or the ladder. If you want to take a few extra steps, Dyck says you can also clean out the auger and consider taking a look under your bin floor through a small inspection hole to see if you have a build up of fines.

CONSIDER CLEANING YOUR CORN
If you couldn't clean your corn before you put it into storage, consider cleaning it using a rotary type screen cleaner or a gravity based cleaner before sending it to market. Cleaning has been shown to have an impact on grain samples because mycotoxins are more prevalent in broken or damaged kernels, cobs, or in fines.
Additional information can be found at:
www.fieldcropnews.com
www.cropprotectionnetwork.org
http://www.omafra.gov.on.ca/english/engineer/facts/15-039.htm. •