Surviving the flood
WESTERN SOYBEAN RESEARCH APPLICABLE TO ONTARIO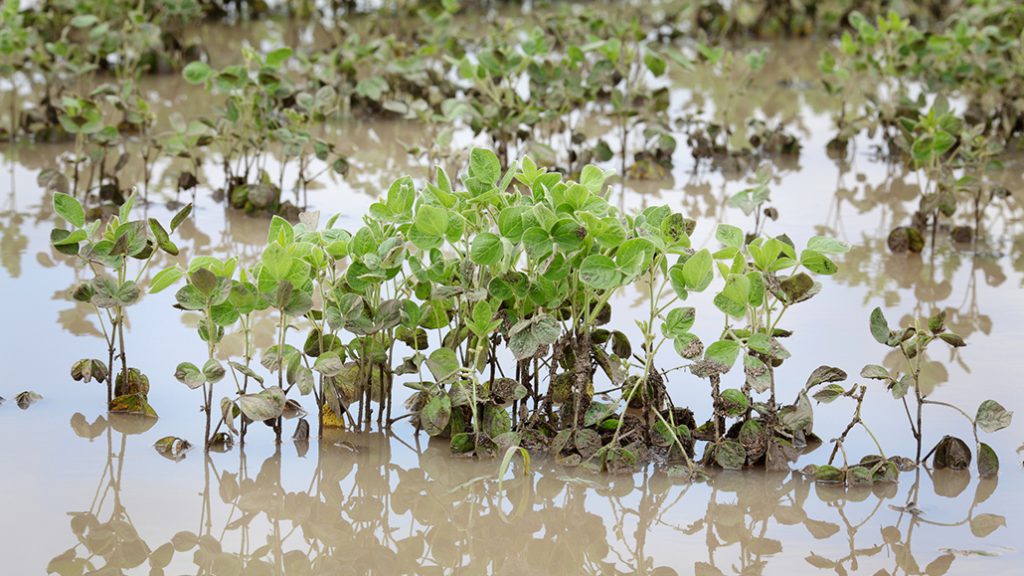 RESEARCHERS BELIEVE THAT common plant proteins could hold the key to developing soybeans that are better equipped to survive — and even thrive — under harsh environmental conditions.
The crop insurance data doesn't lie — excessive moisture is often the cause of major yield losses, particularly in areas of Manitoba where crops get flooded or inundated after heavy downfalls. Field depressions can also contribute to yield loss as a result of poor drainage.
In response to these challenges, the Manitoba Pulse and Soybean Growers has been working with Dr. Claudio Stasolla and Dr. Robert Hill from the University of Manitoba on a four-year study of phytoglobins, proteins produced by plants during growth, development, and in response to stresses.
SEVERE WEATHER
"In general, soybeans grown on the eastern Prairies are going to face more frequent, and possibly more severe flooding and drought conditions compared to a soybean grown in Ontario," says Daryl Domitruk, director of research and production at Manitoba Pulse and Soybean Growers. "We want to understand whether phytoglobins are a way — or one of the ways — that soybean plants are able to adapt."
He adds that soybeans have traditionally been grown in a fairly restricted geography within Ontario and the U.S. But as the crop has moved west and gained acres on Prairie farms, researchers are realizing that there is a major gap in understanding how soybeans cope — or don't cope — with tough Prairie conditions.
"In traditional western crops such as wheat, canola, and barley, we have a very good understanding of what happens to the plant when it floods or when it turns hot and dry for a month," says Domitruk. "With soybeans, we're relatively new and we don't fully understand what happens within the plant tissues or reproductive structures in waterlogged or droughty soils."
So, why look at phytoglobins in the first place? Domitruk explains that the proteins could represent a sort of adaptive mechanism within plants in response to stress.
In other field work in corn, researchers found that plants producing high phytoglobin levels were able to maintain a higher rate of photosynthesis and even showed reduced leaf injury after being waterlogged for 10 days. In addition, high phytoglobin levels caused the overall corn plant survival to jump from 45 per cent to 80 per cent after being submerged in water for six days.
For their soybean-related study, the University of Manitoba researchers have produced several transgenic plants that over-produce or underproduce phytoglobins in response to flooding.
They are also studying the link between phytoglobin production and excessive moisture in 20 commercially-available soybean varieties.
EARLY FINDINGS
So far, the researchers know that elevated phytoglobin levels help maintain the plant's energy pool, known as adenosine triphosphate, or ATP.
When plants are stressed by severe flooding, drought, or other abiotic stressors — that plant's overall energy pool gets reduced. At the same time, other plant functions that draw on the plant's ATP — such as growth, root development, and photosynthesis — get shut down to help the plant cope with its stressed environment.
Phytoglobin, meanwhile, helps the plant maintain its ATP energy pool at a constant level, allowing other energy-drawing functions of the plant to carry on — even under heavy stress.
Domitruk says the research team is finding through a series of controlled environment and growth room studies that tolerance to waterlogging requires plants to produce high phytoglobin levels.
The transgenic and commercial soybean varieties that produced elevated phytoglobin levels maintained a high rate of photosynthesis and root development under waterlogged conditions, and also showed an improved recovery rate after being submerged for several days.
"What these results tell us is that there's potential to use phytoglobins as a pathway to improve the resiliency of soybeans for the eastern Prairies," says Domitruk. "In terms of next steps, we're going to continue our work in finding and identifying the specific genes responsible for manipulating the plant's phytoglobin levels."
He adds that the same phytoglobins may also be responsible for increasing soybean's tolerance to saline soil, another stress common on the Prairies.
From an Ontario soybean grower's perspective, this work could be transferred over to benefit local breeding programs.
"Soybean varieties are well-adapted to Ontario and we know how they react to our environment, but we haven't quite found how to manage extreme cases of flooding or drought," says Dr. Josh Cowan, manager of research and innovation at Grain Farmers of Ontario. "What they're learning in Manitoba about phytoglobins may offer us the opportunity to develop a simpler, more straightforward way of providing stress tolerance."
If this phytoglobin-based approach is further proven out through research trials, Domitruk hopes that it could become commercialized through breeding programs to select varieties with higher phytoglobin production as a way to boost flooding tolerance.
Domitruk says the final year of their soybean study will focus more closely on phytoglobin production and soybean survival rates in response to severe drought-stressed conditions.
"We're satisfied with the results we've seen so far and feel that there's potential through this work to see an immediate difference in the soybean crop and bring about a true step-change for growers on the eastern Prairies," he says.
This research project is jointly funded by Grain Farmers of Ontario and Manitoba Pulse and Soybean Growers. •