Winter wheat in challenging years
THINGS TO CONSIDER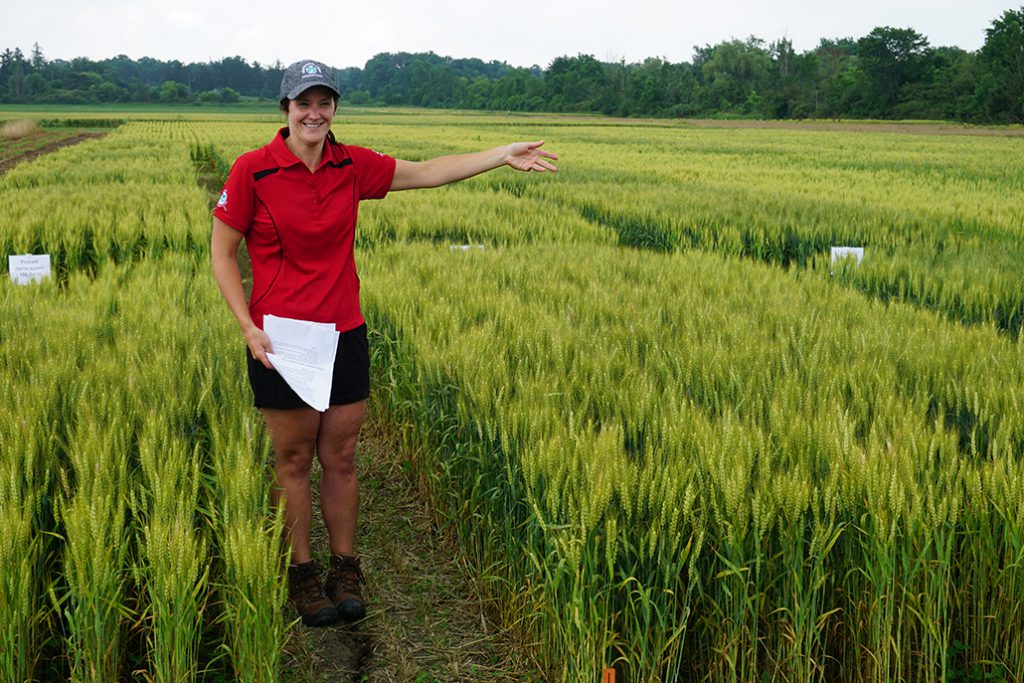 THE 2018-2019 winter wheat growing season has not been easy. More challenging conditions during both fall planting and the spring mean producers need to be more mindful of additional production issues.
During the Southwest Crop Diagnostic Days event held July 3 at the University of Guelph Ridgetown Campus, Joanna Follings, cereals specialist with the Ontario Ministry of Agriculture, Food and Rural Affairs, highlighted several factors wheat producers should watch for as they enter into summer harvest and fall planting.
INCREASED FUSARIUM RISK
Higher than usual rainfall during the 2018 winter wheat planting season, says Follings, invariably means this year's harvest is also delayed for many growers. Combined with significant rainfall during pollination, and the risk of fusarium development has increased.
Follings says this reality led the majority of wheat producers to apply fungicide. However, even sprayed fields face higher risks. Wet growing conditions in fall and spring have caused increase stand variability, making fungicide application less effective. Windy weather also limited spray times and likely contributed to further coverage irregularity.
Wet planting, she adds, also contributed to a greater abundance of weeds throughout the province's wheat crop.
CONTROL MEASURES
All things combined, Follings says producers need to walk the field to find signs of infection. Producers scouting for fusarium should look for discolouration (a pink colour) on wheat heads. Harvesting at higher-than-ideal moisture levels and spending more on drying helps limit further fungal growth.
Pre-harvest desiccants, if being used, should be applied at the hard dough stage and when the grain reaches below 30 per cent moisture.
"Look for 95 per cent of those peduncles to change from green to tan or gold," says Follings.
DON'T PLANT TOO EARLY
Given the increase in unseeded acres across the province in 2019, Follings says it's important to remember planting winter wheat too early also carries substantial risks.
In eastern and northern Ontario, for example, snow mould – caused by fungi that attacking snow-covered cereals – can be an issue for winter wheat that developed too much biomass early in the season. Lodging also poses a higher threat.
Follings says barley yellow dwarf virus can be a problem as well. Transmitted by aphids, the disease poses a greater threat as the period aphids can feed lengthens. Planting too early, consequently, provides aphids with that time. While the virus infect wheat in the spring, its impact on younger, pre-wintering plants is much more significant.
Another pathogen of particular concern, due in part to higher unseeded acers, is take-all virus – a fungal disease that thrives in wet and more alkaline soils. It can be identified by bleached wheat heads, as well as black or brown lesions at the stem base. Rotations involving a lot of cereals or grass-heavy forages, says Follings, are at an increased risk.
"Take-all has no good cure. Best protection is to manage nitrogen, phosphorus, and potassium as optimally as you can," she says.
ACCOUNT FOR VARYING PLANTING DATES
Follings reiterates planting should always be done "when conditions are optimal." However, seeding rate should be adjusted according to planting date.
If planting takes place more than 10 days prior to optimal planting date, seeding rate should drop by 25 per cent. Conversely, seeding rate should increase by 200,000 seeds for every week beyond the optimal planting date range (further ministry information on winter wheat establishment, also developed by Follings, caps this increase at 2.2 million seeds per acre).
"Higher seeding rates [when planting is delayed] helps reduce tillering that may occur before winter," she says.
A seeding depth of approximately one inch is optimal, though that can be increased to ensure seeds are placed in moisture if field conditions are dry.  Planting at even .5 inches, says Follings, can significantly reduce crop overwintering success.
For farmers waiting to plant wheat on unseeded acres, she adds oats provide a relatively inexpensive cover crop. They also don't carry disease pressures. Any cover, though, should be terminated two weeks prior to wheat planting. •
ARE GROWTH REGULATORS WORTH IT?
Follings' Diagnostic Days presentation also touched on the benefits and drawbacks of wheat growth regulators, which are products designed to improve harvestability. They come in two forms – some promoting growth in the early season (e.g. Proliance), and others stopping growth later-on (e.g. Modus Manipulator).
These products, says Follings, can help prevent lodging, and might play a role for those who intensively manage their wheat acres. However, they are likely not worth the cost in less-managed fields, or in those with comparatively low yield potential.