Safe grain handling
TIPS TO KEEP DUST DOWN
ACROSS ONTARIO, FARMERS have built over 11 million worth of grain storage capacity. On-farm grain handling systems can give farmers more ability to store and market grain themselves. However, these facilities can also create nuisances for nearby neighbours, especially dust and noise. Dust in particular can be a safety risk and a fire hazard. And, since grain is sold by weight, dust is worth hundreds of dollars per tonne.
The good news is every part of a grain handling system can be modified to reduce or eliminate dust production and escape. Don't let your profits float away on the wind.
WHAT IS GRAIN DUST?
"Grain dust" is made up mostly of "red dog" or "bees wings" (Figure 1), grain hulls and field dust. The amount of dust depends on grain quality, moisture content, harvest conditions, handling practices, and configuration of the dryer and handling systems. Dust can be created anytime grain is handled, moved, and/or dried.
WHAT ARE THE MAIN SOURCES OF DUST AT A GRAIN ELEVATOR?
Grain receiving and shipping account for 80-90% of dust at a grain facility. As grain is loaded or unloaded, dust-laden air gets displaced out of the receiving pit or truck. Dust is also produced from the falling grain stream.
The transfer leg(s) and conveyor system produces dust as kernels rub against each other and against the conveyor/auger/pipe. Dust escapes at transfer points and from unsealed joints along the system. Faster-moving grain produces more dust.
Grain dryers produce dust during the drying process. The type of dryer (e.g. single exhaust, multiple exhausts, screened, open) affects the amount of dust produced.
Storage bins and silos produce dust from aeration fans blowing dust-laden air out of stored grain. Dust-laden air is also forced out the vents when bins are filled. More frequent grain transfer means more dust.
HOW CAN DUST BE REDUCED?
The best way to reduce dust is to not create it in the first place. Every operation on the farm elevator can be modified to reduce or eliminate dust production, and many dust control options cost nothing but operator time. Here are some best management practices to help reduce dust from grain handling:
Facility Location — Building a new elevator/ storage system, or expanding an existing one? Consider where the major dust sources will be, and how the layout could be configured to minimize dust issues.
Locate the facility far from sensitive receptors if possible (e.g. nearby residences or businesses).
Locate dryers, receiving and shipping areas upwind of storage silos or other buildings, which act as buffers to prevent dust from escaping.
Avoid placing dryers, receiving and shipping areas between rows of silos or bins. This could create a "wind tunnel" effect making dust problems worse.
General housekeeping — Keep the elevator site clean. Dust buildup is more likely to travel off site, and is also a fire risk.
Cover all open trucks and wagons.
Drive slowly.
Wet down driveways to limit dust generation.
Pave driveways and yard wherever possible.
Sweep and clean up any dust accumulation daily.
Use sealed electrical equipment suitable for dusty environments to minimize fire risk.
Wear approved particulate respirators and other personal protective equipment (PPE) in dusty areas to protect human health.
Grain receiving and shipping — Control dust during receiving and shipping by reducing the distance and speed grain falls during transfer.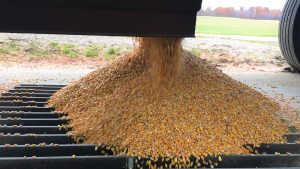 Keep unloading chutes low and close to the receiving pit.
Allow grain to form a cone as it is being unloaded (known as "choke flow" – see Figure 2).
Leave conveyors/augers off until the receiving pit is full.
Transfer grain more slowly when the pit or truck is empty or partially full.
Avoid or limit operations during windy conditions.
Install socks or drop-down spouts on unloading chutes and spouts.
Install cushion boxes or "dead heads" on unloading spouts to slow grain down.
Transfer leg and conveyor system — A well-maintained grain handling system should produce little dust.
Minimize open-air grain transfer.
Ensure all grain transfer equipment is fully enclosed.
Ensure no sharp edges are present to minimize grain damage.
Operate conveying equipment fully loaded and at the slowest speed necessary.
Install inline flow retarders (cushion boxes or "dead heads") at regular intervals in steep spouting to reduce the speed of grain travel.
Grain dryers
For screened dryers, use a screen size as small as possible to limit dust escape.
Wash down and clean up the dryer and surrounding area regularly to limit dust buildup.
Storage silos and bins
Transfer grain to and from storage as slowly as possible.
Install cushion boxes in spouting at the top of storages, to reduce grain speed entering the bin.
Avoid running aeration fans during grain transfer, to minimize dust escape.
WHAT EQUIPMENT CAN HELP REMOVE DUST?
Sometimes, management is not enough and additional measures are needed to help control dust. Here are some options for equipment and other modifications to help keep dust from escaping:
Windbreaks
Plant trees, both upwind (to prevent wind from picking up dust) and downwind (to prevent dust-laden air from escaping the farm) of the elevator.
Build new storage bins or other buildings to create windbreaks.
Enclose dusty areas
Install gravity baffles on receiving pits, which only open when grain is being unloaded.
Cover/enclose the receiving and shipping area on at least three sides.
Enclose all transfer points (e.g. elevator heads) and areas of significant dust production or escape.
Some types of dryers can be enclosed. This will help contain fines, however this can also increase risk of fire. Only enclose dryers if approved by the manufacturer and local authorities, and follow all safety codes and regulations.
Install dust capture systems
Install exhaust fans with filters in semi-enclosed areas (e.g. receiving and shipping areas).
Install dust collection piping and cyclone filters on dryers and storage bins, to capture dust as grain is flowing (see Figure 3)
Install dust extraction systems on receiving pits, to draw dust down instead of allowing it to escape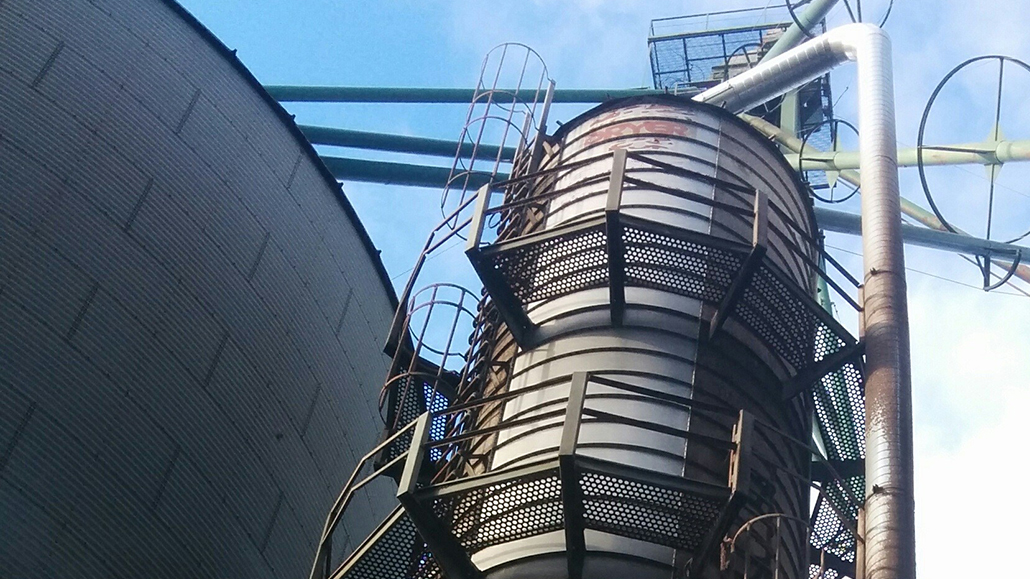 Dust Suppression Systems
Industrial dust suppression systems spray a fine mist of water into the air to capture dust (Figure 4). However, wet dust may stick to buildings, vehicles and roadways, creating more housekeeping work. Rental may be possible for short-term needs.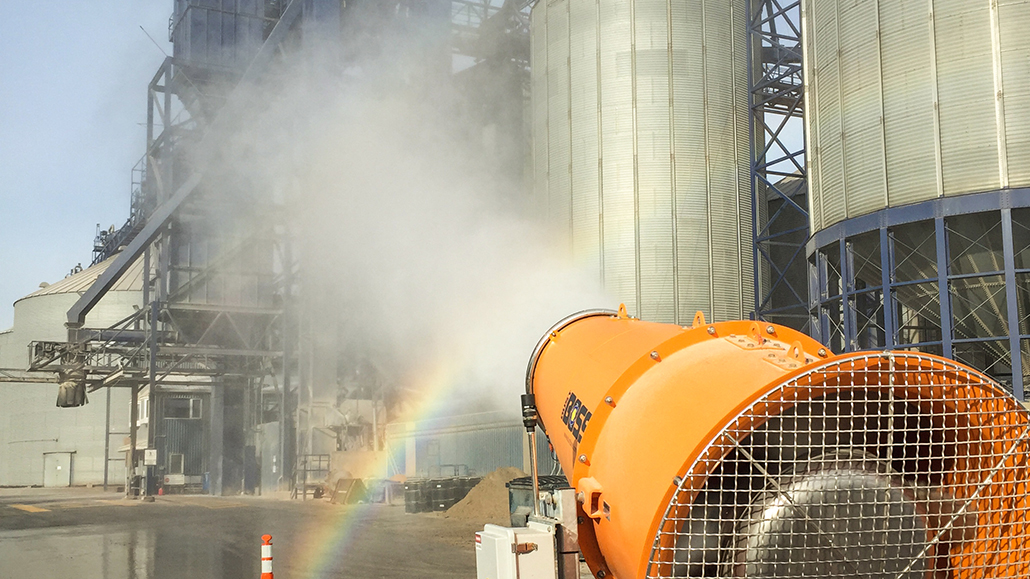 MAKE A DUST CONTROL PLAN
Create a written dust control plan for your elevator, to highlight steps you can take to reduce dust emissions and protect your profits. Include these three components in the written plan:
Identify sources of unwanted dust emissions. List each process and operation in the grain handling system, and identify where dust could be produced.
Determine which dust sources are highest risk. Estimate the amount of dust escaping at each source, in relation to distance to neighbours, topography, and weather patterns.
Identify control strategies to address dust emissions at each source. List at least one or two control strategies for each dust source, to prevent the production of unwanted dust and/or decrease its release.
WHAT IF SOMEONE COMPLAINS?
If you get complaints about dust, take them seriously and respond professionally. Identify the most likely source(s) of dust and review your dust control plan to look for solutions. Make changes to reduce the impact of dust and follow up with the complainant to find out whether conditions have improved. Keep records of complaints and what steps were taken to address them. Open and honest communication helps avoid misunderstandings and demonstrates commitment to finding solutions.
For more serious complaints, OMAFRA has a conflict resolution process which can help. Contact OMAFRA at 1-877-424-1300 for more information.
Every part of the grain handling system can be improved to reduce dust emissions or prevent dust creation in the first place. Fewer dust emissions reduces the chance of complaints, and makes the grain handling system safer, cleaner, and more profitable.
James Dyck, P.Eng., is the engineering specialist — crop systems and environment, with the Ontario Ministry of Agriculture, Food and Rural Affairs (OMAFRA). Amadou Thiam, P.Eng., is the engineer – air quality, with OMAFRA. •