GrainTALK for November 2019
AN UPDATE ON GRAIN FARMERS OF ONTARIO NEWS AND EVENTS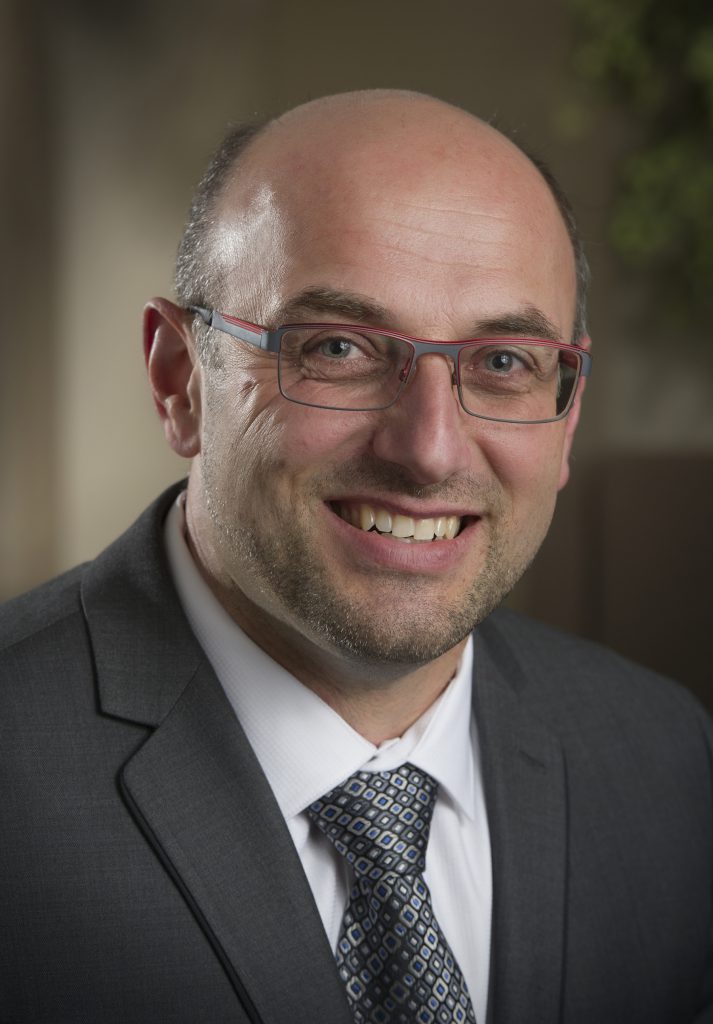 FROM THE CHAIR
A Q&A with Grain Farmers of Ontario chair, Markus Haerle.
Q. What are some of the most important innovations in agriculture technology that you have seen or anticipate?
A. There are a number of advancements in equipment and inputs or productions tools that have changed the way we farm, the health of our soils, the yields we can achieve, and more, but I want to focus on the software side of technology.
GPS, automation, and sensors have given us more precision and the opportunity to make the best decisions for our crops and for our soil. Obviously adding mapping and GPS technology has helped us automate and save time, but the impact on soil health through less soil compaction is vitally important. On the sensor side, the ability to map for variable rate application of nutrients and even pest control helps us plan better and allows us to be economically and environmentally sustainable. Our farmer-members are doing incredible work in this area and the results speak for themselves.
I mentioned automation as we are hearing more and more about the different ways we can automate some of our tasks, and I think this is an area to keep our eyes on and be open to trying to see where it might take us — especially as we deal with labour shortages. •
Do you have a question for our chair? Email GrainTALK@gfo.ca.
---
GRAINTALK WEBINARS AVAILABLE
Grain Farmers of Ontario has hosted several agronomy and farmer wellness GrainTALK webinars this fall. Go to www.gfo.ca to access recordings of these webinars, including updates on DON testing protocols and how to deal with the stressful fall harvest season. •
ONTARIO TRADE MISSION TO SOUTH KOREA AND JAPAN
Grain Farmers of Ontario participated in an October trade mission to South Korea and Japan, led by Ernie Hardeman, Minister of Agriculture, Food and Rural Affairs, and Vic Fedeli, Minister of Economic Development, Job Creation and Trade. The Ministers were focused on helping sectors affected by trade challenges to access new markets and connect Ontario farmers and food processors with key importers and buyers. The delegation promoted the high quality of Ontario pork, beef, and soybeans products. •
GRAINS IN ACTION
Grain Farmers of Ontario is looking for young farmers to participate in the Grains in Action program, January 27 — 30, 2020. Grains in Action features tours at Ontario end-use facilities and presentations from agricultural researchers and Grain Farmers of Ontario staff. If you are interested in attending the program, or would like to recommend a young agriculture leader, contact Mel Reekie at mreekie@gfo.ca or 226-979-5581. •
MARKET COMMENTARY
by Philip Shaw
On September 30, United States Department of Agriculture (USDA) crop report pegged quarterly stocks for corn and soybeans as of September 1 lower than expected at 2.11 billion bushels and 911 million bushels respectively. The lower than expected stocks reported were bullish for the market, as the trade had expected much more. Corn and soybean futures advanced. Needless to say, those stocks numbers are high historically.
Ontario cash corn and soybeans improved on the news. Soybean harvest has commenced across the province, with variable yields. However, wet conditions have inundated much of the province as of October 1. Frost on October 5 may have impacted some Ontario corn development, especially in more northern and eastern areas. The Canadian Dollar noon rate on October 4 was .7509 U.S. •