Here we grow again
BARLEY AND OATS JOIN IN 2015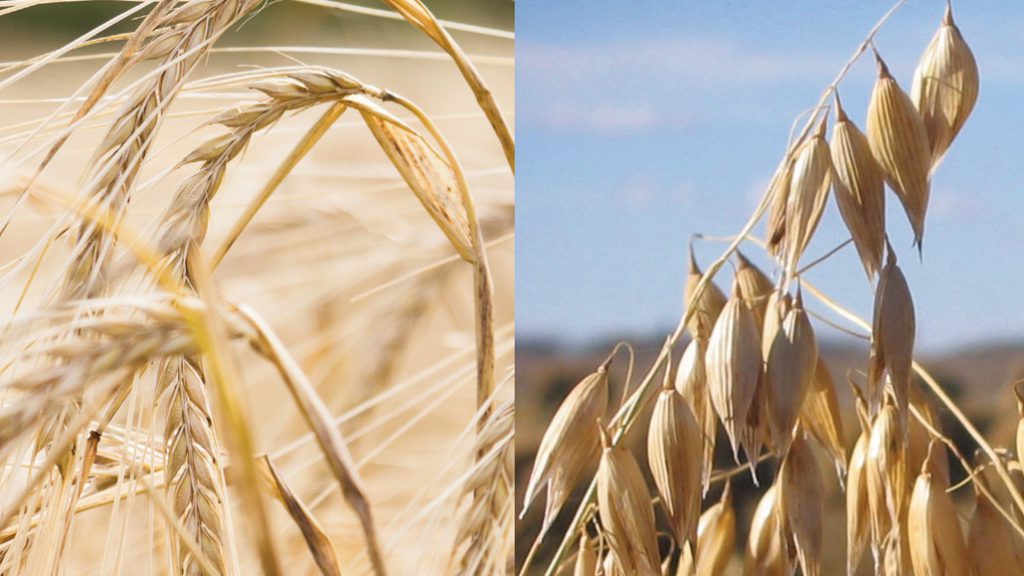 IN 2010, AS the newly-formed Grain Farmers of Ontario was gaining momentum as the voice of Ontario corn, soybean and wheat farmers, the Oat and Barley Council of Ontario (OBCO) was winding down operations after nearly a decade. The organization, which had been established in 2001 to represent Ontario barley and oat growers, seed companies, elevators and processors, had relied on voluntary membership fees, and without a dedicated and sustainable funding formula, was no longer viable.
This left Ontario's barley and oat producers at a disadvantage, without a centralized resource to advocate for them or their industry. "We needed some form of representation to attract research funding and to manage research funds", says Craig Martin of Cribit Seeds, a former director of OBCO.
NEXT STEPS
Grain Farmers of Ontario was identified early on as a possible successor to OBCO, but the timing wasn't right. "Grain Farmers of Ontario was involved with the 'main three' crops in Ontario, and most growers of barley and oats also grow one of those three, so our thoughts were why reinvent the wheel," says Martin. "It took considerable effort for the three organizations to come together at the time, and we did not want the barley and oat piece to be a distraction, so in the interim we operated under the umbrella of the Cereal Industry Council until the time seemed more appropriate to bring barley and oats under the fold of the Grain Farmers of Ontario."
The idea percolated behind the scenes for a few years, and was brought back to the forefront in 2013, when a working group of representatives from the former OBCO made a request to the Farm Products Marketing Commission for barley and oats to be represented by Grain Farmers of Ontario. Shortly thereafter, the board of Grain Farmers of Ontario voted in favour of pursuing the opportunity.
"It just made sense," says Barry Senft, CEO of Grain Farmers of Ontario. "Though barley and oats are smaller commodities in Ontario, in respect to the number of acres grown, there are a lot of cross-commodity issues that we deal with." He notes that Grain Farmers of Ontario, in a few short years, had established an infrastructure to support market development, research, government relations and communications, all of which were promoted as benefits to barley and oat farmers.
In November 2014, a province-wide vote of barley and oat producers was held and farmers "voted overwhelmingly to join Grain Farmers of Ontario. And the rest is history," says Senft.
Barley and oats officially became part of the mandate of Grain Farmers of Ontario on July 1, 2015.
AFTER THE MERGER
In the years since, barley and oats have featured prominently in the programs at Grain Farmers of Ontario, opening the door to market development opportunities, research funding, and public outreach initiatives.
"The Grains Innovation Fund was opened up to include barley and oats," says Nicole McKellar, manager of market development at Grain Farmers of Ontario. "Funding has been allocated to projects that increase the use of barley and oats in food production."
McKellar also notes that the growing market for craft beer in Ontario is an opportunity for barley farmers to capitalize on. "We are working with OMAFRA, value chain partners as well as the Ontario Craft Brewers association to identify the gaps that exist and what resources or research is needed to make this a viable Ontario-sourced crop."
In respect to research, Grain Farmers of Ontario is a member of the Canadian Field Crop Research Alliance (CFCRA) and the National Barley Research Cluster, which gives Ontario barley and oat growers a voice in the allocation of national research funding and priorities. "We surveyed growers and have repeatedly heard that new varieties are a priority," says Josh Cowan, manager of research at Grain Farmers of Ontario. He points to the CFCRA research underway at the Ottawa Research & Development Centre of Agriculture & Agri-Food Canada by Weikai Yan and Nick Tinker into oat breeding, genomics and agronomy as an example — their project objectives include increasing grain yield and quality, improving resistance to crown rust, and improving upon nutritional traits that meet consumer demands. On the barley research front, a project led by Rhaja Khanal of Agriculture and Agri-Food Canada aims to develop a high-yielding barley variety with greater natural resistance to Fusarium head blight.
Through Grain Farmers of Ontario's Good in Every Grain program, barley and oats are actively promoted as healthy and nutritious ingredients for consumers to include in their diet. "We want to remind people of how great grains are and having barley and oats as part of that story is a real benefit. We work to connect people through their food and find ways to tell stories of safe and healthy grain production to educate consumers on the amazing work Ontario grain farmers do when growing their food, says Victoria Berry, manager of communications at Grain Farmers of Ontario. Ontario barley and oats have been highlighted in partnerships and events like the Gourmet Food and Wine Expo, where "barley coffee" and "oat cakes" have been among the innovative products on offer.
Overall, Martin feels that the choice to join Grain Farmers of Ontario was the right one for barley and oat producers. "There have been lots of small steps to help the crops maintain viability," he says, pointing to a dramatic decline in production over the past 30 years. "With [barley and oats] in the scope of Grain Farmers of Ontario, this has helped maintain the acreage of these crops." •