The merger, one decade later
FOUNDING CHAIRS REFLECT ON THE NEW ORGANIZATION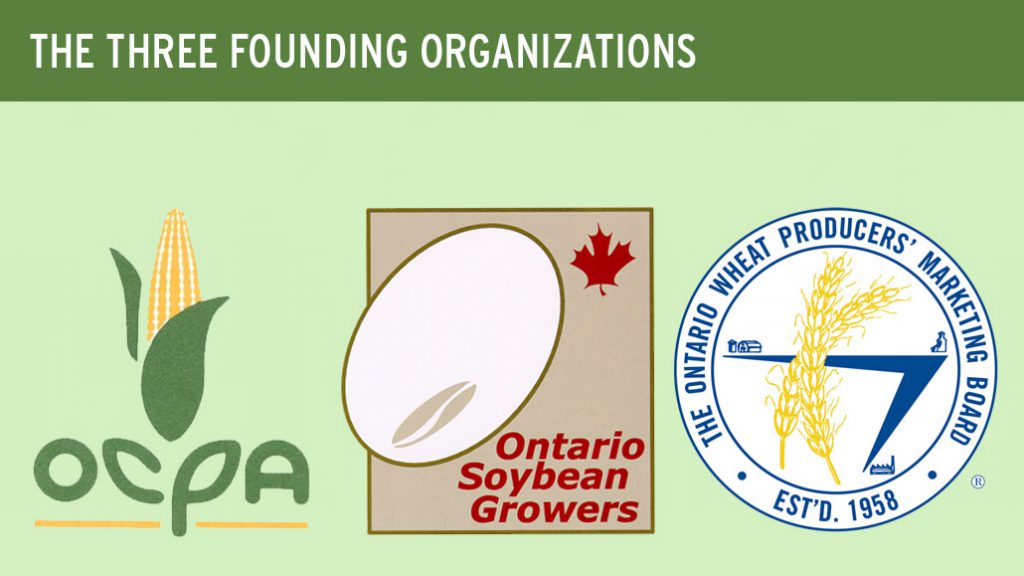 THREE COMMODITY BOARDS had to combine strategies, structures, and expertise to create Grain Farmers of Ontario. Now, a decade after the organization's official launch, the chairs of the Ontario Corn Producers' Association, Ontario Soybean Growers, and the Ontario Wheat Producers' Marketing Board believe Grain Farmers of Ontario has achieved an unexpected level of success in representing Ontario's grain farmers.
The merger process, of course, brought both challenges and triumphs.
HARMONIZING STRUCTURES
Leo Guilbeault — a Belle River farmer and chair of the Ontario Soybean Growers board during the transition process — says the fact that most grain producers already grew all three commodities meant the aim of establishing a single organization was long-standing.
However, challenges arose when it came to harmonizing what the end structure would look like. This is particularly true, he says, since corn was essentially a self-regulated commodity and not subject to marketing board requirements like soybeans and wheat.
"It was a totally new concept for that board of directors to adopt," says Gilbeault. "We had to see how it could happen… The first step was to put together a transition board and start forming the Grain Farmers of Ontario idea."
The next step involved hashing-out the regulations with the Farm Products Marketing Board, then getting farmers within every district to support the idea. Meetings to determine what each area required — and to iron-out differences — were held with each district in 2008.
"It was an interesting process. I toured the province, I think every district, three times in one year. That was a lot of miles, but it was worth it in the end," says Gilbeault.
To get to amalgamation took many years, he says. "It took a lot of conversations. We all had different district structures at the time."
CHANGING DISTRICT BOUNDARIES
Like Gilbeault, Dale Mountjoy, an Uxbridge-area farmer and then chair of the Ontario Corn Producers' Association, reiterates the process was a long one — the roots of which date to the early 2000s, when some districts passed resolutions supporting "a single voice" for grain producers.
Before attaining the goal, though, differences in commodity district borders meant boundaries had to be realigned. This had positive outcomes from Mountjoy's perspective, including a leveling of the amount of production in each district, and ensuring each area was represented by someone local.
He adds the Farm Products Marketing Commission wanted to ensure a geographical component as well.
"The big challenge was getting everyone to go to one board and keeping them on that track," says Mountjoy. "The success is we got there."
COUNTERING DIVIDE-AND-CONQUER TACTICS
According to Dave Whaley, a farmer from Eagle and chair of the Ontario Wheat Producers' Marketing Board during the merger process, the greatest challenge was "doing a difficult job that everyone else thought was easy."
Prior to the merger, that is, many farmers logically assumed an amalgamation was a relatively easy process, particularly since each of the three boards already worked in the same office and collaborated on many shared issues. But like his corn and soybean counterparts, Whaley says determining things like structure and directives of the new organization — not to mention what would happen to the staff of each commodity group — was not simple.
"We never stopped talking to each other despite differences," he says, adding the informational meetings held throughout the province helped ensure no element of the proposed merger was left unexamined.
Whaley also believes that thoroughness was critical in two ways.
First, it meant the new organization would not "wear too many hats," and instead focus specifically on issues relevant to Ontario grain farmers. Second, it ensured the organization's credibility — both within industry and in government.
"We had government and industry watching to see if farmers could finally come together, and with one voice. This was a must do. It was a bigger deal than most people thought," Whaley says. "The days of the government playing division games with farmers and ignoring the countryside are over. That game is over."
"We had really good staff. They knew their stuff… I believe we accomplished what we set out to do."
EARLY SUCCESSES
Gilbeault, Mountjoy, and Whaley all applaud and appreciate how successful Grain Farmers of Ontario has been. Those sentiments also extend to Barry Senft, who, as chief executive officer for the entirety of Grain Farmers of Ontario's first decade, saw the organization through many challenges.
Senft himself believes some early successes helped solidify Grain Farmers of Ontario's effectiveness. From an organizational perspective, that included ensuring the right staff were in the right positions. When it comes to policy issues, successfully lobbying the province to continue allowing farmers to defer grain checks into the next fiscal year was critical.
"It was going to have an enormous impact on our farmer-members. We got the government to change that," says Senft. "That's was one of our early wins as an organization."
Overall, however, he believes everything was rooted in foresight.
"I know there was a lot of discussion… clearly the decision was the right one to make," Senft says. "They have to be commended for their foresight in laying the groundwork. It's an example of sometimes you need to take time on these things rather than jam something forward. The fact that it has exceeded expectations is a joy for me." •