GrainTALK for December 2020
AN UPDATE ON GRAIN FARMERS OF ONTARIO NEWS AND EVENTS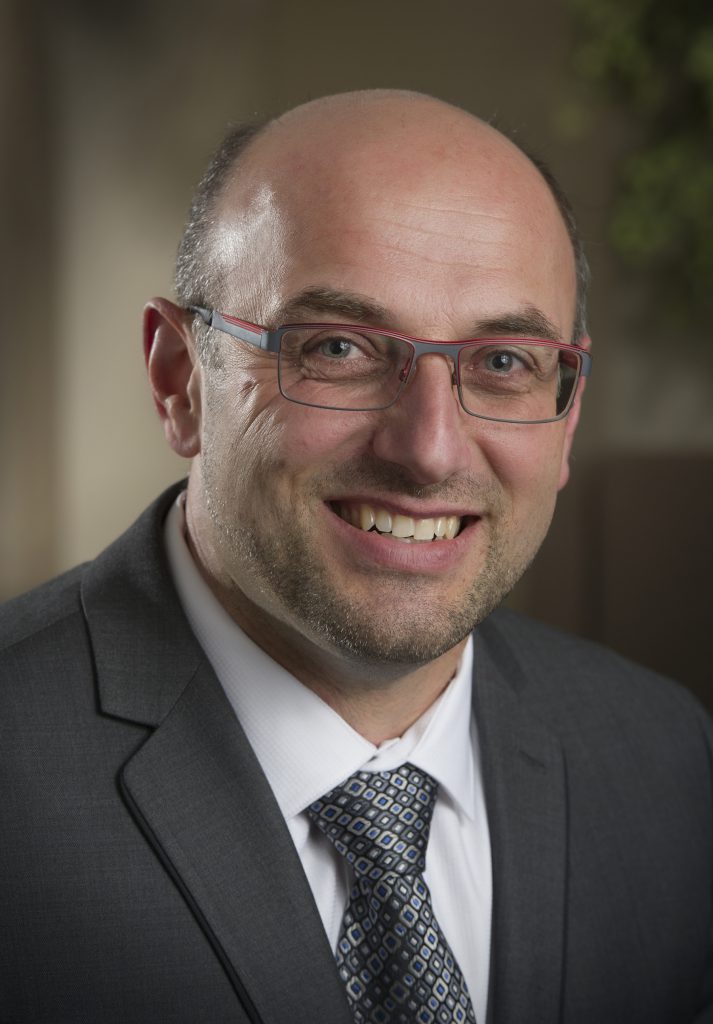 FROM THE CHAIR
A Q&A with Grain Farmers of Ontario chair, Markus Haerle.
You have now served the maximum three-year term as chair of Grain Farmers of Ontario. What are the highlights from your time as chair?
There are definitely too many for the small space I have here, but the best part about being the chair of Grain Farmers of Ontario, and one of the most important things any chair can do, is to actively build upon and better the foundation of the organization for the future.
I always saw the government relations side of the organization as vitally important and have focused on helping to build out those relationships. I was able to work directly with the Premier of Ontario to ensure the promised Risk Management Program funding came through early. I was given the opportunity to build out the national profile of Grain Farmers of Ontario and engaged in national discussions and with national organizations for the group. I also was very glad to work with Barry Senft, the former CEO, and then be part of choosing the next CEO Crosby Devitt, who is a strong, collaborative leader for the organization.
Being elected chair is humbling as it shows the confidence the board has in you. We have a smart, driven, professional board and I have valued their input, insight, and support over the last three years.
Watch our interview with Markus Haerle about his time as chair.
Do you have a question for our chair? Email GrainTALK@gfo.ca.
---
PROVINCIAL PREMISES REGISTRY
Premises identification is the first step in establishing a traceability system that can lead to business advantages, including improved operational efficiencies and increased market access. With the Provincial Premises Registry (PPR), the government can notify you about incidents that may impact you and your operation quickly, minimizing the effect on your operation.
The PPR is a record of individual parcels of land associated with agri-food activities. Agricorp operates the registry on behalf of the Ontario Ministry of Agriculture, Food and Rural Affairs (OMAFRA).
The integrity of the PPR depends on accurate and current premises information. Registrants are encouraged to confirm or update their premises information annually. Confirming your premises information at least every two years also keeps your premises ID active and eligible for government programs, such as Ontario's Risk Management Program. To update your information or register a new premises, visit www.ontariopid.com or call Agricorp at 1-888-247-4999.
In a previous printing of this PPR notice, an incorrect phone number was provided. Ontario Grain Farmer regrets the error and apologizes for any confusion it may have caused. •
ONTARIO ETHANOL MANDATE
The Government of Ontario announced in November it will require fuel suppliers to increase the amount of renewable content in regular-grade gasoline to 15 per cent. Increasing the amount of renewable content in regular-grade gasoline is great for the environment and for Ontario's corn farmers.
Ethanol as a gasoline additive reduces greenhouse gas (GHG) emissions by 62 per cent compared to fossil fuels. Grain Farmers of Ontario has been working with Renewable Industries Canada to promote the implementation of the E15 standard across Ontario. Currently, almost three million metric tonnes of Ontario corn is used in ethanol production. •
FEDERAL GOVERNMENT FAILS TO FUND GRAIN FARMERS
The federal government's proposal to the Federal-Provincial-Territorial (FPT) Agriculture Ministers, which was made public after their November meeting, neglects to include proper funding for AgriStability.
Grain farmers in Quebec, Ontario, and Atlantic Canada along with farm groups from across the country had asked the FPT Ministers to return the AgriStability program to 2013 levels by increasing the trigger to 85 per cent and removing the reference margin limit. These changes have also been recommended by the House of Commons Agriculture Standing Committee. The proposal being contemplated by the FPT right now only considers increasing the compensation rate not the trigger. •
MARKET COMMENTARY
by Philip Shaw
The November United States Department of Agriculture (USDA) report lowered U.S. domestic corn yield by 2.6 bushels per acre, a reduction of 215 million bushels down to 14.5 billion bushels. This was accentuated by an increase in U.S. corn exports up 325 million bushels from their October estimate. Harvested corn acreage was kept at 82.5 million acres. The stocks to use ratio was reduced to 11.48% down significantly from the 14.8% recorded in October. The USDA pegged U.S. soybean production at 4.17 billion bushels based on a reduction of 1.2 bushels per acres from their October report. This yield reduction ratcheted down ending stocks to 190 million bushels.
Grain futures and cash prices in Ontario have moved higher. The Canadian dollar has gained into December moving over the 77 cent U.S. level. •
2021 ANNUAL DISTRICT MEETINGS
Grain Farmers of Ontario will host all 2021 January District Grain Committee Meetings online. The Board of Directors has approved this change in meeting format to ensure the health and safety of all farmer-members and staff as the COVID-19 pandemic continues.
The date of your district meeting has been confirmed and is noted below. Please go to www.gfo.ca to register to receive the link to your meeting.
The Annual District Meetings are called to elect voting delegates for the coming year. Directors will be elected in odd-numbered districts to serve a two-year term.
Updates on our organization and grain industry issues are also provided at these meetings.
Farmer-members interested in putting their name forward as a delegate are encouraged to contact their district director ahead of their local meeting.
Information is subject to change. Check www.gfo.ca for updated information. •