Look for light this winter
PREVENT AND REMEDY SAD ON THE FARM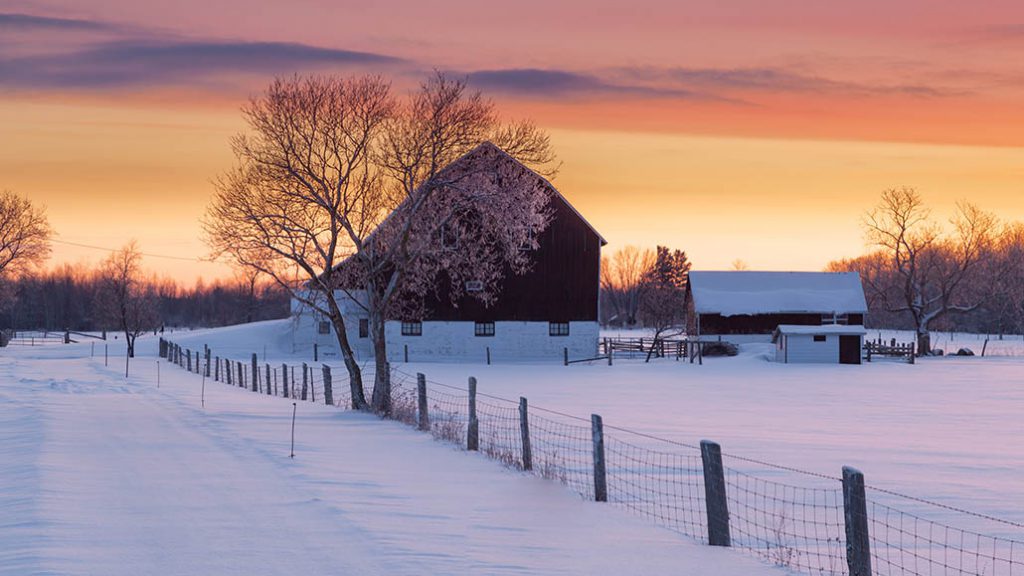 FARMERS ARE WELL accustomed to stress, but the dark winter months can bring additional challenges for one's mental well-being.
A COMMON STRUGGLE
Seasonal affective disorder (SAD) is a type of depression which manifests at specific times of the year, most commonly when sunlight levels significantly diminish. The Centre for Addiction and Mental Health (CAMH) reports approximately one-third of Canadians are affected by SAD to some degree, with symptoms ranging from traditional signs of depression — including irritability, fatigue, and sleep problems — to generally despairing moods which last for extended periods of time.
Maureen Lewis, long-time therapist based in Wellington County, says research on the disorder thus far suggests reduced sunlight exposure is a central cause. The greater hours in darkness affects the body's circadian rhythm, throwing off one's internal clock and causing drops in serotonin. This and accompanying fluctuations in melatonin can affect sleep and overall mood, as well as further cascading physiological and psychological effects.
"As it gets colder our time outside may also drop," says Lewis. About three to five per cent of people experience more acute issues.
Coming from a farm background and having worked with many farmer clients, Lewis says the additional factor of isolation can increase farmers' risk of developing mood changes — a problem not aided by the ongoing pandemic. Activities that contribute to fatigue, such as long working hours in a high-stress environment (such as most harvest-related activities), can also apply downward pressure on one's mood long-term.
"Sleep really affects mood," she says, adding a neglected diet and exercise regime, as well as substance abuse, only exacerbate and perpetuates mood challenges.
STAYING ACTIVE, SOCIAL, AND ILLUMINATED
Depression can be a tough bull to wrangle, though employing a number of proactive lifestyle basics can make a big difference. Eating decent food and staying active, long-touted as staples of any well-being strategy, do work, as does regularly interacting with friends, family, and peer groups.
"Having a routine, especially once the crops are off and its not as pressing to do something, you need to still get up at a decent time, make sure there are activities early in the day, and some social interactions later in the day," says Lewis.
And while socializing is certainly more challenging as a result of COVID-19 and social distancing guidelines, she encourages people not to underestimate the effectiveness of a simple phone call or video chat.
"We can see in functional MRI scans the benefits of talking to a friend."
Since the cause of SAD appears to be a lack of sunlight, light therapy — regular exposure to artificial lighting designed to mimic sunlight without UV rays — can also be employed. While light therapy should not be considered an adequate fix for other psychological conditions, and while results vary person to person, there are a variety of devices available for home or office use.
"I encourage people to get a light and use it properly. You need to have it within a couple feet from you and the light needs to be directly on you," says Lewis. "Do it every day, not just on gloomy days, first thing in the morning. Then get moving outside. Get what outside light is available, but also get active."
DEGREES OF SAD
Lewis reiterates there are degrees to SAD severity, and that depression can show itself through a variety of behaviours. For these and further reasons, she says it's important to take notice of changes when they occur, and if they get worse.
As ever, counselling is an option for those in need of outside help. There are avenues available to farmers in this regard, including OHIP-covered mental health therapists at family-health team centres, practitioner contact lists through industry organizations (including Grain Farmers of Ontario at www.gfo/farmerwellness), as well as mental-health specific resources from other farm-specific groups such as Do More Ag.
"Think of what you want in a therapist, and ask them those questions. They're very used to having questions, and its very useful for us to know where the person is at," says Lewis.
"Mood challenges are what I see most, and for the most part, are very treatable."
SIGNS AND SYMPTOMS OF SEASONAL AFFECTIVE DISORDER (SAD)
is present most days and lasts most of the day
lasts for more than two weeks
impairs the person's performance at work, at school or in social relationships.
changes in appetite and weight
sleep problems
loss of interest in work, hobbies, people or sex
withdrawal from family members and friends
feeling useless, hopeless, excessively guilty, pessimistic or having low self-esteem
agitation or feeling slowed down
irritability
fatigue
trouble concentrating, remembering and making decisions
crying easily or feeling like crying but not being able to
thoughts of suicide (which should always be taken seriously)
a loss of touch with reality, hearing voices (hallucinations) or having strange ideas (delusions).
Source: Centre for Addiction and Mental Health (CAMH) www.camh.ca •