Innovation and sustainability
SHOWCASING ONTARIO GRAIN TO INTERNATIONAL MARKETS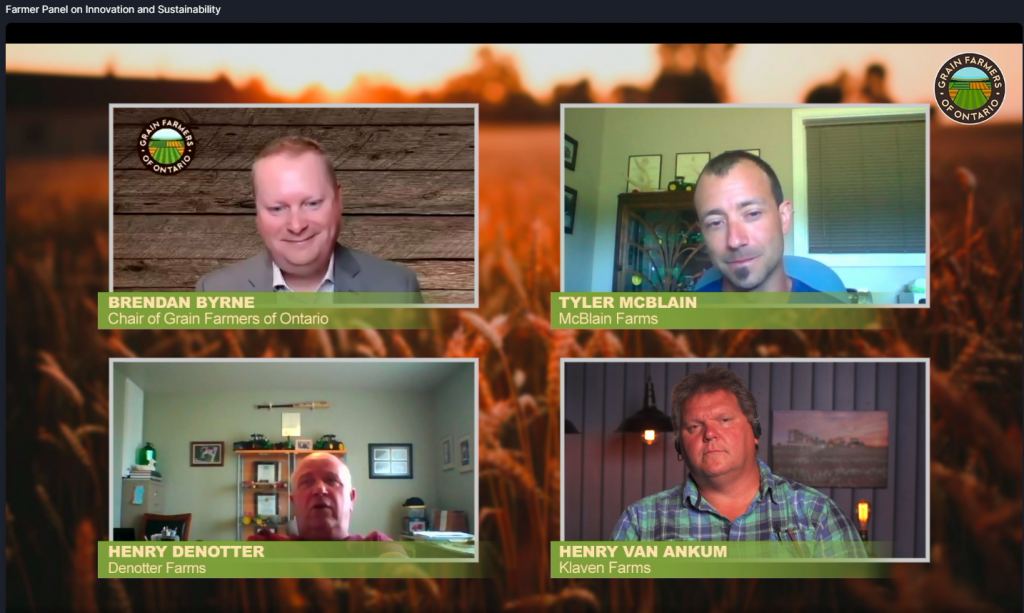 MAINTAINING AND EXPANDING existing markets for Ontario grain is an important aspect of the work Grain Farmers of Ontario's market development team does on behalf of our farmer-members. Typically, this involves fostering relationships through international trade missions where staff can meet directly with trade commissioners, buyers, and processors, or hosting an incoming program where we can showcase the production of Ontario grains firsthand. The global COVID-19 pandemic put these traditional methods of outreach on pause, and it has been important to pivot to maintain connectivity with our international market audiences.
That is why representatives from the European Union and the United Kingdom were invited to attend an online international trade seminar hosted by Grain Farmers of Ontario.
Ireland is one of the largest importers of Ontario corn and Europe remains a strong and important market for Ontario soybeans despite a general decline in exports over the past two years (a result of strong domestic demand).
"As an organization we hope to build contacts with our organizational friends across the water and ultimately see continued and increased exports into Europe. Although we are not directly involved in the buying and selling transactions, we have an important role in facilitating and enhancing positive relationships and impressions of Ontario grains," says Justin Shepherd, market development coordinator for Grain Farmers of Ontario.
The seminar, titled Innovation and Sustainability in Canadian Agriculture, featured presentations, roundtable question and answer sessions, and a panel discussion with farmers.
Shepherd and Michael Buttenham, sustainability lead for Grain Farmers of Ontario, led the development of the seminar and brought in speakers that showcased the unique partnerships within the Ontario grain industry. Having our partners share their perspectives lent credibility to our story and created an engaging seminar.
SUSTAINABILITY
For the sustainability focused discussion, Forests Ontario's tree planting programs, the 4R Nutrient Stewardship program, and the role of conservation authorities in Ontario were explained.
"Sustainability is really important within the European Union, and with their new Green Deal and Farm to Fork strategy there is more of an emphasis than ever before," says Buttenham. "We need to talk about our sustainability story and share the good we are doing to provide accurate context and perspective."
Buttenham notes that it is important to acknowledge and identify where environmental challenges exist, such as with the algae blooms in Lake Erie; but the key is to also show how Ontario farmers are facing these problems head on and are part of the solution.
"We are committed to the long-term improvement of the Great Lakes and its waters. The industry recognizes the importance of regulation and the need for us to come together to pro-actively address issues and meet the need of end-use customers that demand proof sustainable actions are being taken," says McKenzie Smith, director of stewardship and regulatory affairs for Fertilizer Canada.
Smith explained the science-based 4R program and how the adoption of its best management practices in Ontario has increased economic returns while improving soil quality and reducing greenhouse gas emissions. More than 47 per cent of farmers in the Lake Erie basin are working with a 4R certified retailer.
Deforestation is a sustainability concern globally, which is why Buttenham felt showcasing how we are preserving treed land and increasing tree cover here in Ontario was important to include in the international seminar. He invited Rob Keen, CEO of Forests Ontario, to address the issue.
"Trees are the answer to climate change," says Keen. "We are working with agricultural communities to build healthy landscapes by planting the right tree in the right place, for the right reason."
Keen noted their commitment to not just planting trees but actively managing tree growth with their 50 Million Tree program.
Conservation authorities in Ontario are also working to plant trees and create natural landscapes that encourage diverse wildlife populations. Louise Heyming, from the Grand River Conservation Authority, noted that 70 per cent of the Grand River watershed is farmed land and that makes outreach and voluntary participation by farmers key to their success. Heyming noted that millions of dollars in project funding have allowed them to build field windbreaks, riparian buffers, and shelterbelts which benefit farmers as well have a positive impact on the landscape.
Buttenham says these highlights allowed seminar participants to see that though our industry context may be different from that of the EU and UK, we recognize and are working along the same important sustainability themes.
SUPPLY CHAIN INNOVATION
The second issue the international seminar addressed was the Ontario supply chain and how we ensure the quality and safety of our grain through transport. We have many transport advantages in Ontario having the infrastructure in place to move grain within the province and into the export market via the Great Lakes shipping system.
"The biggest compliment to a grain growing region is when infrastructure upgrades to facilities are made because the exporters know they can trust farmers to supply the quantity and quality of grain needed," says Shepherd. "I think it is important to share how we can ultimately get our grain to Europe in an effective and cost-effective manner."
The Port of Hamilton is an example of this. It has three grain export terminals with the ability to receive grain via truck and rail before shipping it out on domestic lakers and international ocean carriers.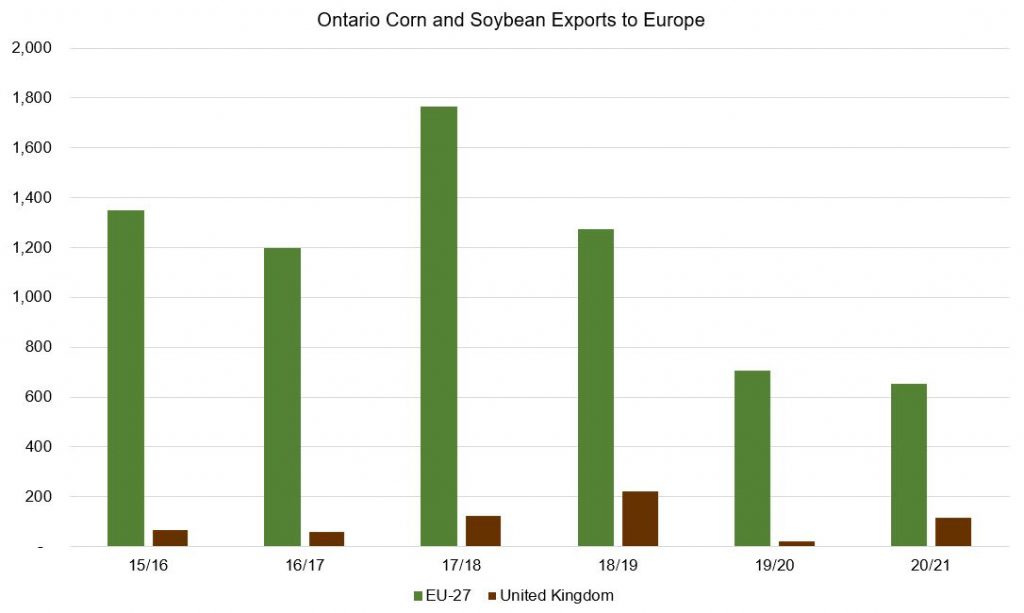 "Where we were once primarily a steel port, we are now 30 per cent agriculture at the Port of Hamilton and that continues to grow," says Gina Delle Rose-Ash from the Hamilton-Oshawa Port Authority, noting that in addition to corn, soybeans, and wheat the port also handles other agricultural products such as sugar and fertilizer.
More than $220 million of private investment has been made into the Port of Hamilton during the past decade by companies such as G3, Richardsons International, and Parrish & Heimbecker. Investment is also being made at the Port of Oshawa with Solio Agriculture opening a new grain terminal in 2020 with a 10,000 metric tonne capacity silo.
Along with a reliable transportation network, international buyers also want to be assured the grain they are buying meets their specific requirements – especially for food grade non-GMO/IP soybeans. The Canadian Identity Preserved Recognition System (CIPRS) and Hazard Analysis and Critical Control Points (HACCP) utilized by elevators and exporters such as Snobelen Farms ensure that grain remains segregated.
"These stringent controls are the basis for how we operate all of our units," says Colin Richardson, export manager at Snobelen Farms. "Paperwork, documentation, critical control points that are included in CIPRS are used company wide for our quality management system."
FARMER PERSPECTIVE
Part of this process includes contracting directly with farmers who grow the crops. They are the beginning of Ontario's export story and Shepherd and Buttenham felt it was important to include a farmer discussion panel as part of the seminar so that the international participants could hear from them directly.
"Our farmer-members are focused on doing what is right and what works for their farm, and an international lens really reveals just how progressive some of their practices are," says Shepherd.
"The participants really feel that when the farmers are speaking and talking about their own decision making, it comes off as being authentic," adds Buttenham. "It really resonates with the audience when farmers explain the what and the why and the long-term impact their decisions will have on their farm."
The farmer panel was moderated by Brendan Byrne, chair of Grain Farmers of Ontario's Board of Directors, and included farmers Tyler McBlain, Henry Denotter, and Henry Van Ankum (director of Grain Farmers of Ontario's District 10 Grey, Bruce, Wellington). They spoke to their sustainability practices, the challenge of trying something new, and how they continue to evolve and improve their farming practices as technology advances.
"All of the things we are doing, we need to document and pass on to the next generation. If I am going to pass my farm onto my sons, it is important for them to be on the same bandwagon. We need to walk the fields to know if it is working when you are trying something different," says Denotter.
"Things don't happen overnight. Patience is key because improving the farm can take years," says McBlain. "It's hard to sometimes remember that."
"We've been sustainable since that was a word people used," says Van Ankum. "We need to take a long-term view and rise to the challenge of being able to showcase our sustainability and stewardship practices to our markets. We have to answer questions and show how we are taking good care of our soils and raising our crops in a sustainable way."
Grain Farmers of Ontario's market development team is following up with seminar participants to build on this introductory session and provide further insights. The success of this seminar will not replace in-person relationship building once travel re-opens post pandemic, but it proved to be a good alternative to connect with key stakeholders in an important market. •