Project development
FROM THE CEO'S DESK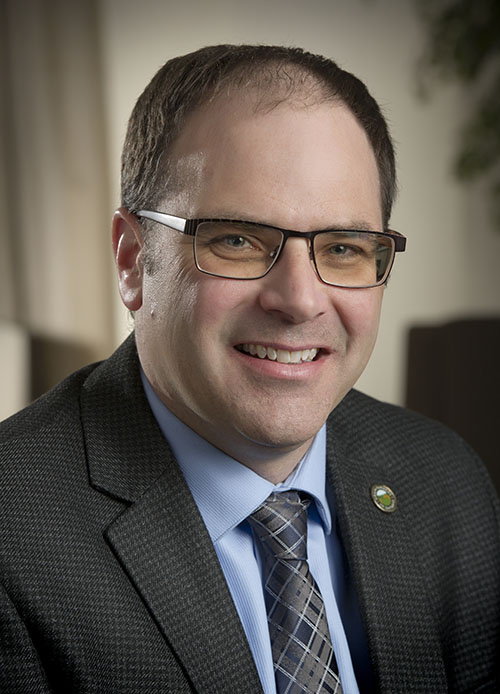 FARMERS ARE OPTIMISTIC by nature. We are also innovative, willing to take risks, and recognize the need to take advantage of new opportunities. I noted before how the pandemic tested and proved the resilience of Ontario's grain farmers and I believe we are positioned better than ever to take advantage of new and expanding markets as the COVID-19 pandemic restrictions ease and we see a re-opening of our broader economy.
At Grain Farmers of Ontario, we have invested time and resources in several projects and partnerships over the past year (or more) that will help build success for our farmer-members during the economic recovery post-pandemic.
One of the largest influences on the agriculture industry is consumers. Our business is driven by their preferences — not only by what they want to eat but increasingly by their demands to know it was ethically and sustainably grown and produced. That is why talking with consumers is so important and why we have staff dedicated to public outreach to ensure we keep up with the evolving ways consumers access and interpret the information they seek to know about their food.
What's your food story? is a new campaign by Good in Every Grain, the public outreach brand of Grain Farmers of Ontario. It is designed to connect with consumers about what is important to them, the foods they are familiar with and celebrate with, and connect their food back to the farmers who grow it. It is designed to be fun and positive and celebrate the connections we all have through food. It's about building common ground and finding common links.
Building trust and understanding with consumers allows us to farm using the production techniques and technology we know are safe, effective, and reliable. Our goal is that when a member of the general public is driving around the countryside and sees corn or wheat in the fields, they see the crops, and the land, and the farmer that works the land in a positive way. And they appreciate the work. If you are appreciated, then all the other positive things come with it.
You may have heard about the new Great Lakes Yield Enhancement Network (YEN). This is an interesting collaboration with partners in Michigan as well as OMAFRA and the University of Guelph that will help us understand the management techniques that achieve the best results in our wheat fields. We have worked with Michigan in the past on research and this is the most formal partnership we have been able to pull together with them. It makes a lot of sense to partner with our neighbours — with similar field conditions, climate, and growing challenges, what they learn there applies here in Ontario as well. This field level research relies on the participation of farmers, and we appreciate the assistance of our farmer-members who are willing to take the time to share the details of their farming practices and resulting yields.
This project is part of our commitment as an organization to ensure our crops are viable and competitive. There is always a desire to find ways to keep Ontario-grown winter wheat profitable.
For several years, Grain Farmers of Ontario has encouraged more domestic processing of higher-value soybeans. There is now renewed interest in developing soybean processing plants in the province given the economic environment for growth and the increasing global demand for alternative proteins. A report recently commissioned by Protein Industries Canada highlighted that soy protein is the leading in-demand ingredient.
Ontario is the largest producer of soybeans in Canada, and we have the capacity to fill an increase in domestic demand. We are actively following the progress of two processing plants proposed to be built in Ontario and we look forward to these new markets for Ontario farmers becoming a reality.
There is a lot happening within the grain industry and the agriculture industry as we move into a post-pandemic world. We remain committed to working in the best interests of our farmer-members and supporting them through the opportunities and challenges that lay ahead. •